Design your own custom face masks with a logo, photo or text of your choice.
IN STOCK - REUSABLE - COTTON - FILTER POCKET
Our custom face masks are made from 3-layers of washable, lightweight and breathable all-cotton material. The elastic ear loops are comfortable with no tying required. Sized to fit most adults or kids ages 2+.
Designing a custom face mask is easy! Pick one of our 10 pre-made designs, choose from our 16 in-stock face mask colors, send us your artwork or text and we'll send you a free digital sample to approve.
Why tiemart custom face masks?
Your custom design will be printed on a pre-manufactured face mask, which allows us to create your order quickly from our Mundelein, Illinois warehouse. (Face masks are imported.)
Bulk quantities available
No minimum order is required on our custom printed face masks. Need just 1? No problem! Bulk orders of 300+ can be manufactured from scratch.
All custom face mask orders over $20 ship free in the USA via free economy shipping. (Additional shipping charge for arrival by Christmas.)
Add your logo or photo to any of our 8 custom face mask designs, or let us know what text you'd like on the face mask. When worn, the design is on the left cheek only.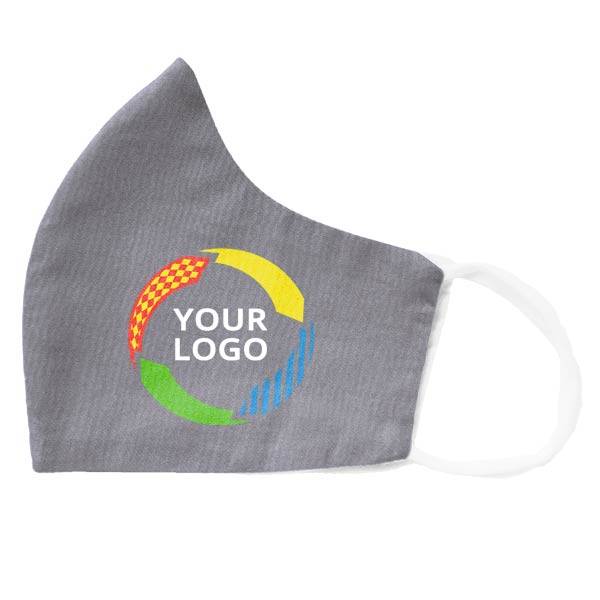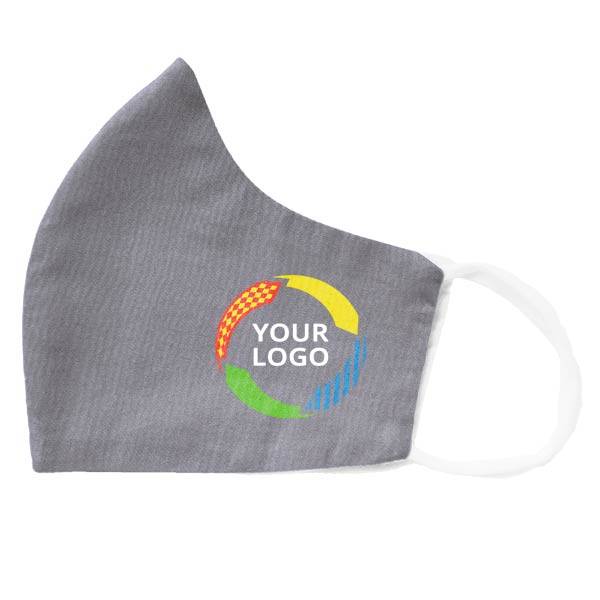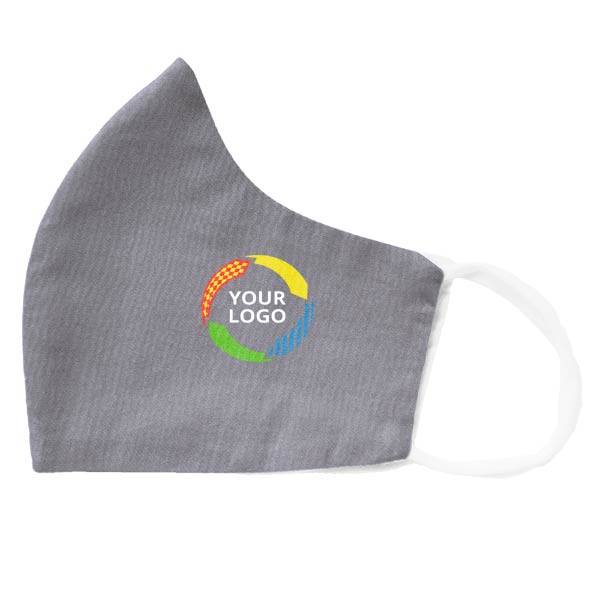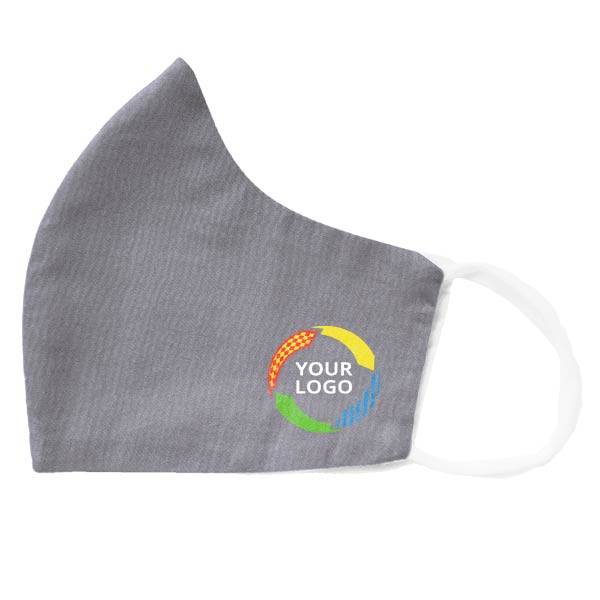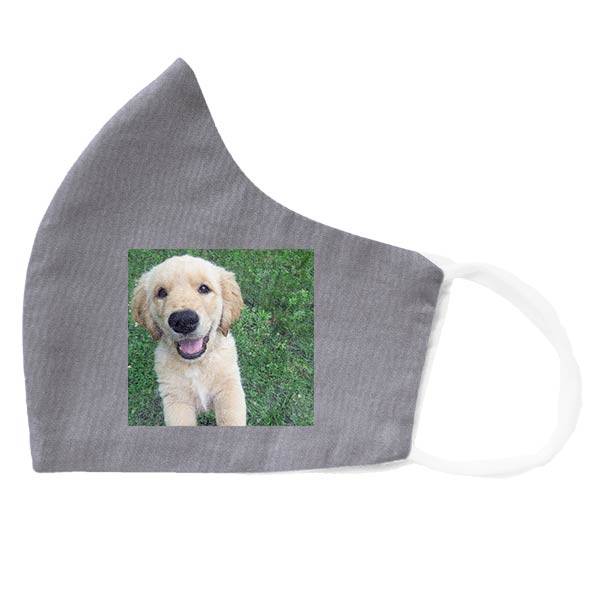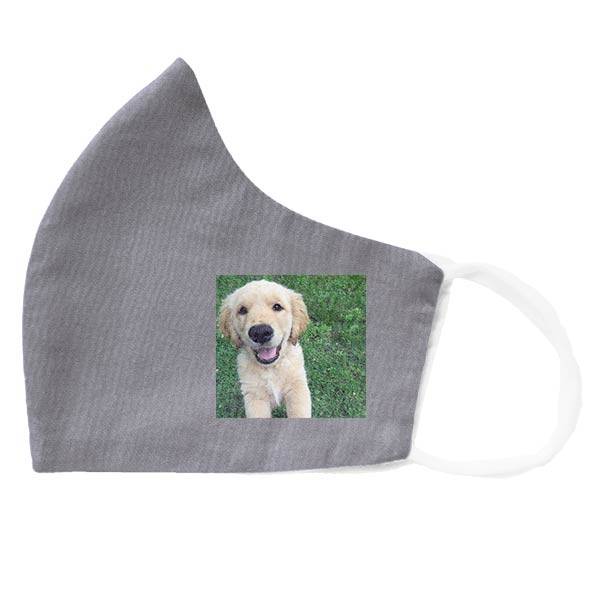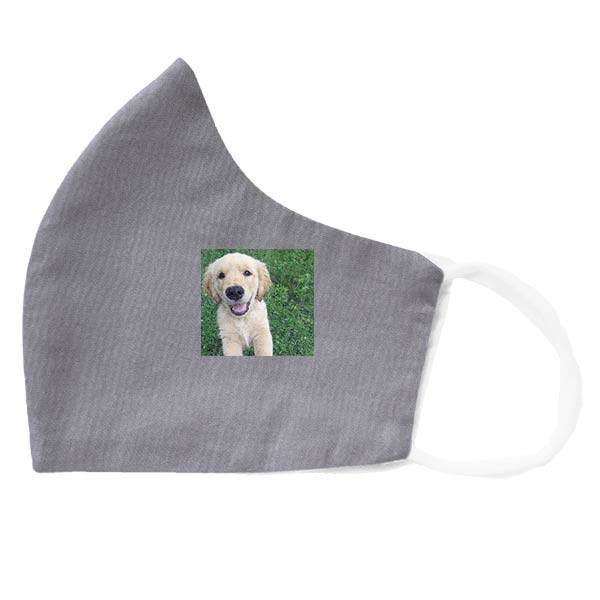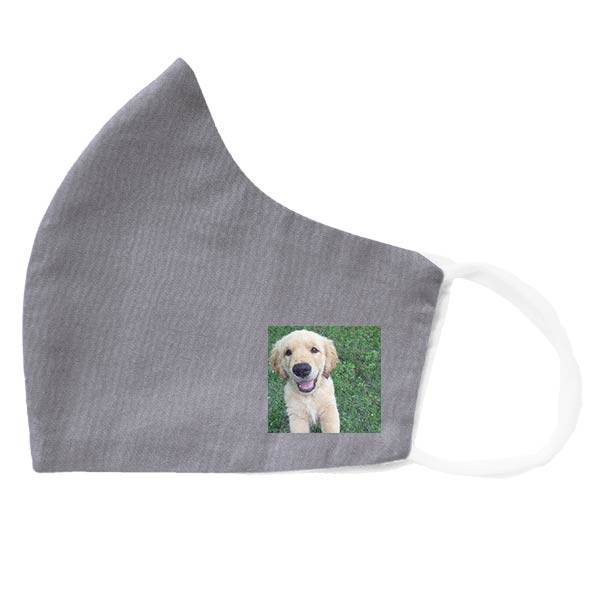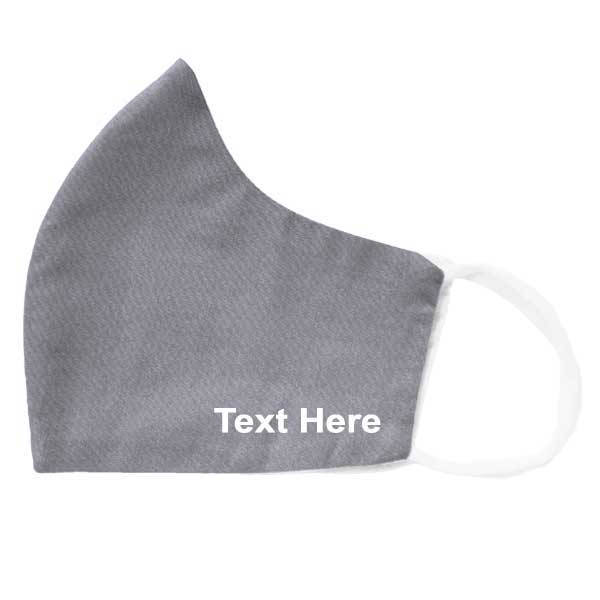 Your personalized design is printed onto a pre-manufactured face mask. The masks are available in 16 colors, while supplies last. (Please note that your logo, photo or text must be a different color that the mask for the design to appear.)
Black (adult size sold out)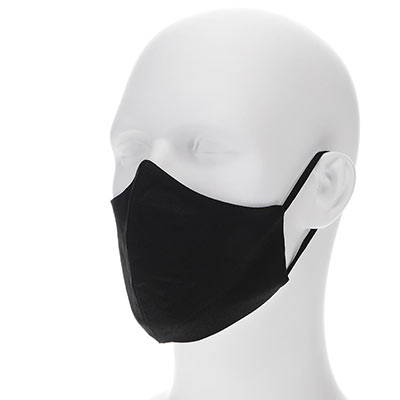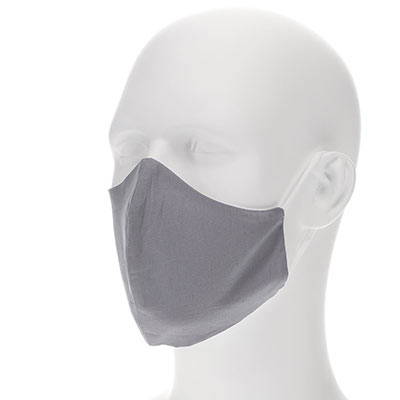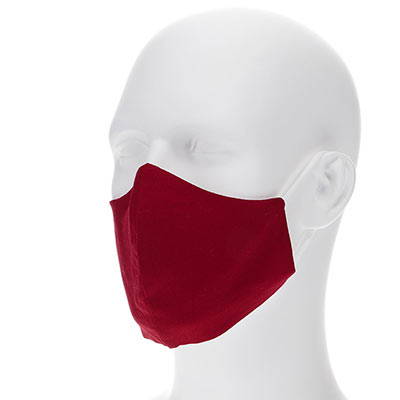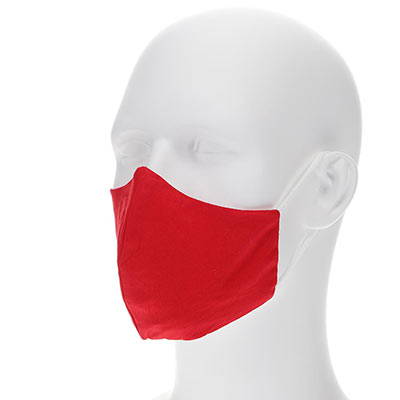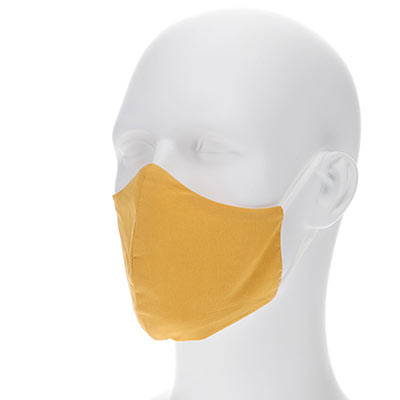 Golden Yellow (adult size sold out)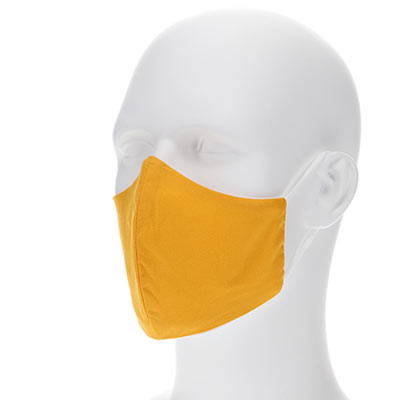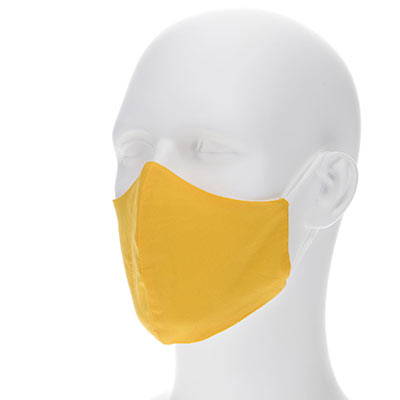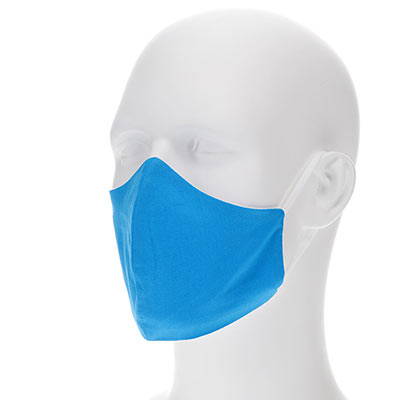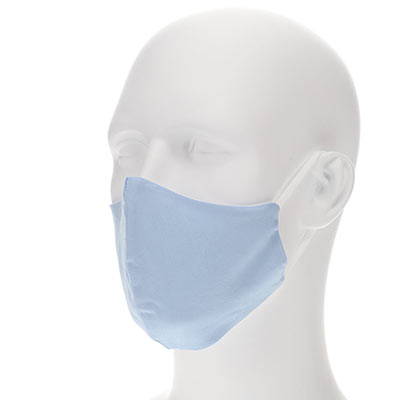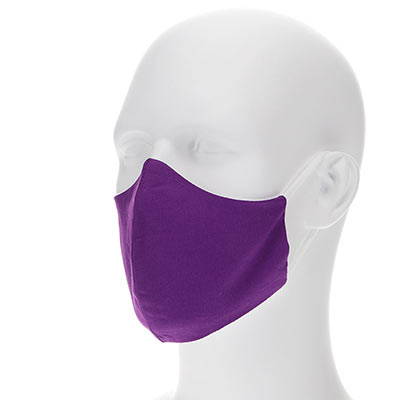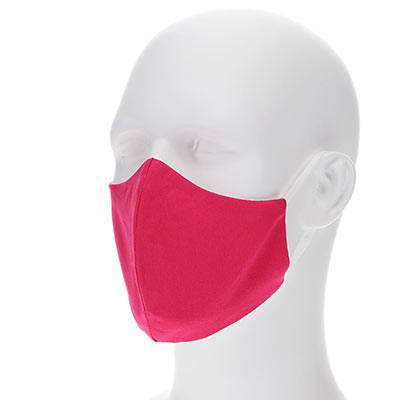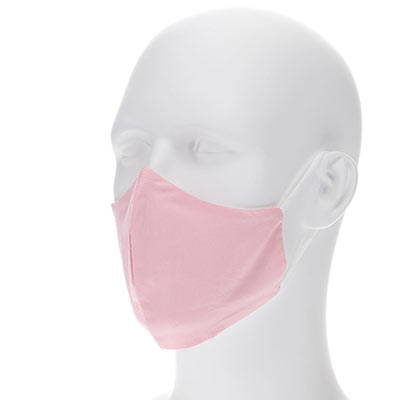 White (kid size sold out)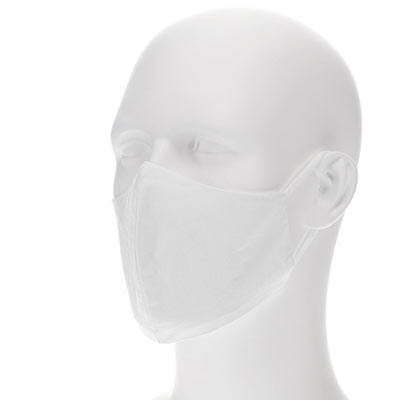 To get started on your custom face mask, please fill out the form below and a member of our team will contact you shortly.
Here's some more info on our custom face masks.
Adult Face Masks
• Adult size, one size fits most
• Masks measure approximately 9" across, 5.25" high from nose to chin and 3" high near the ears
• Three layer, including a filter pocket
• Elastic, non-tie ear loops
• Reusable
• Made from 100% Cotton
• Wash before use
• Final sale, may not be returned or exchanged
• Imported
Kids' Face Masks
• Kid size, age 2- to 10-years old
• Masks measure approximately 6.5" across, 4.25" high from nose to chin and 2" high near the ears
• Three layer, including a filter pocket
• Elastic, non-tie ear loops
• Reusable
• Made from 100% Cotton
• Wash before use
• Final sale, may not be returned or exchanged
• Imported
Our designs (shown above) can be customized with most logos and photos.
The logo or photo submitted should be high resolution (300 dpi). JPG, PNG, PSD, EPS or AI files are preferred. Transparent backgrounds are required for most logos. If a background is submitted with the logo, it will be printed on the mask. Photos do not need a transparent background. When you send us your logo or photo, we'll let you know if it is a high enough quality for printing.
The design is printed on one of our 20 face mask colors. No other colors are available. Your logo or photo will be printed in the colors submitted.
Just an FYI, you must be the rightful owner of any logos or images submitted. We cannot and do not create custom ties from copyrighted material without the permission from the copyright holder.
Custom face masks created at our Mundelein, Illinois location can be turned around in as little as 1 week or less, plus shipping time. There is no minimum order on these masks. (Shipping must be upgraded for delivery by Christmas.)
Quantities of 300 or more face masks can be manufactured from scratch. Designs can differ from those listed above, and can cover the entirety of the face mask. These orders take about 6 to 8 weeks to arrive, from the date the design is approved and a 50% deposit received. A physical sample face mask is available on request and will add an additional 2 to 4 weeks to production time. Please contact us get started.
Custom face masks are $9.95 each. No additional discounts or coupons are available on custom orders. Payment is due before your order is created and shipped.
Please contact us to discuss pricing on orders over 300 face masks. The quantity ordered and design method will determine pricing. A 50% deposit is due once sample mockup is approved. Final payment is due before ties are delivered. Final quantities produced may vary by 5% over. Final payment will be based on the actual quantity produced.
Once you fill out the form above, our in-house team will create a free digital sample of your face mask design. This will be emailed to you within 1 to 2 business days of receiving your request. Please note that the placement of your design could vary very slightly from the sample. Also, colors can vary from device to device. While we try our best to display accurate colors in our digital samples, we cannot guarantee that the colors shown on your computer, phone or tablet are true to the in-person colors.
As you should with any reusable face mask, custom face masks should be washed before wearing. The mask can be machine washed on cold. For washing machines with agitators, consider washing the face mask in a mesh laundry bag so the ear loops do not stretch or tangle. Reshape and lay flat to dry. A quick steam or iron will remove any wrinkles.
Return and exchange policy
Sorry, face masks and custom orders are final sale and may not be returned or exchanged.
Give Kari a call at (847) 393-7291, ext. 310. She can answer all your custom face mask questions.
"Seriously. Thank you so much for your efficiency. It is so much appreciated."

"They are truly some of the most comfortable [face masks] I have ever worn."

TieMart face masks are for personal use and non-medical purposes only. TieMart makes no warranties, express or implied, that these face masks will prevent infection or the transmission of viruses or diseases. Social distancing guidelines should still be followed when wearing this or any mask in public. Do not use a face mask on a child under age 2, anyone who has trouble breathing, or is unconscious, incapacitated or otherwise unable to remove the mask without assistance. Please refer to the CDC for guidelines on wearing face masks.