Most custom tie companies require a large quantity to create logo ties. When this mechanical contractor needed a single tie, they reached out to us for the job. Come see the finished product.
Washington-based mechanical contractor Holmberg Mechanical reached out to us when they needed one logo tie.
Most custom tie companies require large quantities. But using dye-sublimation, here at TieMart we are able to quickly create custom ties in small quantities.
For the design, Holmberg Mechanical wanted a solid blue tie to match their company colors. Their logo, in white, would be placed at the bottom of the tie.
Now, when you think of a mechanical contractor, you'd probably expect a pretty conservative logo. Holmberg Mechanical has a great logo to work with. Although it's simply text, the combinations of font provide a fun, retro feel.
The finished product was crisp and clean, and the company logo really stood out on the blue background.
Holmberg Mechanical was pleased as well. They have since placed a second order for additional custom logo ties.
Custom Ties By TieMart
We'd love to create custom logo ties for your company, even if you only need one! Single orders of custom ties are created in our Mundelein, IL warehouse using dye sublimation. The design is permanently printed and pressed onto a pre-manufactured necktie. For larger orders of 50 or more ties, logo ties can be manufactured from scratch as well.
To get started, send us your logo on our custom logo tie page. We'll create your design and send you a free digital sample to approve.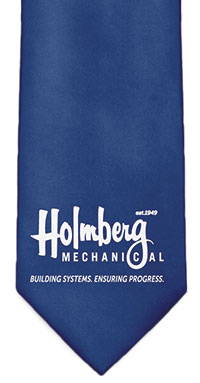 Learn more about designing custom logo ties with TieMart.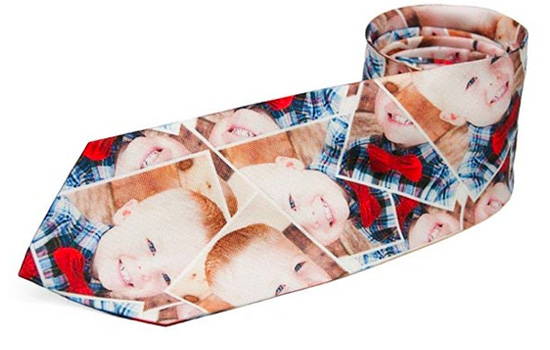 Create a one-of-a-kind custom photo tie with TieMart.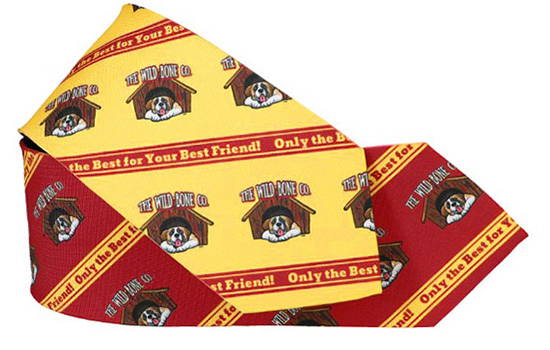 Read more from customers who chose TieMart for their custom ties.