TieMart custom ties are a hit! Read what our customers have to say.
Kari, at tiemart, was so helpful! I received the tie quickly, and it was exactly what i had envisioned. The fabric is great, and the printing on the tie is clear, not blurry at all. I will deffinitely be ordering from tiemart again!
Jessica A.     
Ties came out great! Customer service was smooth and very HELPFUL
Scot L.     
My first venture into the custom tie world. I had an idea for a pattern and design, only wanted one, and was so pleased with it and got so many compliments I ordered 3 more and will probably order additional ones for gifts. Kari was a pleasure to work with. Highly recommend.
John M.     
My husband LOVED his custom tie. Customer service was on point. Tie arrived quickly and the print was exactly as the mock-up showed.
Lauren H.     
Our high school varsity basketball team wanted to give the coach a really special gift, so we ordered him two ties with the school logo and colors. He loved them, and so did the athletic director who dropped a very strong hint that we should get him one, too! The whole process was simple, and the customer service was exceptional. Within a day of submitting my request, a representative contacted me and worked with me until the ties were complete (which took less than a week). Thanks for your help making this really meaningful gift!
Becky W.     
I needed a custom tie for mu wedding. Kari helped me with design and after a few quick emails we created the perfect tie for my wedding. Kari made it so easy. The price was fantastic and I loved that there was minimum order. Thank you tiemart!
Ashely H.     
I only needed a single tie to wear at a convention, but they treated my order as if I had ordered 1000 ties. Excellent responsiveness from the designer and I received my tie within just a few days, and it looks great! I hope I have need in the future to place a larger order.
Donald B.     
Tiemart has an incredibly helpful staff which makes the process of designing and ordering the right tie for you easy and fun!
Josh B.     
Great product and fantastic customer service!
Jonathan F.     
I had a very vague idea of a tie I wanted to design. Kari took my HORRIBLE stick figure sketches and turned it into a beautiful keepsake he can wear for years and years!
Laura W.     
After several looks at a design I decided on one that fit what I was looking for and went with it. Kari was very helpful and was instrumental in the final product. I am very pleased with the result.
Gordy H.     
Got a custom tie for my male boss and a scarf for the female one and they were a HUGE hit! Kari was awesome to work with!
Tony B.     
I stumbled across the TieMart website while looking for ties (I wear one for work every day). They have an extremely large selection, and are very affordable. The site is so easy to navigate. It was entirely by accident I also discovered that you can order your own custom tie. After making an inquiry and submitting an image, Kari contacted me and helped me through the rest of the process. If you are using a logo that is not you own, you will have to get permission from the owner...but TieMart will send you the form! I ordered on a Monday and my ties were in my hand on Friday; pretty good turn around time!
John S.     
I bought a custom tie for my future son-in-law and it was the best gift ever per him!
Brenda S.     
Color is lovely. The swim photograph has a subtle presence. I can't wait for my 11 year old to open.
Cynthia F.     
Live in Mundelein and needed special ties for an event and it was great to be able to get what I needed, having everything in stock. Looking at a custom designed tie for the future and this will be our supplier. Staff was very helpful!
Timothy S.     
This was one of the best purchase experiences I have ever had. Even though it was for only one specialty tie, I received great service. Kari, the associate I worked with, took my original graphic and added special touches to give it 'POP'. She even personally emailed me that the original shipping date might be delayed (it wasn't) only because she wasn't comfortable with the appearance after seeing the final product. It's unusual these days to find someone so caring in the way they do their job, and I thanked her for that.
Christopher B.     
EXCELLENT SERVICE- SO HAPPY WITH MY PRODUCT.
Anita W.     
We got custom ties made and they came in perfect. Tiemart really did a great job.
Garfrey S.     
Awesome customer service, couldn't believe how fast the order was filled and delivered. Great quality, will buy from here again.
Jerry L.     
I order a custom tie with my church logo on it. The young lady that helped me did an amazing job with explaining everything and making sure she responded on time even though I didn't check my emails, from the colors I wanted to the logo style was GREAT!
Dennis T.     
My custom tie accurately match the corporate colors and logo. The senior executives were inpressed !!
Richard B.     
Absolutely love working with the company!! Quality customer service and personalized attention to detail!! Kari is one of a kind!!
Shemikah C.     
I searched high and low for a custom tie, got one on another site that I fiddled with for hours trying to get right. tiemart emailed me, assisted me directly with my design and gave me exactly what I was looking for! So very happy with my purchase and can't wait to gift it, and see their face when they discover it is a tie personalised just for them.
Michelle G.     
I got a custom tie made with my husbands work logo on it for his birthday. They were super quick to respond with design options and had the tie made and sent out on the same day! It arrived quickly and looks great. He loved it!
Jonelle L.     
I was very pleased with my final product and the trek to get there. I proposed several design ideas and the employee that assisted me was creative and full of solutions. Did not take long before we came up with the ideal pattern and BANG it was done. Will be back for more soon!
Larry R.     
I ordered a tie for my Superintendent from TieMart and I am very pleased with the color, clarity, and quality. Would definitely recommend TieMart for custom made ties!
Sharon S.     
Thank you Kari for all your help. We came up with a design that worked and the printing was better than I expected. Very prompt service.
Shannon S.     
We had a wonderful experience. Your team member that helped me was very hands on and gave personal attention to each detail that was important to us. She was extremely helpful. Her name was Kari, I am not sure her last name. But she was awesome and made this process so much smoother. We received the items ordered and they were exactly what we wanted. Thank you so much!
Ian O.     
Customer service was fast and friendly to work with! When the tie came in it exceeded my expectations. I thought it was very good quality for $30.
Anna C.     
Learn more about designing custom logo ties with TieMart.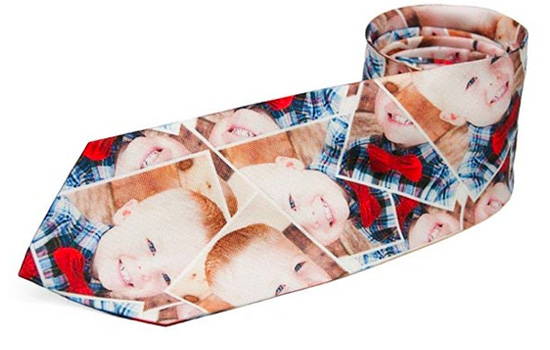 Create a one-of-a-kind custom photo tie with TieMart.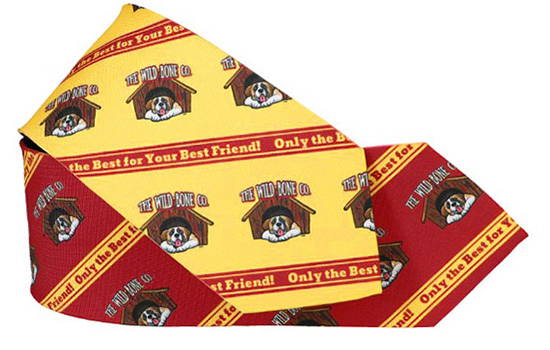 Read more from customers who chose TieMart for their custom ties.