Create a one-of-a-kind gift with a custom photo tie.
Get creative—selfies, family photos, pet pics, child's artwork, etc.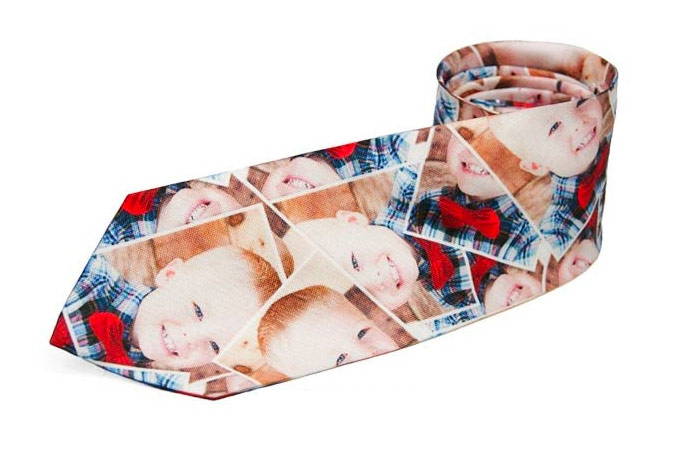 $29.95 Each
free digital sample
No Minimum Order
order one tie or thousands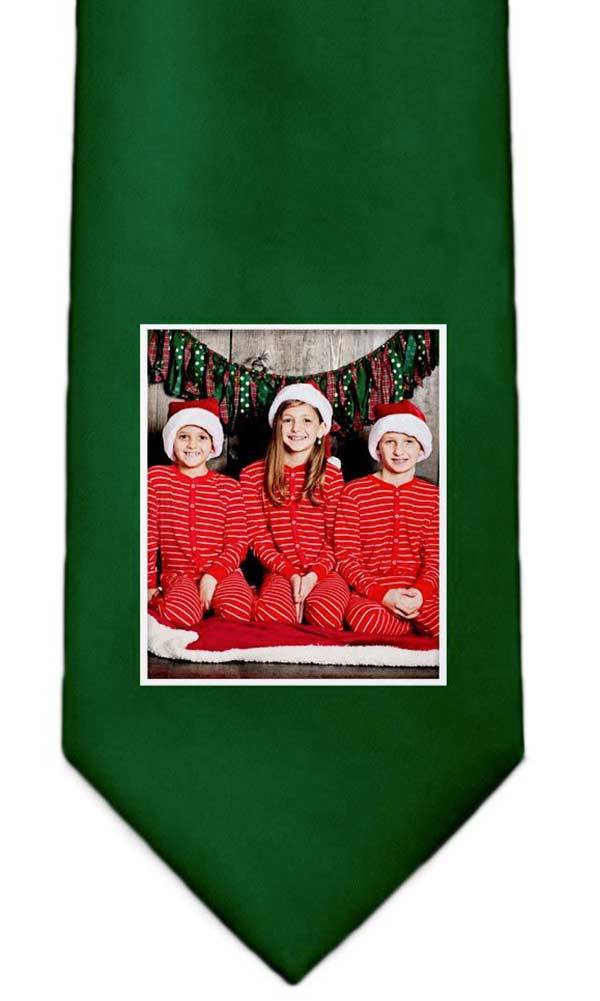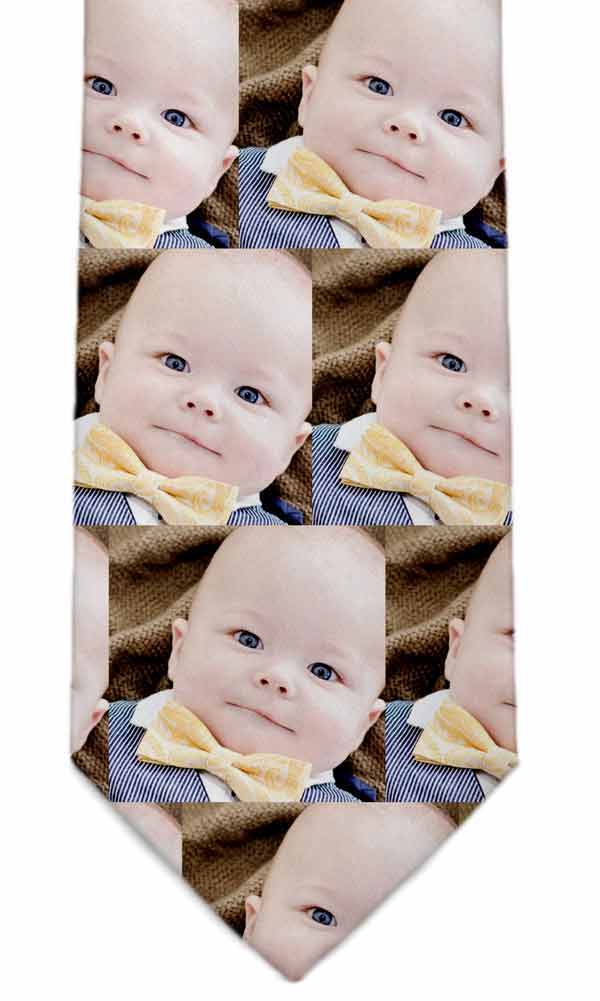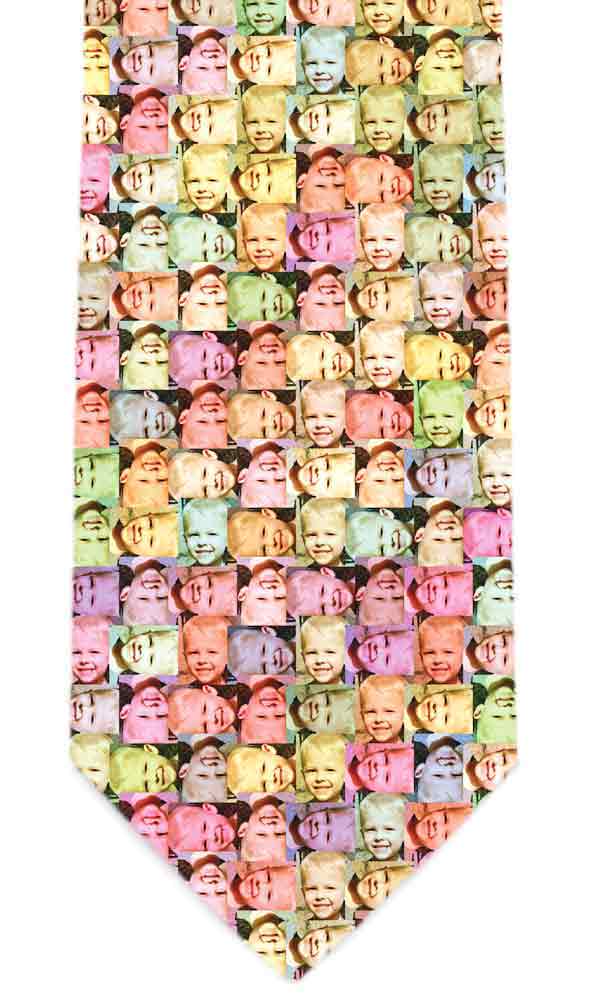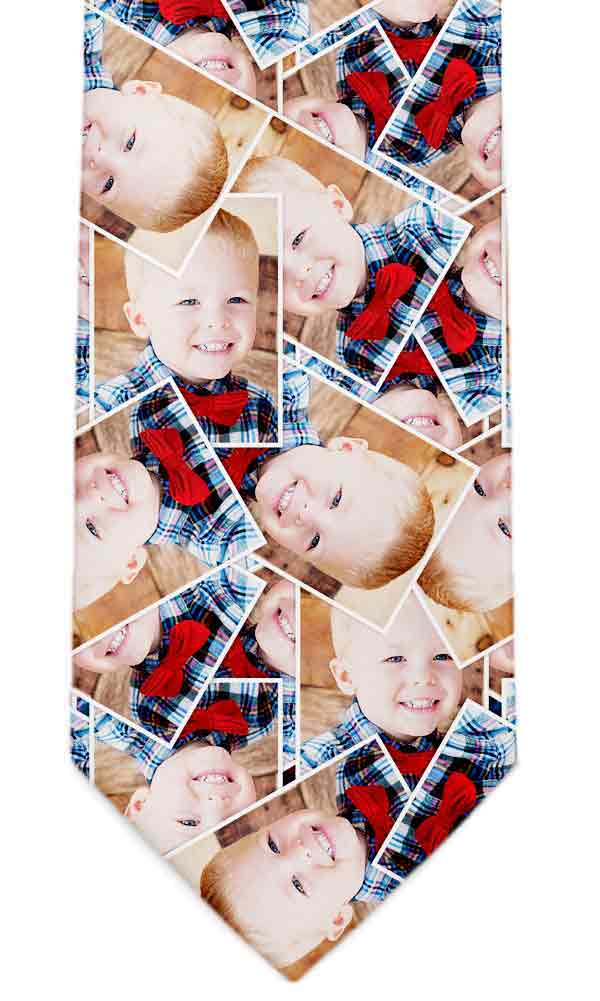 Here's what else you need to know to get started:
No minimum order!
Ties are $29.95 ($30.95 for extra long) each with free economy shipping included.
Turnaround time as fast as 1 week, plus shipping. Additional details below.
You will receive a free digital sample mockup before your tie is created and paid for.
Standard ties, extra long ties, slim ties, self-tie bow ties and children's ties can be customized. Pocket squares, face masks and t-shirts are available, too.
Choose from our four designs.
Our photo ties are printed on 100% polyester products. The ties are created via dye sublimation, which permanently dyes the design onto a pre-manufactured necktie, bow tie or pocket square. For design number 1, we print your photo on the front with a coordinating solid color on the back. Design numbers 2-4 have the photo pattern printed on the front and back of the tie. Custom bow ties are only available with design 3. All products are imported. Fabric printed in U.S.A.
Custom Standard Ties
Approximately 3.25" wide
57" long
Custom Extra Long Ties
Approximately 3.25" wide
63" long
Custom Slim Ties
Approximately 2.5" wide
57" long
Custom Self-Tie Bow Ties
With our printing process, a small portion of the collar on the bow tie does not get printed with the design and remains white. This section is not visible and under the shirt collar when worn. Pictures illustrating this are available on our dye sublimation page.
Approximately 5" across
2.5" wide on the ends
Custom Boys' Ties
Approximately 2.5" wide
48" long
Age range 8-13 years
Accessories available with your custom tie:
Pocket Squares
Reusable Face Masks
Masks measure approximately 9" across, 5.25" high from nose to chin and 3" high near the ears
Adult size, one size fits most
Made from 100% Cotton
Photo printed on left cheek of mask
Necktie T-Shirts
Solid color t-shirt with your custom necktie design printed onto a t-shirt
Available in men's sizes S, M, L, XL and 2XL
Moisture-wicking and anti-microbial
The quality of your tie depends on the photo quality. High-resolution files work best. We've created photo ties from pictures taken on phones, professional photos and scans of printed photos.
These four photo tie designs can be customized with most of the photos we receive. When you send us your image, we'll let you know if it is a high enough quality for printing. Occasionally we receive a photo that is too small or low of a resolution for the design requested. If this is the case, we'll work with you to obtain a high-resolution file or suggest a different design.
Just an FYI, you must be the rightful owner of any photos submitted. We cannot create photo ties from copyrighted photos without the permission from the copyright holder. A photo release is required for professional photos. We have the right to deny photos that may be deemed vulgar, offensive or otherwise inappropriate.
Small orders can be turned around in as little as 1 week, plus shipping time. Delays in approval could add additional time. We must receive payment before ties are created and shipped.
Standard Ties, Slim Ties, Self-Tie Bow Ties and Boys' Ties
$29.95 each
Extra Long Ties
$30.95 each
Pocket Squares
$15.95 each
Face Masks
$9.95 each
T-Shirts
$29.95 each
Prices shown are USD. Customs and duties may apply for orders outside the United States.
Payment is due once the digital sample is approved and before we ship your tie. Free economy shipping (5-10 business days) is included. Expedited shipping is available at an additional charge, and our design team can help you select the appropriate shipping method. No coupons or discounts are available on custom products.
Return and Exchange Policy
Because of the custom nature of these products, they may not be returned or exchanged.
Take a look at our four designs. Once you know which design(s) you're interested in, submit the form below and a member of our design team will get back to you quickly.
Give Kari a call at (847) 393-7291, ext. 310. She can answer all your custom tie questions.
Let's create a tie! To get started on your photo ties, please fill out the form below and a member of our team will get back to you shortly.
Just an FYI, you must be the rightful owner of any images submitted. We do not create custom ties from copyrighted material without the permission from the copyright holder. This includes photos of celebrities, screenshots from video games, movies, etc.
Absolutely love working with the company!! Quality customer service and personalized attention to detail!! Kari is one of a kind!!
Shemikah C.
This was one of the best purchase experiences I have ever had. Even though it was for only one specialty tie, I received great service. Kari, the associate I worked with, took my original graphic and added special touches to give it 'POP'. She even personally emailed me that the original shipping date might be delayed (it wasn't) only because she wasn't comfortable with the appearance after seeing the final product. It's unusual these days to find someone so caring in the way they do their job, and I thanked her for that.
Christopher C.
Kari, at tiemart, was so helpful! I received the tie quickly, and it was exactly what i had envisioned. The fabric is great, and the printing on the tie is clear, not blurry at all. I will deffinitely be ordering from tiemart again!
Jessica A.