Suspenders 101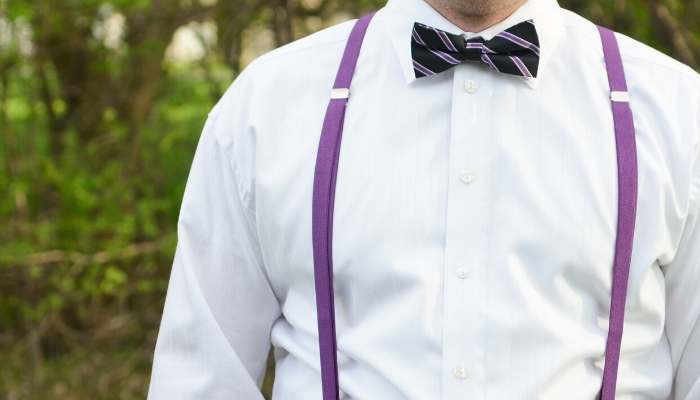 ---
Plumbers crack got you down? Ditch the belt and pick up a pair of suspenders. Suspenders are stylish, practical and, for many, more comfortable than a belt. They're versatile, too. Suspenders can be worn in formal or casual settings and come in a wide variety of patterns, colors and fabric. So…here's what you need to know to keep your pants up and pick the best suspenders for you!
Suspenders come in two shapes, X-back and Y-back. Y-back suspenders are a classic design shape and most common, while X-back suspenders are typically more heavy duty and used for support. The attachments that hold the suspenders to the pants come in few different styles, but the main types are buttonhole and clips. The buttonhole attachment is usually more formal and requires buttons on the pants to secure. Clip-on suspenders can be attached to any style of pants.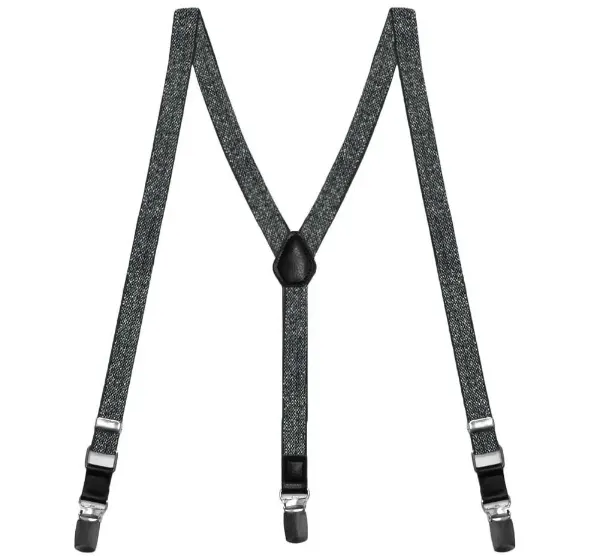 Black Metallic Skinny Suspenders
There are five main styles of suspenders: Business, black tie, fashion, work and undergarment. Each varies in thickness, shape, attachment style, color and the fabric.
The first style, business, can be broken into two subcategories, dress and casual. Business dress and business casual are both standard in Y-shape and the straps typically measure 1.25- to 1.5-inches wide. The difference comes with the clips as well as the color and pattern. Business dress suspenders have buttonhole attachments and come in solid, dark or neutral colors such as black, navy or tan. Business casual suspenders, on the other hand, usually have clip attachments and are available in more patterns and bright colors.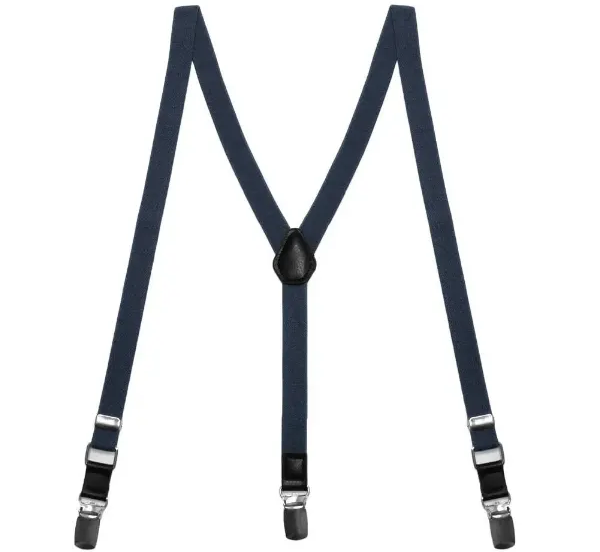 Dark Navy Blue Skinny Suspenders
Black tie suspenders are similar to business dress suspenders. These will also measure 1.25- to 1.5-inches and have buttonhole attachments. They are typically black or white in color and made from silk or something other than elastic.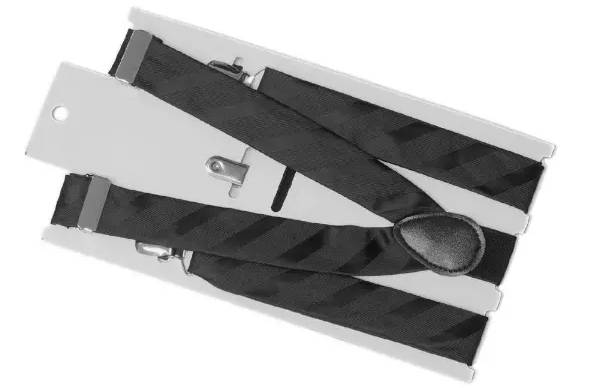 Black Elite Striped Suspenders
Next we have fashion suspenders. These are less about holding up the trousers and worn more for looks. This style typically measures 0.5- to 1-inch wide and come in the classic Y-back. Fashion suspenders are available in a wide variety of colors and patterns—solids, polka dots, zebra print, nothing's off limits. Most fashion suspenders are made from elastic, but they also come in polyester, silk or other fabric.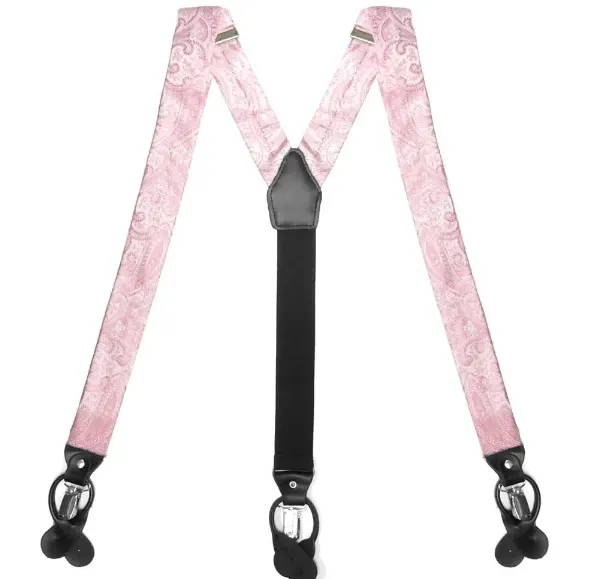 Pale Pink Clara Paisley Suspenders
The last two styles are work suspenders and undergarment suspenders. Unlike the other styles, these are both an X-back style. They are generally the thickest suspender style with straps measuring 2-inches wide. Undergarment suspenders, as the name suggests, are designed to be worn under a shirt. This is a hidden way for larger men to help hold up their slacks.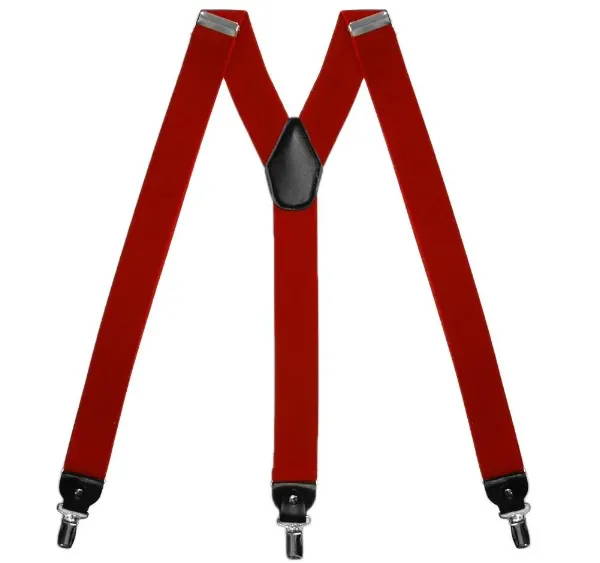 The only "rule" for wearing suspenders is that you don't wear a belt while wearing suspenders. Work suspenders are the only suspenders that are allowed to break that rule. Work suspenders are meant to help hold up a worker's pants when he may have a heavy tool belt weighing them down. They need to be heavy duty and hold up on the job site, this is why they are made from heavy cotton or leather.
Now you know everything you need to about suspenders. So next time you notice that your pants sag low and they're falling to the floor, grab a pair of suspenders!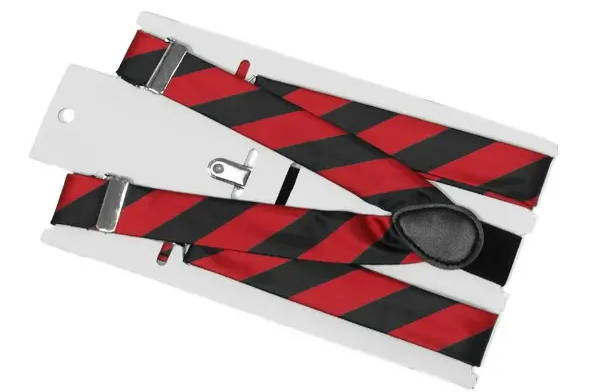 Red and Black Striped Suspenders
TieMart is an online retailer of men's neckties, bow ties and other accessories. A wide selection of pattern ties are available at TieMart, including popular paisley ties for weddings, traditional plaid ties for the office and collegiate two-color striped ties for graduation or school uniforms. And, yes, if you really want to put your face on a tie it's possible with a custom photo tie. TieMart ties are affordable and ship quickly from their Midwest location.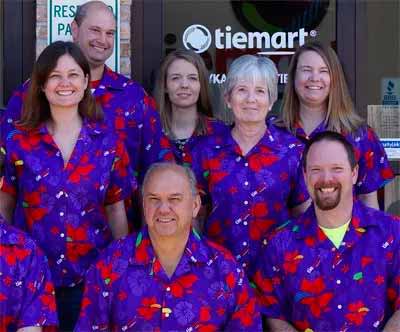 We are a family-run tie company based in Illinois. We've been in the biz since the late 90s, so by now we know a thing or two about men's fashion and accessories. Tiepedia is our lil spot on the web to share that knowledge with you.