Bow Tie Styles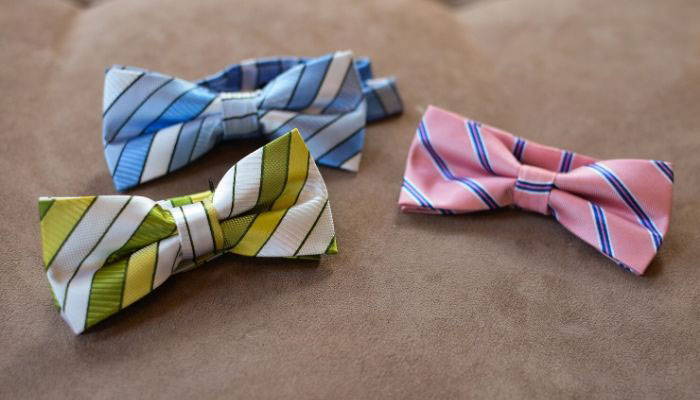 ---
Pre-Tied or Self-Tie Bow Ties...What's The Difference?

Truth: The bow tie can be intimidating.
While most of us learn to tie a necktie growing up, few of us learn to tie a bow tie. But it's time to give the bow tie the attention it deserves.
Now, you could go learn how to tie a bow tie. (It's really not as difficult as it seems.) But if you're just not ready to tackle that feat, we have good news. The bow tie comes in several styles and tying isn't always a requirement. So let's dive right in and take a look at those bow tie styles.
Fear not. You can achieve all the regal pomp and style of a bow tie without the necessary skills to tie one. The pre-tied bow tie exists and it's quite popular. In fact, the band collar bow tie may be the most common bow tie out there. It's a staple of the prom scene and formal wear and the style of bow tie most groomsmen are wearing. Waiters, caterers, hotel clerks, others in the service industry. They're all wearing band collar bow ties. (Most children's bow ties are this style as well.)
As a pre-tied bow, there's no need to worry if your bow is too loose, lopsided or even tied incorrectly. So how do you wear it? It's simple. All you have to do is flip up your collar, expand the adjustable band to fit all the way around your neck and fasten the hook to secure. Flip your collar back down, make sure your bow tie is straight and that's it! So easy even a child could do it himself.
Opting for a band collar doesn't limit the bow tie styles you can explore. From the large butterfly to the diamond tip, there will be a number of band collar models out there to choose from. The band collar bow tie is the right choice for a man who wants to look good but doesn't feel they'll be wearing a bow tie enough to warrant the time it takes to learn how to tie one.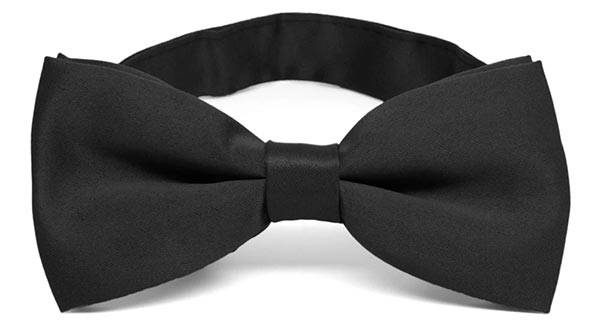 Black Band Collar Bow Tie
The clip-on bow tie often gets a bad rep, but it shouldn't. In reality, it looks exactly like a band collar bow tie when worn, it simply secures differently. In this case, there is no band that goes around the neck. Instead, it attaches to the shirt collar via two metal clips. A clip-on will do in a pinch if you're pressed for time or wearing a tuxedo or shirt that doesn't leave the space where the band would be exposed.
If you've never worn a clip-on bow tie before, you may be a bit confused how to wear it and, worn incorrectly, you'll find it just won't stay in place or falls right off. However, once you learn how to secure a clip-on it will stay in place all day and night, even through the craziest wedding reception. Here's how:
To secure your clip-on bow tie the shirt collar must be placed between the bow tie fabric and the metal clip (not between the double metal clip). With the clip facing you, place your forefingers on the front of the bow and your thumbs on either side of the metal clip (you'll feel the ends of the metal clip under the fabric). Gently press your thumbs forward to open the bow. Place your shirt collar between the bow tie fabric and the metal clip and snap the bow tie closed to secure. Voila!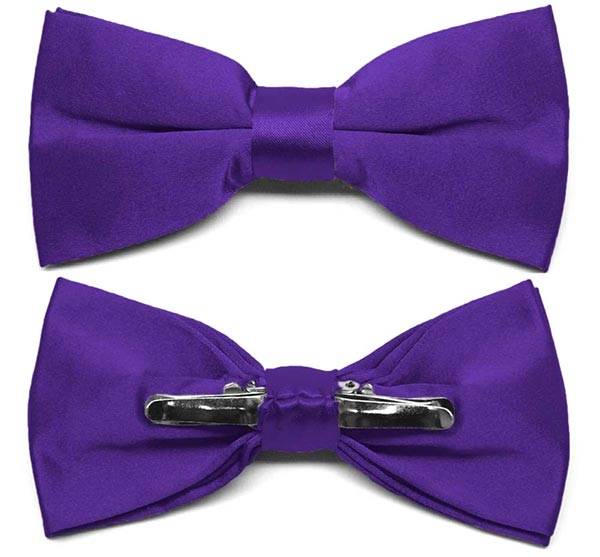 Amethyst Purple Clip-On Bow Tie
So this brings us to the last style of bow tie: The self-tie bow tie. As you can probably guess, the self-tie bow tie is untied and must be tied to be worn. Most people who wear a bow tie everyday (rather than the necktie) choose self-tie bow ties. And no, you don't need to be a professor or scientist to wear a self-tie bow tie. Self-tie bow ties are great for everyday wear, including casual Friday and weekends. These bow ties look just as great with a suit as they do with jeans and a button down. Now, if you're following etiquette, at a black tie event the black self-tie bow tie should be the only bow tie worn.
If you purchase a self-tie bow tie, when you open the package you're going to find one long and skinny piece of material that bows out on the ends. The skinniest part of the material (which is the collar piece when worn) will either have an adjuster or neck sizes on the inside so you can adjust the collar to your size before tying. Just like a band collar bow tie, you'll want to flip your collar up and put the band around your neck with those bowed ends hanging down your check. Then, tie the bow tie (you'll do great!) and flip your collar back down. Give the bow tie a look in the mirror to make sure it isn't too lopsided. Don't worry if it's not 100% perfect. There's something authentic about a slightly offset self-tie bow tie.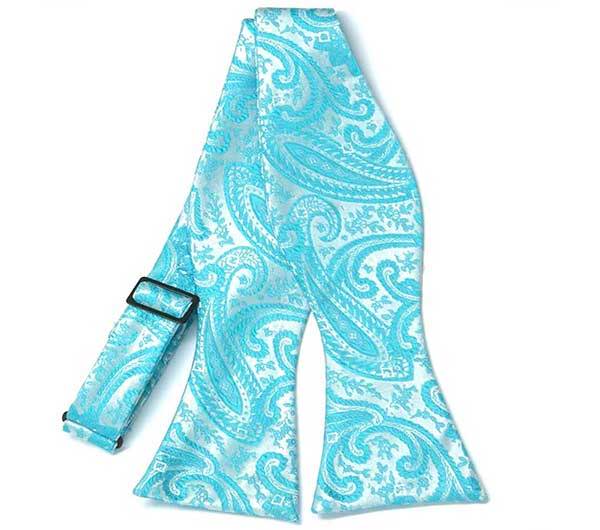 Turquoise Clara Paisley Self-Tie Bow Tie
Now that we've covered all the styles, what bow ties do you actually need?  

If you're new to bow ties, our recommendation is to start off with five bow ties in whichever style you decide is right for you. Once you get a feel for these five, you can always come back and expand your collection. Here are our picks:
1. Black bow tie: A formal occasion will come up, and it's good to have this on hand.
2. Dark solid color bow tie: Navy blue, burgundy, hunter green, dark gray. Get a dark solid color bow tie that you can wear casually or dress up if you need to.
3. Plaid or striped bow tie: There's something really distinguished about a plaid or striped bow tie. It's kind of that professor feel. Perfect for the office or the casual attire. To keep things subtle, go with stripes. For something a little flashy, go with plaid.
4. Paisley bow tie: We love paisley bow ties. If you're not on the paisley band wagon yet, give it a try. Paisley can be dressed up or down and exude confidence. There are a lot of great paisley patterns out there, so take a look. Some are bolder than others, so if you're feeling cautious look for a simpler paisley. But trust us, you'll wear this one more than you think.
5. Wild card: The great thing about bow ties is they are small, so you can get away with wearing a funky pattern. Find a bow tie in a cool pattern you like and will actually wear. Maybe it's a little out there for you, but hey, you're already trying something new with a bow tie.
TieMart is an online retailer of men's neckties, bow ties and other accessories. A wide selection of pattern ties are available at TieMart, including popular paisley ties for weddings, traditional plaid ties for the office and collegiate two-color striped ties for graduation or school uniforms. And, yes, if you really want to put your face on a tie, it's possible with a custom photo tie. TieMart ties are affordable and ship quickly from their Midwest location.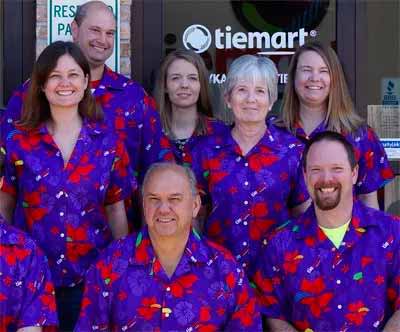 We are a family-run tie company based in Illinois. We've been in the biz since the late 90s, so by now we know a thing or two about men's fashion and accessories. Tiepedia is our lil spot on the web to share that knowledge with you.