How To Wear A Cummerbund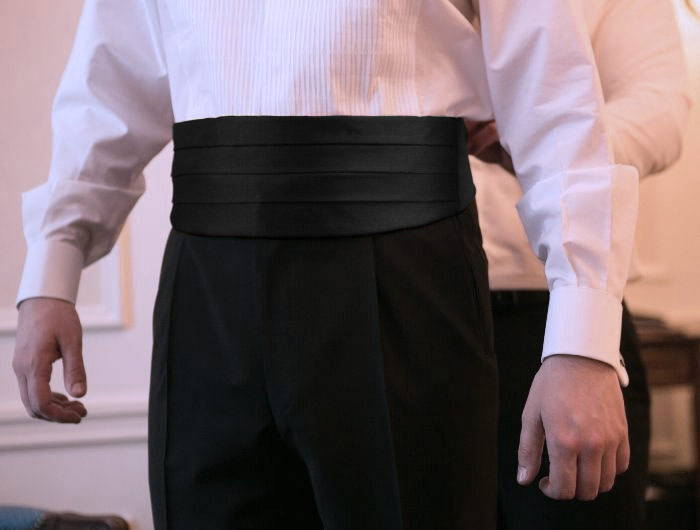 ---
What The Heck Is A Cummerbund?

The cummerbund is a classic piece of black tie attire worn around a man's waist. Despite it's longevity in the world of formal wear, there is a lot of mystery surrounding the cummerbund. How do you wear it? When do you wear it? What do you wear it with? Let's dive in and solve the mystery of the cummerbund.
The cummerbund isn't new. It originates from colonial India in the 1850s. British military officers were stationed in India during this time and, despite the hot temperatures, wore full formal uniforms, including waistcoats, to dinner. The British saw Indian soldiers wearing kamarbands (waist sashes) and adopted this look at a cooler alternative to the waistcoat.
The cummerbund made its way back to England and became a popular formal accessory in the Victorian era among civilians. By the early twentieth century, the tuxedo was extremely popular among New York's social elite. Accessories to pair with the tuxedo were trending, and the cummerbund was soon a staple of black tie attire in the United States.
The cummerbund became popular in the United States in the early twentieth century when New York's social elite began pairing accessories with their tuxedos.
As we just touched on, the original purpose of the cummerbund was to keep men cooler than wearing a full waistcoat. This still proves true today, of course. You'll be cooler wearing a cummerbund under a tuxedo than a vest.
However, today the purpose of a cummerbund is mainly to cover the waist. It keeps your dress shirt looking smooth in an area that sometimes looks a little funky when your shirt untucks or puffs up slightly. When you wear a cummerbund, you won't be constantly tucking your shirt back in every time you stand up or sit down.
You also may have heard the cummerbund's nickname: The crumb catcher. You always wear a cummerbund with the pleats facing up, and sometimes those pleats do in fact catch crumbs. (Just remember to clean those crumbs out as soon as you get a chance.)
Going back to the Victorian era, the small pleats of a cummerbund were used as ticket holders in an age that people dressed formally to attend the opera and symphonies. Yes, those pleats can be used as pockets for small, flat items.
The popularity of a cummerbund comes and goes. Nowadays, vests and suspenders are definitely more popular than cummerbunds. However, that doesn't mean the cummerbund is out of style. Like a bow tie, a cummerbund will never look outdated at a formal or black tie event. Rather, more people will be wearing vests, suspenders or simply a dress shirt and jacket than cummerbund.
Cummerbund or cumberbund? The correct way to spell this men's accessory is cummerbund, no letter b. According to dictionaries, cumberbund is an alternative spelling, but we personally think people just pronounced the word incorrectly enough times that it became commonly used in the United States.
How To Put On A Cummerbund

The cummerbund is worn around the waist, placed on top of a shirt and pants. It does not attach to the clothing. Before you put on your cummerbund, always turn it so the pleats are facing up. (Remember, you won't catch any crumbs if the pleats are down.) The cummerbund then secures in the back. Don't worry, there's no new knot you need to learn how to tie to keep it closed. (Could you imagine?!) Usually, the back of a cummerbund consists of elastic or fabric straps that easily attach or buckle. Elastic straps typically adjust and secure with a hook and eye type closure. Fabric straps usually buckle and then have a hidden pocket to hide any excess material. (Here at TieMart our cummerbunds have elastic straps and are really easy to put on.)
Placement of a Cummerbund

Wearing a cummerbund too high or low can look awkward, so it's important to get the placement correct. The cummerbund should be worn at the natural waist. This might require wearing your pants slightly higher than you're used to. When putting it on, place it so about half of the cummerbund covers your pants and the other half covers your shirt. It will fully cover the waistband of your pants.
Cummerbunds should be worn with bow ties, not neckties. Really, it's about the length. A properly fitted necktie hits at about the belt line, so right where the cummerbund sits. It's just too much going on if you're wearing a necktie and cummerbund. Stick to bow ties for a cleaner look.
As far as bow tie styles go, take your pick. Etiquette says to wear a self-tie bow tie to black tie events. If you can't tie a bow tie or prefer a perfectly tied bow, pair your cummerbund with a pre-tied band collar or clip-on bow tie. As long as you're wearing a bow tie with your cummerbund (versus a necktie) no one will comment otherwise.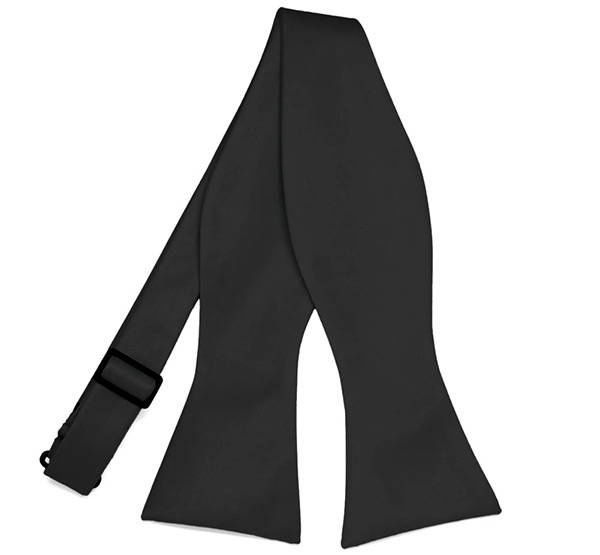 For black tie events, pair a black cummerbund with a black self-tie bow tie.
Do The Bow Tie and Cummerbund Have To Match?

For black tie events, your black cummerbund should match your black bow tie. For less formal occasions, there are a lot of different options about whether your bow tie should match your cummerbund. Some say it's okay to wear a colored cummerbund with a solid black bow tie. We've seen solid color cummerbunds look great paired with pattern bow ties. It's really up to you whether you match your bow tie and cummerbund. If you're not the most stylish person and just not sure, stick to matching bow ties and cummerbunds. If you want to mix and match the accessories but nervous to do so, look for a different color bow tie and cummerbund that are made from the same material (satin finish, etc.). The items will still look like they are meant to be worn together, even if they are different colors.

There are a lot of different options about whether your bow tie should match your cummerbund.
When Do You Wear A Cummerbund?

Today, a cummerbund can be worn for any formal occasion that you would wear a tuxedo. Black tie events, weddings, prom, galas. These are all appropriate times to wear a cummerbund. Stick to these formal occasions for the cummerbund. It's not appropriate to wear a cummerbund to a funeral, the office or casual wear.
Can You Wear a Cummerbund Without A Tuxedo?

If you're attending a black tie event, your black cummerbund should be worn with a single-breasted tuxedo, (plus a white tuxedo shirt, black bow tie and white pocket square). However, you can wear a cummerbund without a tuxedo to events less formal than black tie. We see this look most at prom, weddings and formal uniform wear. Paired with a dress shirt and slacks, the cummerbund and bow tie is a more affordable formal wear option than renting or purchasing a full tuxedo.
Cummerbund And Vest? Suspenders?

Cummerbunds should not be worn with a vest. In fact, the cummerbund is a cooler (temperature-wise) alternative to the vest. So, pick one accessory to wear, the cummerbund or vest.
Suspenders, however, can be worn with a cummerbund. The suspenders should be put on first, followed by the cummerbund on top. As far as suspenders colors go, black is always an option. If you're wearing a colored cummerbund (pink, purple, green, etc.), the suspenders can match your bow tie and cummerbund.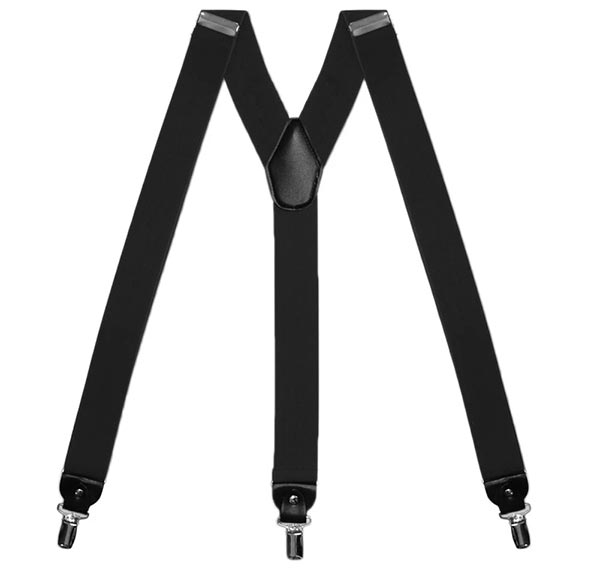 Suspenders can be worn with a cummerbund. The cummerbund goes on top of the suspenders.
You do not wear a belt with a cummerbund. You want your cummerbund to fit tight, and a belt will look bulky underneath. If your pants are slightly big and you feel like you need a belt, we suggest a pair of suspenders instead.
Now that you're a cummerbund expert, try out the look. TieMart offers a selection of affordable cummerbunds, including black cummerbunds for black tie events, and many other solid colors.
TieMart is an online retailer of men's neckties, bow ties and other accessories. A wide selection of pattern ties are available at TieMart, including popular paisley ties for weddings, traditional plaid ties for the office and collegiate two-color striped ties for graduation or school uniforms. Send in a picture and you can even create a custom photo tie. TieMart ties are affordable and ship quickly from their Midwest location.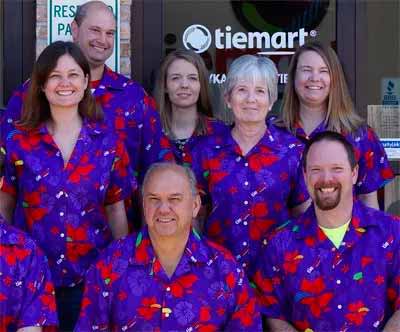 We are a family-run tie company based in Illinois. We've been in the biz since the late 90s, so by now we know a thing or two about men's fashion and accessories. Tiepedia is our lil spot on the web to share that knowledge with you.