When To Wear A Navy Blue Tie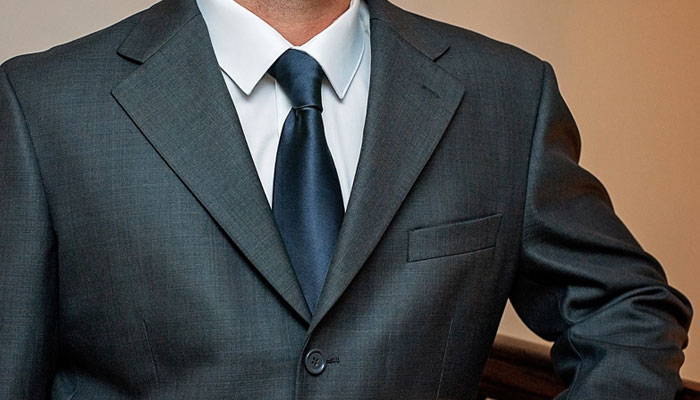 ---
Navy blue neckties are just as trusted and timeless as black ties. While slightly less formal, they are extremely versatile and can add a touch of sophistication to your look—without going overboard. Plus, it's said that navy blue portrays a sense of confidence, successfulness and loyalty, and there's nothing wrong with that! Here's how to wear that navy blue tie.
A navy blue tie is our top pick for job interview attire. This conservative color will ensure you're dressed appropriately, not overdressed or over the top. Think of navy blue as a neutral and it will be easy to match to a suit and dress shirt. A navy tie matches black, gray, blue, even brown or tan suits.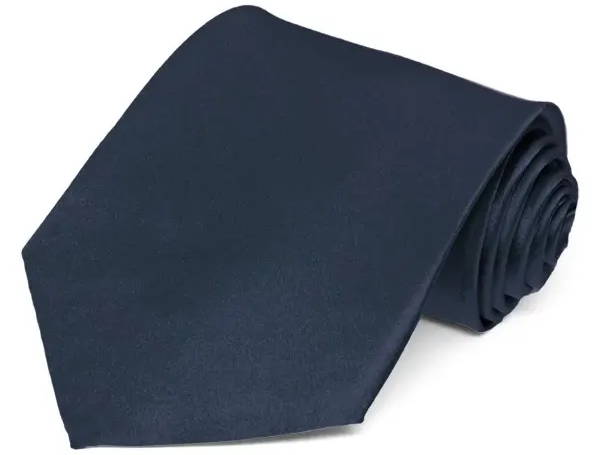 The versatility of a navy blue necktie can be quite useful if you wear a tie daily. As explained above, a navy blue tie will match most suit colors. It also matches most dress shirts, too—white, blue, yellow, gray. Plaid dress shirts are a great way to mix up work attire. But many find these pattern dress shirts difficult to match. Grab a solid navy tie and compare it to those plaid dress shirts. You'll be surprised how many it matches.
There's no better time than a first date to make a good impression. After all, she might be the one! A classic solid navy tie will show your sense of fashion with little room for error. Yes, we keep saying that a navy blue tie will ensure you're not overdressed. But not every date requires a necktie. If you want to add a navy tie to a more casual outfit, choose a thinner width and matter finish, like our navy blue cotton/silk slim necktie.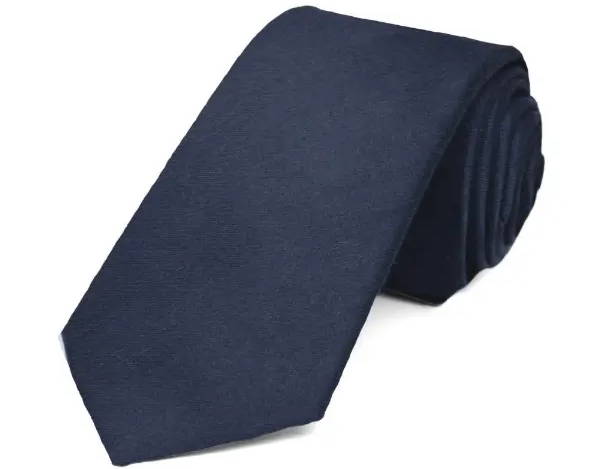 Navy Blue Cotton/Silk Slim Necktie
Stand out from the crowd and wear a navy tie casually. We told you it's easy to match, and it's true. Pair your navy tie with a collared shirt and a nice pair of jeans (sport coat optional). A 2.5- to 3-inch width navy tie is perfect for everyday wear. (If you're feeling adventurous, look for a subtle stripe or pattern in your navy tie.) This look is casual yet sophisticated.
We keep telling you that a navy blue tie will keep you from being overdressed. But it is possible to dress up a navy tie for formal wear. It's a great choice for a wedding or gala that isn't specifically labeled a black tie event. A navy blue bow tie or tone-on-tone patterned tie, like a navy blue herringbone or elite striped tie, is perfect for your most formal black suit.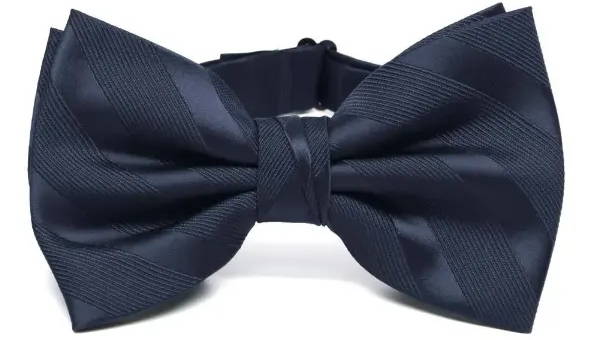 Navy Blue Elite Striped Bow Tie
TieMart is an online retailer of men's neckties, bow ties and other accessories. A wide selection of pattern ties are available at TieMart, including popular paisley ties for weddings, traditional plaid ties for the office and collegiate two-color striped ties for graduation or school uniforms. And, yes, if you really want to put your face on a tie, it's possible with a custom photo tie. TieMart ties are affordable and ship quickly from their Midwest location.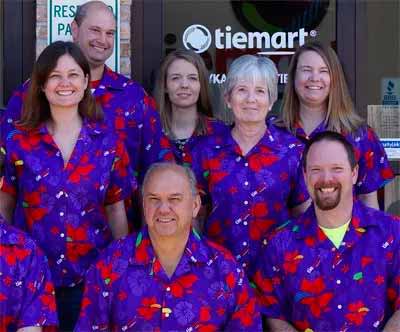 We are a family-run tie company based in Illinois. We've been in the biz since the late 90s, so by now we know a thing or two about men's fashion and accessories. Tiepedia is our lil spot on the web to share that knowledge with you.