Top Five Groomsmen Trends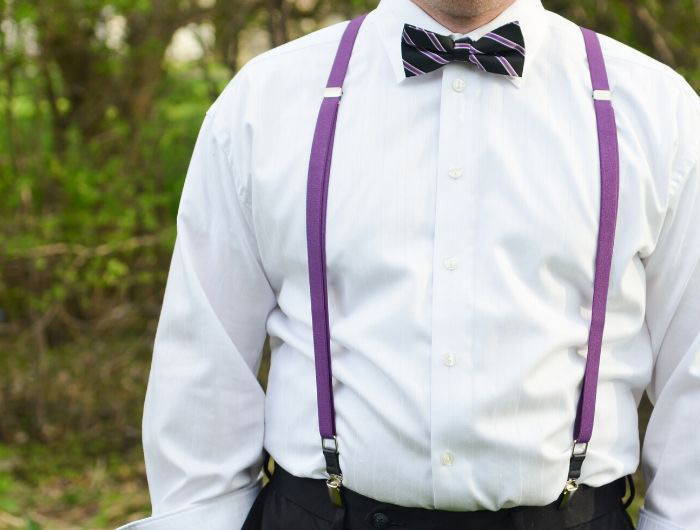 ---
Goodbye formal portraits and single rose boutonniere. From wedding photos to boutonnieres, today's top groomsmen trends are all about having fun.
Suspenders have been a popular addition to groomsmen attire in recent years, especially the half-inch skinny suspender. It used to be that groomsmen suspenders were only worn without a jacket for a more casual look that's typical of an outdoor wedding. Today, groomsmen are wearing suspenders under their suit or tuxedo jacket in lieu of a vest or cummerbund. This accessory can be worn with a bow tie or necktie. Many couples forgo the boutonniere with suspenders since there is no jacket lapel, but a boutonniere can be attached directly to the suspender strap.
Would you believe black is not our most popular choice wedding socks? It's not even close! Colorful, bold socks are the hottest accessory for groomsmen right now. Match your wedding colors with blush pink socks, choose an assortment of colors for a rainbow or ombre effect, or pick fun patterns to match each groomsman's taste.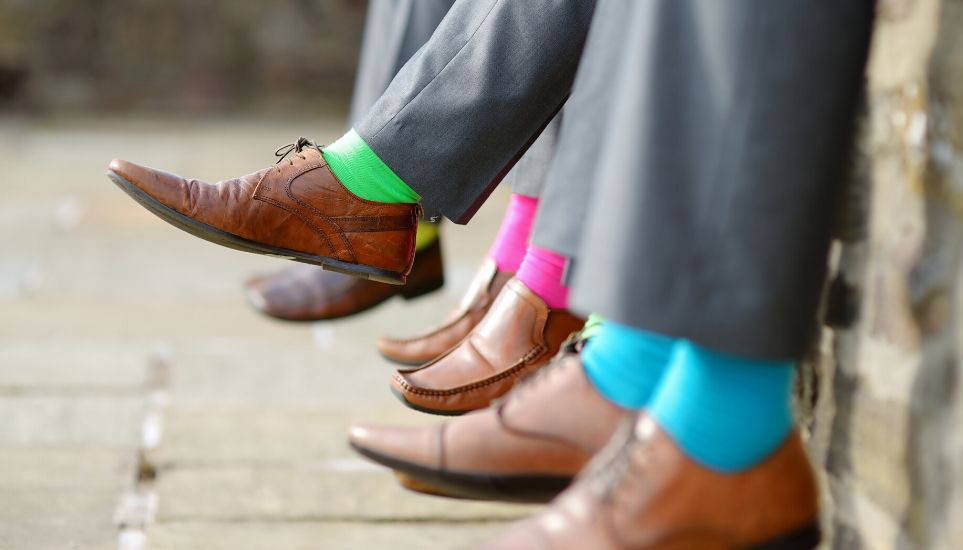 Black socks are out! Put the guys in socks that match your wedding colors or fun novelty patterns that match their personality.
Dance skills not needed! One of the most entertaining groomsmen trends is the surprise choreographed dance (think flash mob). The dance may include the bride, groom or bridesmaids, or simply the groomsmen. The best part is coordination really doesn't matter. You'll either impress the guests with killer dance moves or leave everyone laughing! One word of caution: Make sure there are no other surprise dances planned. If the bride and groom are already planning something special for their first dance, it's best not to upstage them.
4. Photos With Personality

Formal portraits are fine for family and the happy couple, but we are loving the trend of fun, carefree groomsmen photos. Show off those colorful socks, gasp in awe at the groom's new ring, reveal those superhero shirts beneath the dress shirts. If your group of guys really aren't the sit and pose type, we've seen great wedding photos captured during an impromptu game of ball (still in tuxes!). Let the guys be themselves and your wedding photographer is sure to capture some great (and likely hilarious) memories.
Look beyond the traditional single rose (with a dash of baby's breath) when it comes time to pick out your groomsmen's boutonnieres. Think feathers, twine, succulents or fruit. For a beach wedding, consider a starfish or seashell boutonniere. For winter weddings, try an evergreen boutonniere in the shape of a Christmas tree or wreath. Don't be afraid to personalize your boutonnieres to your groomsmen (individually or as a whole). Add golf tees, gaming dice, action figures, tools, toy cars, etc. Use your imagination.
Look beyond the traditional single rose when it comes time to pick out your groomsmen's boutonnieres. Use your imagination. Think feathers, twine, succulents or fruit.
If the accessories will double as your groomsmen gifts, a lapel pin is a great option for a boutonniere that can be reworn. Most often these are in the shape of a flower or puff and come in a range of colors and patterns to match your wedding.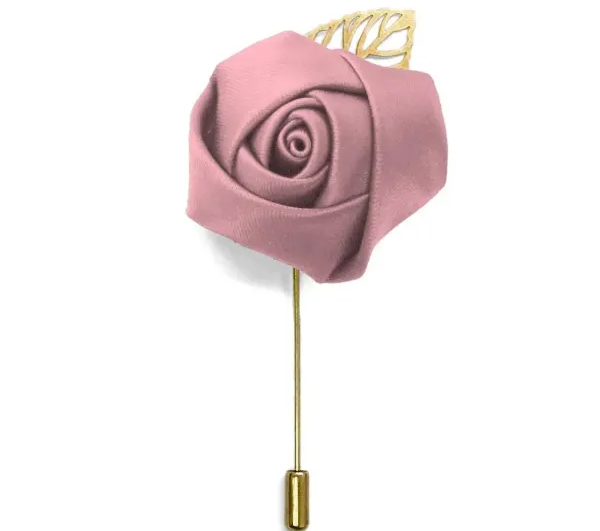 Pink Champagne Premium Flower Lapel Pin
TieMart offers budget-friendly wedding ties in a huge range of colors and patterns. You'll find accessories for your entire wedding party, from the groom and groomsmen to the ring bearer and father of the bride. Match your wedding colors by requesting free fabric color swatches today.