All About Groomsmen Accessories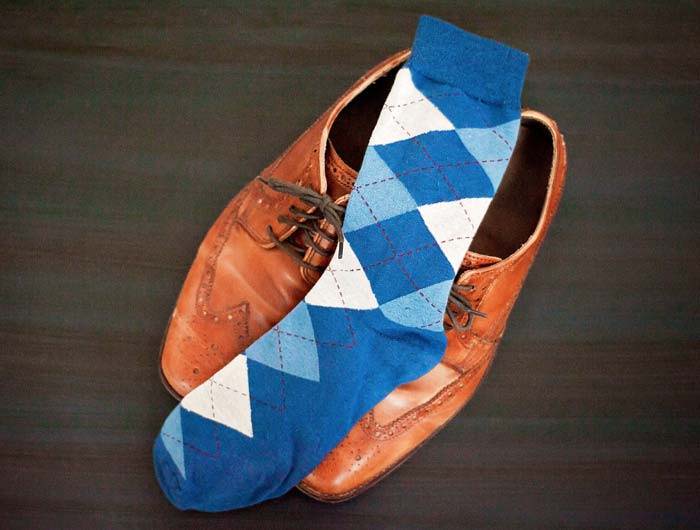 ---
Your guys have their suits and their ties. But what's missing? Complete your groomsmen's wedding day look with these popular accessories, decoded.
Classic black is out! Colorful and patterned socks are the newest trend to hit groomsmen attire. From solid colors to argyle, stripes, floral and novelty patterns, consider socks in your wedding colors or styles to match the personalities of your guys. Come wedding day, don't forget to get a picture of all of the guy showing off their stylish feet!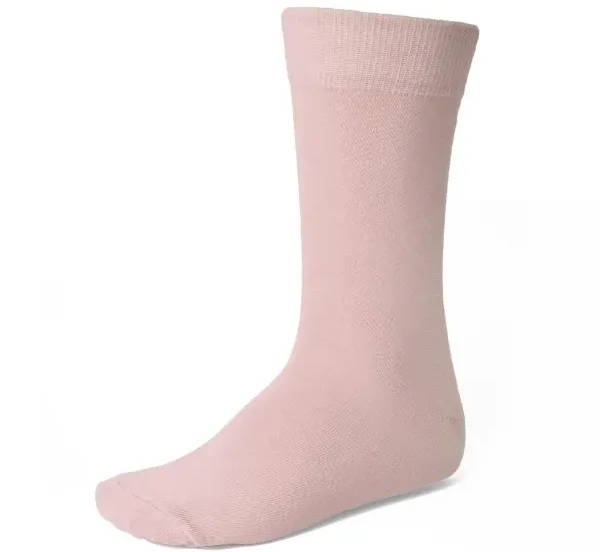 Suspenders used to only be worn in weddings for a more casual groomsmen look, without a jacket. Today, suspenders are becoming a must for every groomsmen—jacket or not. The look of the season is for groomsmen to wear suspenders under their suit jackets instead of the more formal vest or cummerbund.
As far as suspender color, pair black suits with black suspenders for a black-tie look. But you don't have to. Suspenders come in a ton of colors and patterns. It's okay for the suspenders to match wedding colors. Many pair navy blue or gray groomsmen's suits with tan suspenders as well, and it looks great!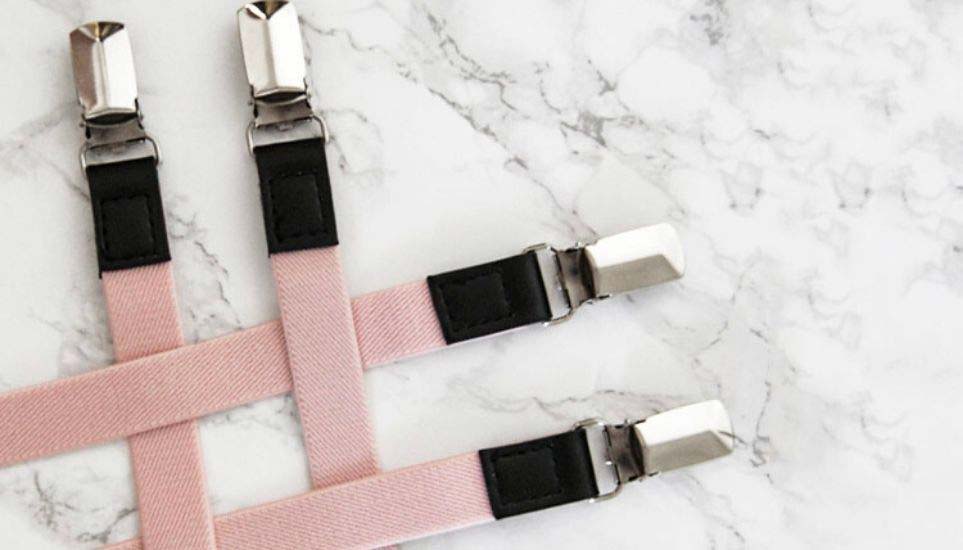 Suspenders are becoming a must for every groomsmen, jacket or not.
Suspenders are a great option for a more casual, no-jacket groomsmen look. This is particularly popular for outdoor weddings. Pin the boutonnieres right onto the suspenders, in the same height location you would on the jacket.
A few notes on suspenders: There's no right or wrong suspender width. Half-inch skinny suspenders are a bit more trendy, but we see an equal number of groomsmen wearing wider suspenders. Just make sure everyone is wearing the same width. Suspenders can be paired with any style of necktie or bow tie, there's no rule against either. And lastly, there's no need to wear a belt with those suspenders.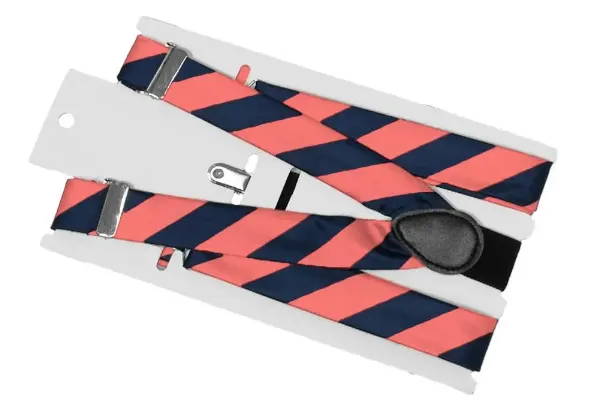 Bright Coral and Navy Blue Striped Suspenders
Tie bars are a popular groomsmen accessory that look good, but are practical, too. This simple accessory clasps to the tie to keep it and the tie tail in place. A tie bar will keep your groomsmen's ties looking sharp and eliminate wedding photos with neckties thrown over a shoulder or flying in the wind. (For outdoor weddings that forego the jacket or vest, tie bars are a must!)
Visually, tie bars are a great way to add a secondary or accent wedding color to your groomsmen's attire, too. Only have one wedding color? Choose a colored tie bar in the same color as the tie or go for classic silver or gold.

You know it's a special occasion if he's wearing cufflinks. Traditionally made of metal, this men's accessory keeps the shirt cuffs secure, instead of a button. Cufflinks double as a great groomsmen gift. Before you add them to your cart, make sure the dress shirts selected are cufflink-compatible. Most men's dress shirts sold at department stores have buttons on the cuffs and can't be used with cufflinks. Shirts labeled french cuff or single cuff are made for cufflinks.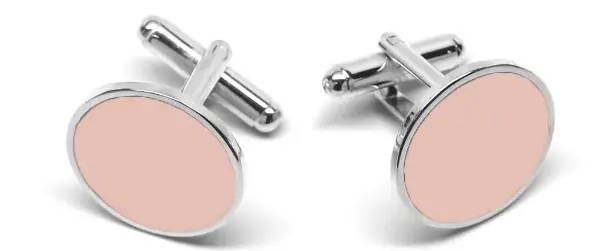 Blush Pink Round Cufflinks
Lapel pins are a newer addition to wedding wear. They're a budget-friendly alternative to the traditional flower boutonniere. (For groomsmen with flower allergies, they're also allergy-friendly, too!) What we love about lapel pins is that they are often made from the same fabric as ties, so you can really color coordinate your groomsmen's look. Lapel pins attach to the jacket lapel, dress shirt or suspender strap via a metal pin or butterfly clasp, depending on the style.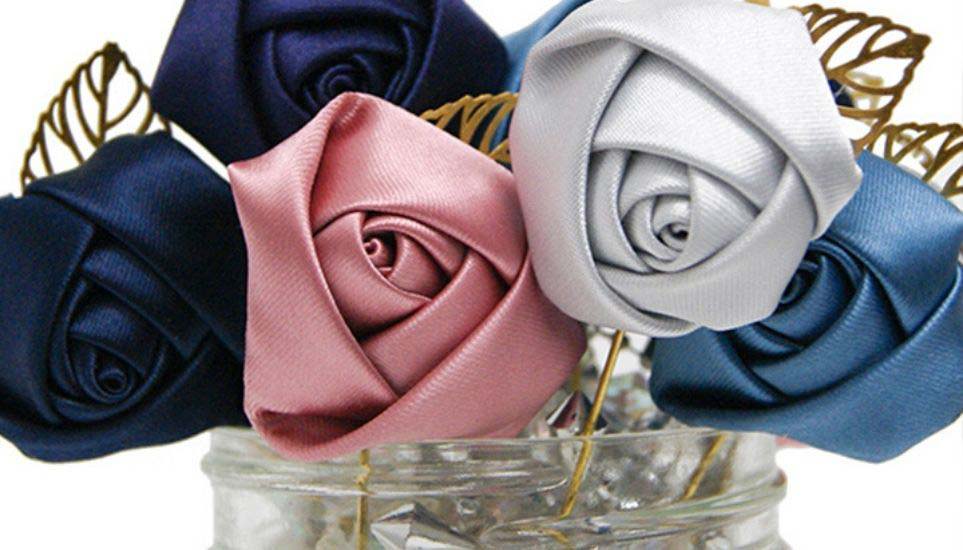 Lapel pins are a newer addition to wedding wear and a budget-friendly alternative to the flower boutonniere.
If you're sticking to tradition, pair your groomsmen bow ties with a cummerbund. This formal accessory attaches around a man's waist (pleats facing up) and is typically worn in the same color as the bow tie. Back in the day, Victorian-era men used the cummerbund's pleats as shallow pockets to hold opera or symphony tickets. Today the pleats aren't too practical as pockets, but they may catch crumbs during the wedding reception.

Pocket squares are the most popular accessory paired with wedding ties. Worn in the jacket pocket, this decorative piece completes a formal wedding look. Aside from a black tie wedding where a black or white pocket square is customary, there really are no rules when it comes to selecting wedding pocket squares. Most often, groomsmen will wear pocket squares that match the tie exactly. This is the easiest and most stress-free way to find pocket squares for your groomsmen. You can also use the pocket square to display additional wedding colors with a single pocket square or two pocket squares folded together. Pair a pattern tie with a solid pocket square, or even two coordinating patterns. Have fun, it's your day after all!
Black Solid Color Pocket Square
TieMart offers budget-friendly wedding ties in a huge range of colors and patterns. You'll find accessories for your entire wedding party, from the groom and groomsmen to the ring bearer and father of the bride. Match your wedding colors by requesting free fabric color swatches today.