A Guide To Wedding Tie Styles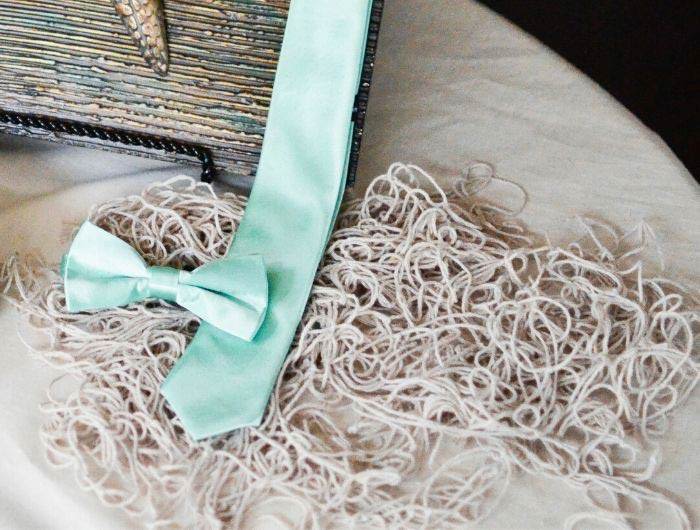 ---
When it comes time to pick out your wedding ties, the options may seem overwhelming.
What's a slim tie? Do any of your groomsmen need an extra long tie? What's the difference between a self-tie and band collar bow tie?
Keep reading to become a wedding tie expert.
Today, neckties are just as popular of a choice as bow ties for the groom and his guys. Ties aren't always one size fits all though. Different widths and lengths are available and the style you select could depend on the size of your groomsmen
A standard, traditional or regular necktie measures 3.25- to 3.5-inches wide and about 57-inches long. This is your classic wedding look. Even if you choose a skinnier width for the groom and groomsmen, many couples go traditional for the dads and order standard ties for the fathers of the bride and groom.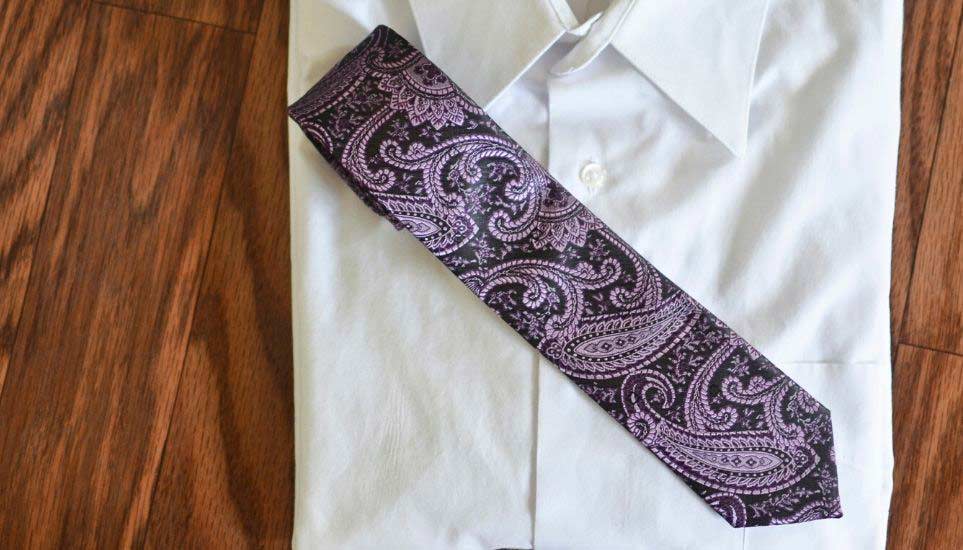 Ties aren't alway one size fits all. The style you select could depend on the size of your groomsmen.
For a more modern wedding day look, consider ties 3-inches wide or slimmer. A skinny tie is 2-inches wide and a trendy look. A slim tie is 2.5-inches wide and becoming the norm for millennial weddings. With both these widths, keep proportions in mind. On more full-figured groomsmen, these slim sizes can look disproportionate. Alternatively, a 3-inch wide narrow tie is a great in-between width any groomsmen can wear. It's trimmed slightly from a traditional tie, but not too much that it will look too skinny.
The tip of a tie should sit at about the belt line. Big and/or tall groomsmen (typically 6 feet or taller) might find a standard 57-inch long tie too short and require an extra long tie. Most extra long ties are 6-inches longer than a standard tie, helping to reach that belt line.
If your guys will be going above and beyond the standard necktie knot—perhaps with the eldredge or trinity knots—extra long ties can help. Tying these knots require extra material and many of knot pros swear by extra long ties for this.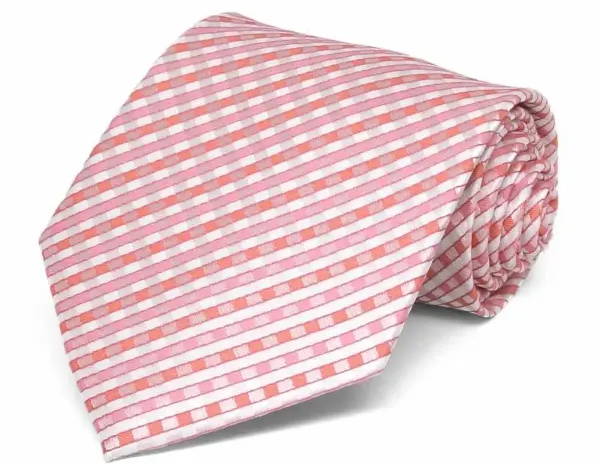 Perfect Pink George Plaid Extra Long Necktie
There was a time when the black tux and matching black bow tie was the go-to for the groom and groomsmen. Today, there's no right or wrong color of wedding bow ties, and they can be worn for both formal and casual weddings. When shopping for wedding bow ties, you first have to decide if you want the bow ties to be already tied or tied by the guys. This is really a personal preference, but here's some quick info to help you decide.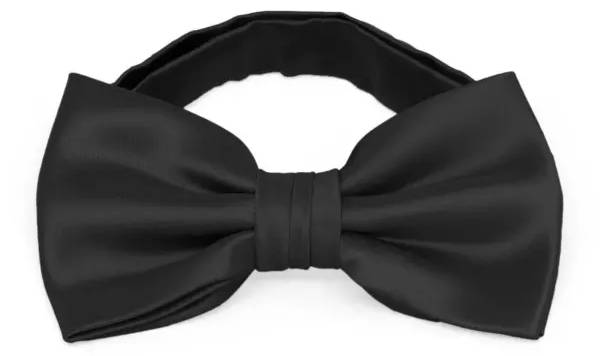 Before buying self-tie bow ties, make sure your groomsmen can tie a bow tie. Otherwise, consider pre-tied bow ties.
A self-tie bow tie is the most formal tie style available and the bow must be tied by the wearer. Here's what to know before putting the guys in self-tie bow ties:
1. Tying a self-tie bow tie isn't the same as tying a tie. Don't assume your groomsmen can tie a bow tie. Most men can't. If you don't know whether each of your groomsmen can tie a bow tie and don't have a bow tie expert to help on your wedding day, pre-tied bow ties are likely a better option.
2. When tied, every self-tie bow tie will look slightly different. This is part of the fun and style of a self-tie bow tie. However, if you prefer your groomsmen looking uniform, try a pre-tied bow tie.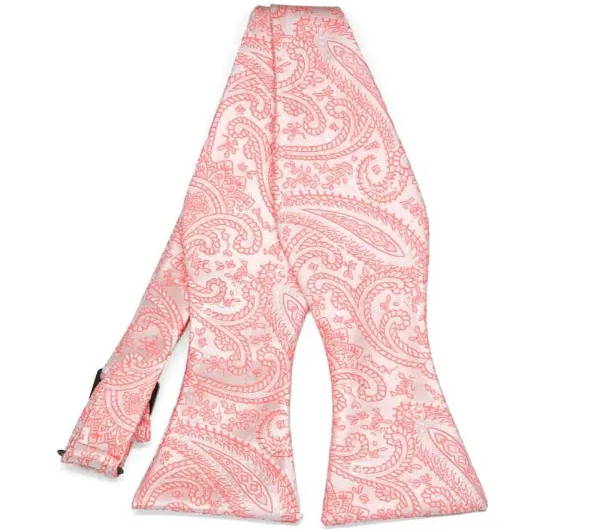 Coral Clara Paisley Self-Tie Bow Tie
Pre-tied bow ties come in band collar or clip-on styles. Band collar bow ties have an adjustable band that expands to fit most adult neck sizes. Clip-on bow ties attach to both sides of the shirt collar. If going with a pre-tied bow, most couples choose band collar bow ties for the guys.
Band collar bow ties come in a few different sizes and styles, so it's important to pay attention to measurements when ordering wedding bow ties. A traditional bow tie is about 4.5-inches wide and 2.25-inches high. Think of the bow ties worn by servers in a restaurant or banquet hall. This is that size. For a larger bow tie, look for bows measuring 5-inches wide and 3-inches tall.
Pre-tied diamond tip bow ties are another great wedding option that will make your guys stand out. Rather than the classic butterfly bow ends, the ends of the bow tie come to a point.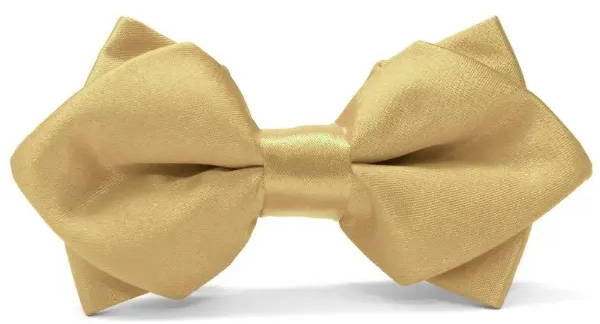 Pale Gold Diamond Tip Bow Tie
Pre-Tied Wedding Neckties

Typically when you rent a necktie from a tuxedo shop, it's a pre-tied tie. There are two types of pre-tied neckties: Clip-on and zipper. These ties are ideal if you're looking for a uniform look among your groomsmen since every knot will be identical. A clip-on tie simply attaches to the shirt collar, with no band around the neck, via a clip behind the tie knot. For something a bit more secure for late-night dancing, a zipper tie has an expandable collar that easily expands to fit over the head and is tightened (or zipped up) to secure. Although some options are available for big and/or tall men, you won't find as wide a selection of extra long pre-tied ties as you will in standard ties.
Just like the big guys, ring bearer ties come in several styles, including standard ties, bow ties, and pre-tied ties. Bow ties have become the top choice for ring bearers, and they're the easiest to buy since there is usually one size for babies through about 10-years old.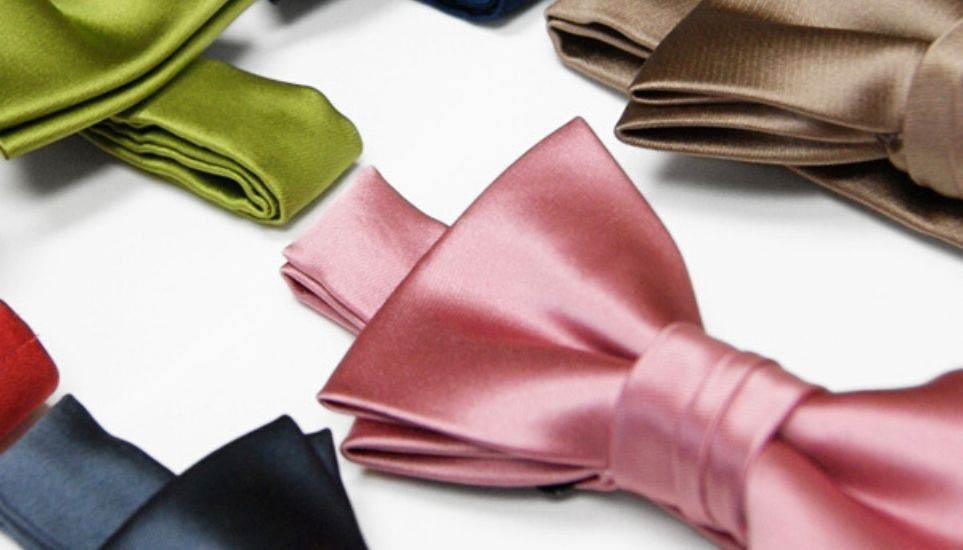 Skip the traditional wedding favor and leave to-go bags at your candy or dessert bar.
For a ring bearer necktie, clip-on ties are the popular choice and look just like a necktie when worn. The tricky part of boys' clip-on ties is the sizing. There are usually three sizes (8-inch, 11-inch or 14-inches), and the choice depends on the height of the child. Measure the ring bearer from the collar to waist to ensure a proper fit. Choose the length closest to the measurement, but if you're ordering well in advance of your wedding consider whether the ring bearer will have a growth spurt before the big day. If so, you may want to size up.
Standard ties, where the knot is tied by the wearer (or his dad) are available for ring bearers, too. However, the lengths available are often for older boys, 8- to 13-years old, making them a less popular choice than the pre-tied tie.
Once you decide on the style of tie for your wedding party, check out our groomsmen accessory guide to complete their look.
TieMart offers budget-friendly wedding ties in a huge range of colors and patterns. You'll find accessories for your entire wedding party, from the groom and groomsmen to the ring bearer and father of the bride. Match your wedding colors by requesting free fabric color swatches today.