The necktie. It hangs in a dangerous place. We call it the drop zone. Splashdown. Landing area.
Guys, you know what we're talking about. You might as well put a bullseye on it, because 9 times out of 10 when you're wearing a new necktie it gets slopped on. Right...smack...dab in the navel area. It's almost as if there's a stain magnet sewn into the tie material. (Is that a thing?)
Well, here at TieMart we're tired of seeing one-time worn ties headed straight to the dry cleaners. So what to do?
Introducing TieMart's new line of pre-stained ties.
You heard that right. These neckties come already stained, so you don't need to worry about safeguarding your tie. Your own stains will blend right in. Think of it like a pre pre-stain treatment.
Now folks, it's true what they say. One stain doesn't fit all. So you have your choice of oopsie daisies when you shop our pre-stained ties. Choose from a coffee ring, ketchup and mustard stains or an impressive ink blob.
We didn't want to leave the little guys out, because you know they're just as messy as dad. Don't miss our pre-stained boys' tie. It's a glorious sight, covered in colorful marker and paint and whatever else it is we're finding all over our children's ties...and hands...and furniture…and walls these days. (How is there crayon on the ceiling?!)
Gentlemen, let's talk price. These ties are a deal at $14.95 each. If you're a serious stainer, pick up all three men's styles! The ties practically pay for themselves when you consider your lack of dry cleaning bills on these babies. It's like making money!
Check them out. This new innovation in neckwear is only available here at TieMart.
OBVIOUSLY NOT FAKE
CUSTOMER REVIEWS
"I can't believe it. I purchased this tie and instantly went from sloppy to stylish. Haven't spent a dime on dry cleaning either."
- Paul Howdidhebuythistiealready
"Everyday someone would ask me: 'What's that on your tie?' Now I finally know what it is when I wear my pre-stained tie!"
"I have a girlfriend. A new car. My boss even gave me a raise. All because of this tie. Thanks, TieMart!"
OBVIOUSLY NOT FAKE
SOCIAL MEDIA PICS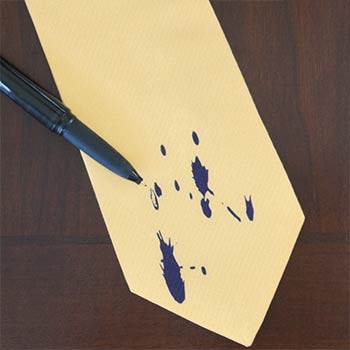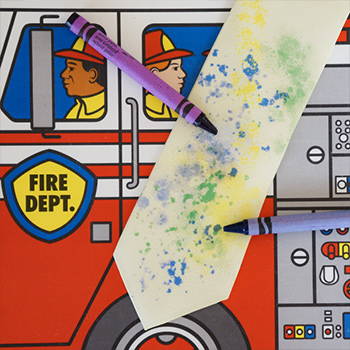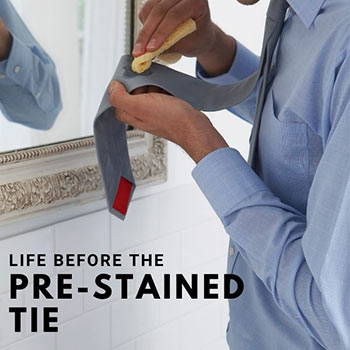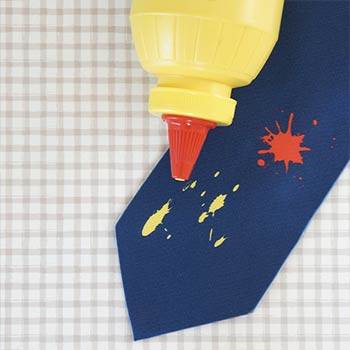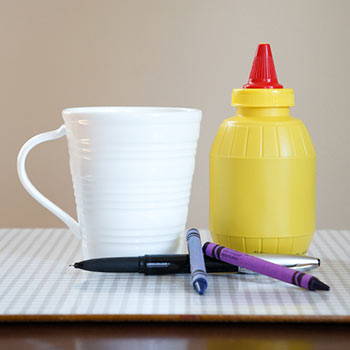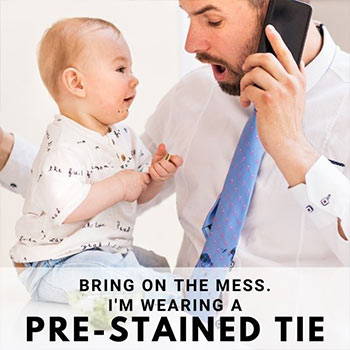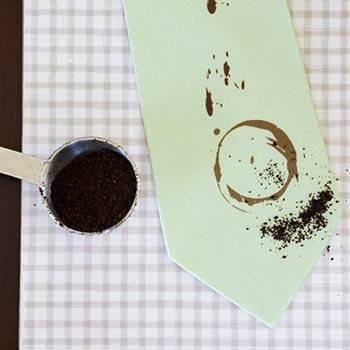 We love a fun April Fool's Day joke here at TieMart, and our pre-stained ties just happen to be one of them. (In year's past we've promoted scented neckties and ankle ties on April 1.) While our pre-stained ties are meant to be a gag, they are actually available for purchase, too. If you buy any of these ties, we really will send it to you, your spouse, your boss, arch nemesis, etc.