17 Clothing Items All Men Should Own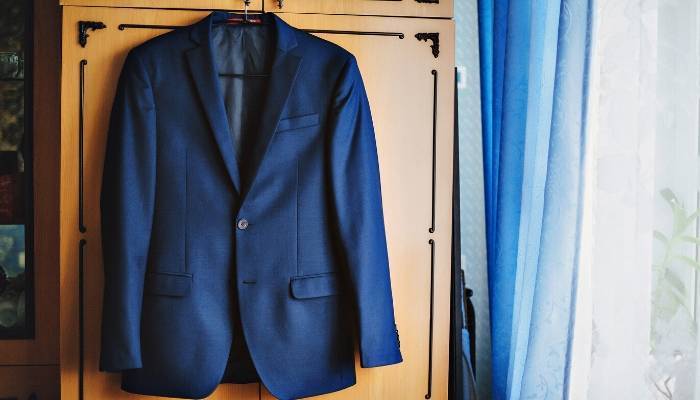 ---
C'mon guys, you're an adult. Even if you have a casual dress code at the office, there is no excuse for not having these clothing items in your closet. Here are the essentials.
If you only own one thing from this list, above all it should be a well-fitted suit. Go and get fitted for a suit, even if you don't buy on the spot. You'll at least find your proper size and fit. (It's more than small, medium, large and so on.)
It was once said that if you were going to only own one suit it should be black. Nowadays, a black suit is often seen as too formal for everyday wear. Navy has become the most popular suit color, and it's versatile enough that it can be worn for just about every occasion; a job interview, at the office, court, a wedding. If navy isn't your thing, gray is a nice alternative. Choose a lighter gray suit for a bolder look, or stick to a dark gray for a more traditional feel. Many find a gray suit is easier to match with shirts and ties as well.
Once you find that perfect suit, don't skip on the tailoring. For a perfect fit, your arm and pant length will likely need to be tailored.
A nice pair of dark jeans can be dressed up with a coat and tie or worn casually with a t-shirt and sneakers. Choose a style that you're comfortable in, but avoid carpenter jeans, wide leg jeans and any jeans with holes, tears or bleach marks. Make sure they fit well in the waist and length. Men's jeans typically come in a wide selection of waist and length sizes, but have them tailored if they are too long. You don't want the pant leg touching the floor and fraying.
Chinos are a lightweight cotton pant. They're a little more dressy than jeans, but more versatile than dress pants. Wear them to the office, date night, even a backyard bbq. Chinos come in a variety of colors, but you'll get the most use by going with a classic khaki.
A timeless classic, a white button-down dress shirt is a must for any man's wardrobe. You'll need it for your new suits, but you can also wear it with a pair of chinos.
Like the white button-down dress shirt, a blue dress shirt is a versatile classic. It will match with your navy and grays suit, but you can also pair it with dark jeans for a smart casual look. To add some depth, choose a subtle windowpane plaid design.
You won't always need a full suit, but may need a sport coat that you can wear with dress pants, chinos or even jeans. You don't want to be too loud with a sport coat, but don't be afraid to choose a subtle plaid or textured design. Keep it slightly more casual with a darker brown or blue shade. Black or gray sport coats are generally more formal. Choose the same fit and size as your suit jacket, and have the sleeve length tailored.
Having a nice sweater in your closet is a must. It's an item that can easily be dressed up or down. Layer it over a dress shirt and pair it with your new chinos or jeans for a smart look. Again, this is a sweater guys, not a hoodie or sweatshirt!
Every man should own a polo shirt. Polos are great casual wear when going anywhere, the store, a casual lunch or wherever you don't need to be dressed up. You can wear it with jeans or chinos, so pick a solid color that will go with both. (It's ok to pair a blue or navy polo shirt with jeans, but don't pair tan or brown polo shirt with chinos.)
The perfect-fitting white t-shirt is essential for every man. You may need to try a few different brands and sizes to find the perfect one, but it is out there. Find one that is long enough to tuck in under a dress shirt, but you can wear untucked with your new pair of jeans and sneakers. Crewcut or v-neck is ok; pick what you like. Make sure you keep it crisp and clean and replace it when needed. (Don't toss out the stained or dingy looking t-shirt though. Cut it up as use it as a rag for those rare times you clean your pad.)
10. Cold-Weather Coat/Jacket

Ok guys, time to ditch the hoodie and get a real cold-weather jacket. There's tons of styles from bomber jackets to field jackets. Find something that fits your style and your body.
11 & 12. Brown and Black Leather Dress Shoes

Yes, you need one pair of black and one pair of brown leather dress shoes. An oxford, derby, brogue, monk strap or loafers are all acceptable styles. Mix it up a bit and have one style in black and one in brown. And remember, the better the quality the longer they will last.
For those casual days, having a clean, minimalistic pair of sneakers is a must. Keep the styling simple. A one or two color design will allow for more versatility and ensure they match most of your wardrobe.
Even if your pants are a perfect fit, you should own a classic leather belt. It will polish off your look for those times you tuck in your shirt. As far as color (black or brown), your shoes and belt should match. Rather than purchasing two belts, look for a reversible belt that's black on one side and brown on the other. They're easy to use and often the same price as a single color belt.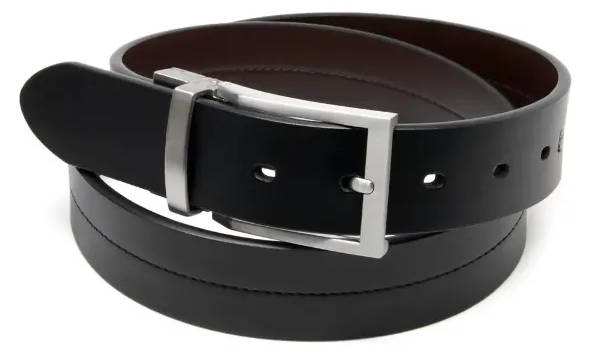 Men's Reversible Leather Belt
A striped repp tie is a wonderful way to add a pop of color without going overboard. It's classic, preppy and stylish and can be formal enough for most occasions.
This is your most casual tie. It's bold and makes a statement. If you only have one pattern tie, go with paisley. If it's your style, you can also substitute this tie with a pattern bow tie.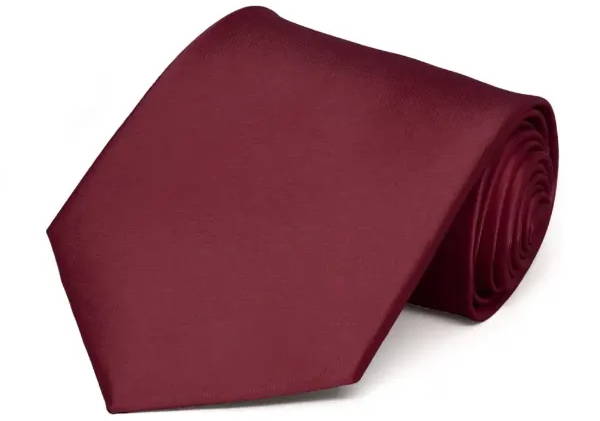 Burgundy Solid Color Necktie
TieMart is an online retailer of men's neckties, bow ties and other accessories. A wide selection of pattern ties are available at TieMart, including popular paisley ties for weddings, traditional plaid ties for the office and collegiate two-color striped ties for graduation or school uniforms. And, yes, if you really want to put your face on a tie, it's possible with a custom photo tie. TieMart ties are affordable and ship quickly from their Midwest location.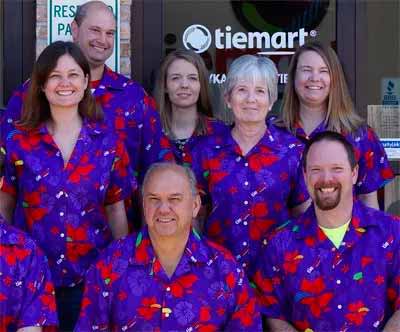 We are a family-run tie company based in Illinois. We've been in the biz since the late 90s, so by now we know a thing or two about men's fashion and accessories. Tiepedia is our lil spot on the web to share that knowledge with you.