How To Match Your Tie With A Suit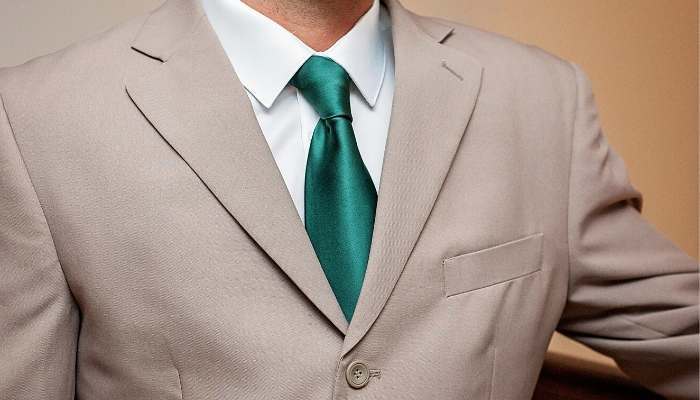 ---
Sometimes you have to wear a suit. If you're on a job interview, at a wedding or out on a fancy date, you're in a suit. Other times, you may just want to wear one to stand out. People take notice of your awesomeness when you're the guy in a suit.
If you have to wear a suit, or just want to highlight your awesomeness, it's important to pick the right kind of tie to pull it all together.
Let's begin with an important rule of thumb that applies across the board, and then get into details about colors, sizes and shapes.
The Rules of Matching Ties to Suits

Always be sure to keep this pointer in mind: Match your tie to your clothes, not your clothes to your tie.
There are two kinds of colors in any ensemble, the core color and accent colors. With a suit, the core color is usually the suit coat. But remember, if you take off your coat the shirt or pants suddenly become the core color. Ties are always accent colors because, unless you have made a horrible, horrible mistake, your tie will always be smaller than the shirt, pants and coat.
Make sure your tie works well as an accent to the suit coat and to the shirt and pants. Test it out in front of a mirror (or partner) with the coat on and the coat off.
What Colors Should I Pick?

What kind of a message do you want to send? Do you want to convey that you are easy going, stylish, bold, powerful, welcoming? The kinds of colors that you choose convey a message. Cool colors indicate easy style or a mellow character. Hot colors convey boldness and excitement. Some colors, like red, traditionally display power by focusing attention on the wearer. Since your suit will often be neutral or traditional in color (white and blue shirts; grey, navy or black suit coat) the tie does the heavy lifting here.
No matter how mellow you want to appear, your tie should contrast at least somewhat with your shirt. Don't let your shirt swallow your tie or it will look weak and boring.
It's easier to match solid color shirts or coats with ties because there is only one color to deal with. White shirts match with just about everything, though may come off as too formal. Bright white is dressy. Off-whites and cream colors can function like white, but without the formal feel. Also, white produces a strong contrast with bright or dark colors, so if you want to appear less formal or easygoing, pair a white shirt with a less bold tie or choose a shirt with some tint to it.
For coordinating colored shirts with ties, take a look at the color matching section of our guide to dressing on a first date.
Black suits are similar to white shirts. They match with anything, but can look overly formal. They can also look somber, so if you're wearing black consider punching it up with a bright colored tie in order to avoid looking like an undertaker (or like Elwood Blues). Don't overdo it, though: Bright single color ties can seem unserious.
Gray and navy suit coats match with most anything and avoid the undertaker/Blues Brother problem. With light colored suits, use a dark tie or a muted pastel color if it goes with your complexion. Light suits paired with brightly colored ties are generally to be avoided.
With patterned shirts and coats make sure that the tie complements all of the colors in the shirt, with an emphasis on the core color. Avoid mixing elements with patterns similar in size and shape unless you feel confident about harnessing the power of power clashing.
Here are some classic combinations for your delectation: Blue tie with a grey suit, pale blue shirt with a maroon tie.
You should choose the width and length of your tie based on your body size. Wide, long ties are appropriate for broad men: The tie should reach to the belt, but no further. Skinny ties are appropriate for slender men. If you're on the shorter side, don't go with a wide tie unless you are also wide, and be careful that the tie is not too long for you.
And make sure to check out our guide on how to match necktie knots with shirt collars.
TieMart is an online retailer of men's neckties, bow ties and other accessories. A wide selection of pattern ties are available at TieMart, including popular paisley ties for weddings, traditional plaid ties for the office and collegiate two-color striped ties for graduation or school uniforms. And, yes, if you really want to put your face on a tie, it's possible with a custom photo tie. TieMart ties are affordable and ship quickly from their Midwest location.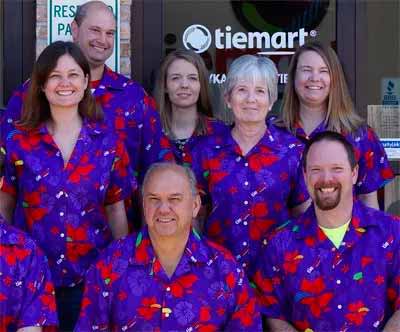 We are a family-run tie company based in Illinois. We've been in the biz since the late 90s, so by now we know a thing or two about men's fashion and accessories. Tiepedia is our lil spot on the web to share that knowledge with you.