5 Ties To Wear In (Early) Spring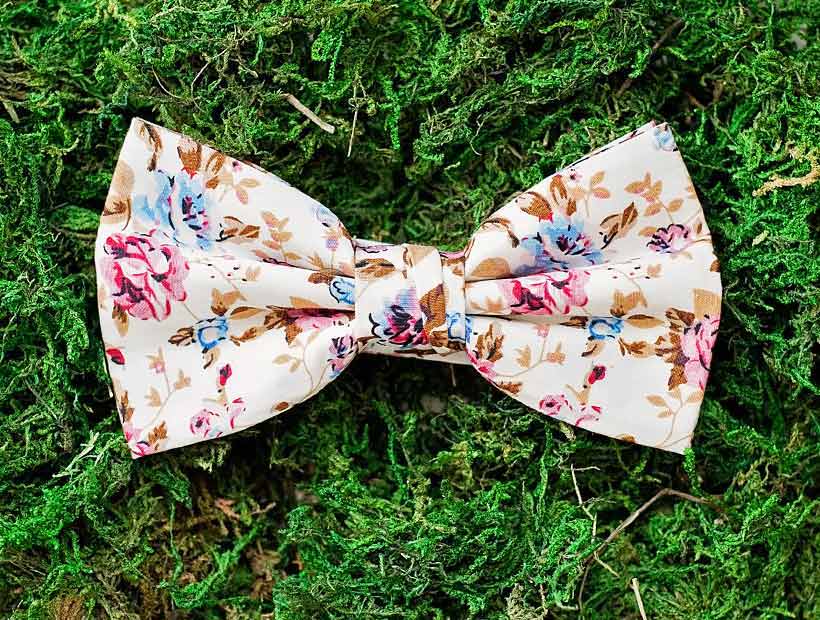 ---
Early spring is a tricky time to dress when you live in a colder climate like we do. Spring fever gets real and we all want to start wearing brighter colors and less layers. But, let's be honest, we could definitely see another few inches of snow next week. Before you pull out the shorts and flip flops, ties are a great way to gradually transition your wardrobe to warmer temps. Here are 5 types of ties to wear in early spring.
For the next couple months, it's okay to add brighter colors to your 9 to 5 neckwear. But look for ties that subtly combine those lighter colors with neutral or darker shades. Or, perhaps a splash of a bright color on a heavier weight fabric that we'd typically associate with winter. This lime green plaid tie below is a great example. The bright green is toned down by the neutral gray. While the fabric is a thicker cotton/silk combo, we can definitely imagine it coming in a thicker winter wool, too.
Florals are everywhere come March 1, ties included. Floral patterns have come a long way in recent years, and there are so many options available. Rather than going straight for the bright, bold florals, in early spring look for ones that combine light and dark colors or are more subdued colors overall. For example, this dusty blue and black floral tie. We see a couple lighter shades, like dusty blue, pink and sage, in the pattern. But those are balanced by black, burnt orange and a darker olive green for a perfect early-spring pattern.
3. Bright (But Not Pastel) Colors

We love watching the seasons change as we pull and ship orders of solid ties. Just before the official start of spring, those dark wintertime hues like burgundy, navy blue and hunter green are slowly replaced by lighter and brighter hues. However, this doesn't mean everyone's jumping headfirst into spring pastels. Instead, those middle ground, medium shades gain popularity in early spring. A subdued wisteria purple, rather than eggplant; dusty blue in place of navy; sage green instead of hunter green.
Now that you're a pro at selecting pattern and solid ties for early spring, combine that knowledge and take a look at the striped tie. To keep your look from being too collegiate, select striped ties in tone-on-tone colors. (Again, the same not-too-light, not-too-dark colors we described above.) This sage striped tie below is the perfect combo. The colors are refreshing, but won't look too out of place in that late March snowstorm that, unfortunately, is probably on its way.
Bow ties aren't just for professors and formal occasions these days. We're seeing more and more bow ties in the workplace. Consider refreshing your spring wardrobe by wearing a bow tie, too. Bow ties come in just as many colors and patterns as neckties, so you can follow any of the spring guidelines above when selecting your new bow. This purple bow tie below is a great choice for early spring and combines a few of the designs discussed above. It plays on the floral patterns and tone-on-tone stripes, and the colors are a combination of light, dark and neutral.
It won't be long until we're all wearing sunglasses, less layers and bright colors. While we wait for the temperatures to soar, slowly transition your wardrobe away from the winter blues. Ties are a great place to start. For that early-spring look, wear ties that combine light and dark colors, or are medium shades. It's okay to start wearing typically warm-weather pattern ties, like florals, too. Just select pattern ties that follow those color guidelines above.
TieMart is an online retailer of men's neckties, bow ties and other accessories. A wide selection of pattern ties are available at TieMart, including popular paisley ties for weddings, traditional plaid ties for the office and collegiate two-color striped ties for graduation or school uniforms. And, yes, if you really want to put your face on a tie it's possible with a custom photo tie. TieMart ties are affordable and ship quickly from their Midwest location.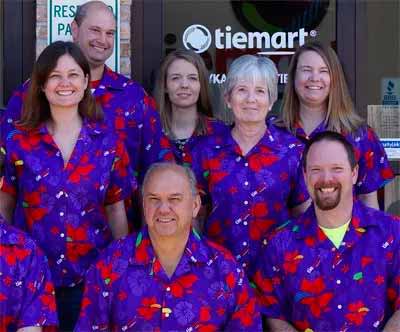 We are a family-run tie company based in Illinois. We've been in the biz since the late 90s, so by now we know a thing or two about men's fashion and accessories. Tiepedia is our lil spot on the web to share that knowledge with you.