How To Dress For Spring: Ties and Attire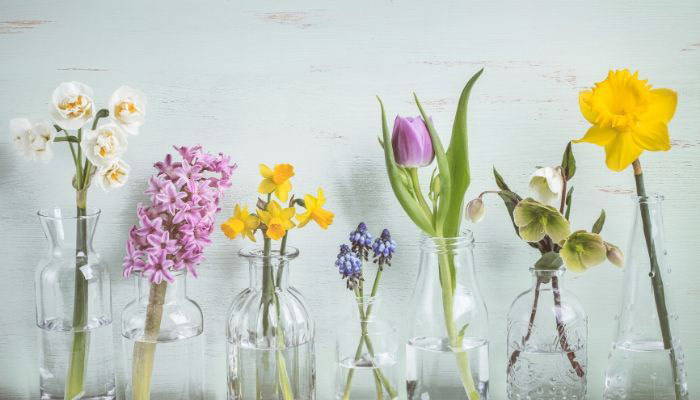 ---
Spring is a great time of year for so many reasons. It gives many of us the opportunity to get outside again after being cooped up in our homes all winter. Spring also provides men the opportunity to hit the reset button on their wardrobe and start fresh with lighter colors and fabrics. If you're suffering from spring fever, here are some tips for getting your wardrobe ready.
Depending on where you live, you've probably spent the better part of last six months layered up with fall and winter clothing. But the temperatures are starting to rise and it's probably about time to lose a layer or two. Spring gives you a unique opportunity to lighten up the load and still be comfortable. That doesn't mean lose all of your layers. After all, that is what summer is for. But you can definitely look stylish this spring with a two layered top. For nicer occasions, this could be as simple as a nice button up shirt and a blazer. More casual affairs could call for a nice solid color t-shirt and a flannel shirt.
Spring is very unpredictable when it comes to the weather. You're going to need a versatile wardrobe that will allow you to dress comfortably, rain or shine. That means you may need to buy an umbrella and a nice spring coat to keep you dry. There is no shame in owning an umbrella guys, they serve a purpose. You can't rely on sprinting from your car to the nearest building every time the rain catches you off guard. Plus, if you're on a date, you'll score major brownie points if you use your umbrella to keep your date dry.
This area is a little bit trickier. Every year, spring brings new colors and patterns that are the must-wear look for men. But not everybody can stay on top of the latest color trends year in and year out. Luckily, there are a few timeless colors that are safe to wear every spring. Gray, white and just about any pastel will look good on you year after year. When it comes to pastels, the most popular choices amongst men seem to be blue, green and pink. It's also worth having a comfortable pair of khaki pants. They will look good with any of the colors mentioned and are a classic year after year. Go ahead and splurge a little bit when buying clothing in these colors. They are not going to go out of fashion any time soon and you're going to want to wear them for years to come.
Don't Forget About The Footwear

You're almost there! But dressing well for spring requires you to have that look from head to toe. That means you can't skip out on thinking about your footwear options. Unfortunately, the weather in spring is unpredictable and you'll need several essential footwear options. Boat shoes are more of a summer essential, but you might as well get a pair in spring because you'll still be able to pull off wearing them on the really warm days. When weather is not on your side, lace up a pair of light brown boots. The key with boots is to find a comfortable, light pair of boots. Don't lose sight of being fashionable by wearing a bulky pair of winter boots. The last piece of footwear you'll need for spring is a light, low top canvas shoe. The beauty of low top canvas shoes is that they are relatively inexpensive. So you could easily buy a couple of pairs that are different colors to coordinate with whatever outfit you are wearing that day. Don't forget to get some low cut socks that sit below the ankle as well. This way you won't have socks exposed when you're wearing this style shoe with shorts come summer.
Every year it seems that spring is the unofficial kickoff to the wedding season. So, without a doubt, you're going to need a tie or two. (Plus, here at Tiemart we sell ties, so you really shouldn't be that surprised.) With the quickly approaching wedding season, you'll want a couple of different ties. For a comprehensive guide to dressing for a wedding, visit this page. You can't go wrong with a dark, slim tie. It will give you a much younger look and it will work well with a fancier suit or under a v-neck sweater for more casual affairs. Don't be afraid to add a little color to your spring ties, coral or pastels will tell others you're in tune with the seasons.
TieMart is an online retailer of men's neckties, bow ties and other accessories. A wide selection of pattern ties are available at TieMart, including popular paisley ties for weddings, traditional plaid ties for the office and collegiate two-color striped ties for graduation or school uniforms. And, yes, if you really want to put your face on a tie, it's possible with a custom photo tie. TieMart ties are affordable and ship quickly from their Midwest location.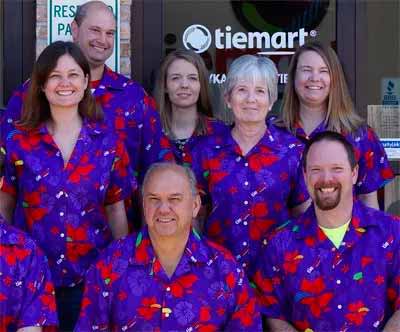 We are a family-run tie company based in Illinois. We've been in the biz since the late 90s, so by now we know a thing or two about men's fashion and accessories. Tiepedia is our lil spot on the web to share that knowledge with you.