A Guide To Boys' Tie Sizes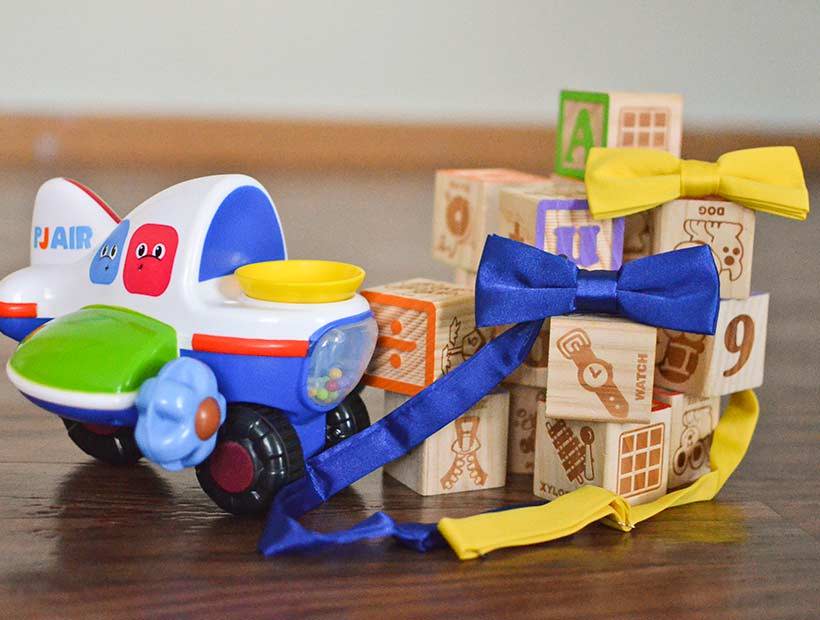 ---
Boys are not one size fits all and neither are their ties.
Whether your child is an infant or a pre-teen, this guide will help you select the correct size tie for your little guy. (For most boys 13+ years old, we suggest our men's ties.)
Quickly find the correct size of boys' tie with the size chart below. Keep scrolling for more in-depth information, including how to measure a child to ensure a proper fit.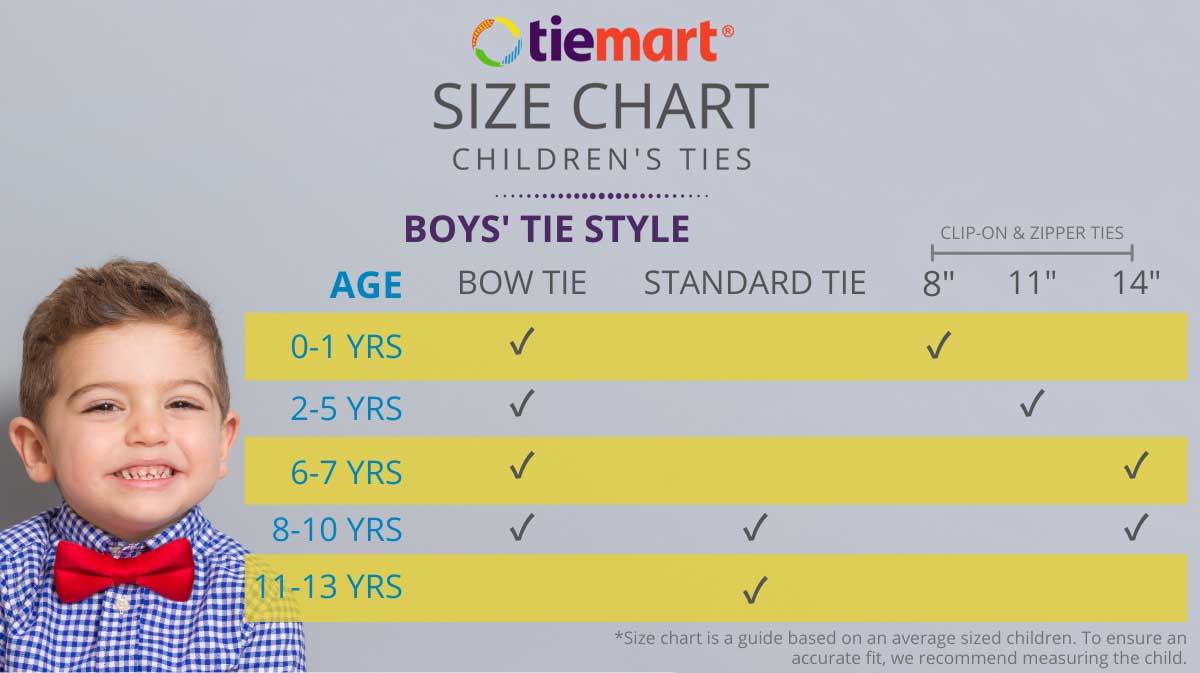 Bow ties have become the most popular style of children's tie. They fit the widest age range (birth to 10-years old) and there's no measuring required, so it's an easy pick. And, c'mon, what's cuter than a baby in a bow tie?
Here are TieMart, our boys' bow ties attach via a band collar that adjusts to fit the neck of the child. To secure the band, flip the child's shirt collar up. Adjust the band to size and attach the metal hook at the end of the band to the metal loop on the back of the bow tie. (It's easy, trust us!) Flip the child's collar back down, and adjust the bow tie and band collar as needed.
Here's a tip for securing the bow from a TieMart team member:
"Kids are wiggly! Sometimes that band can come unattached as the child moves around. With my son, I fixed this by pressing down slightly on the metal hook. The space in the hook becomes smaller, so it always stays attached and in place."
For children older than 10-years old, a men's bow tie will adjust to their size. Look for men's band collar bow ties; they're the easiest to use.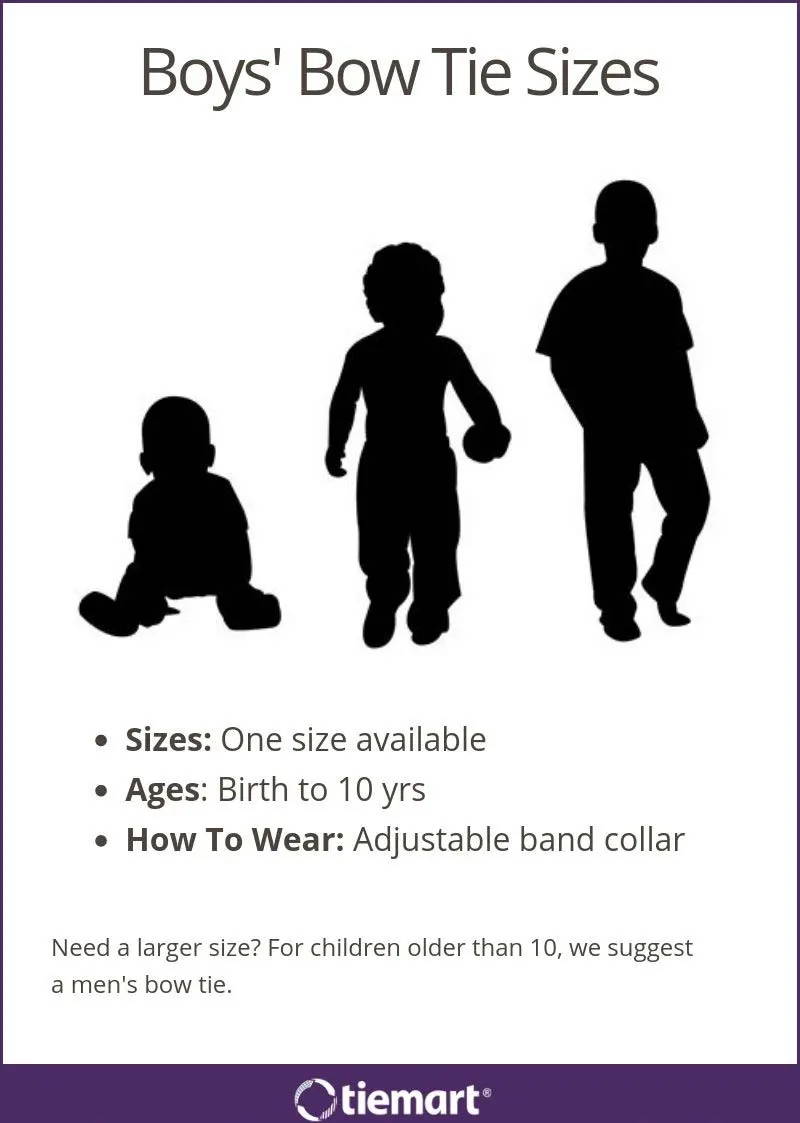 Boys' Standard Ties: Regular and Skinny Widths

This is a tie just like a grownup necktie. Simply a smaller version. The knot must be tied to wear, so these ties are typically found in sizes for older boys. We offer boys' standard ties in a regular (traditional) width and a skinny 2-inch width. The length is the same for both—48-inches long—so sizing applies to both of these styles.
Here at TieMart, we recommend our standard boys' ties for most kids 8- to 13-years old. Of course, there are always exceptions for those children that are taller or shorter for their age.
To make sure this size tie will fit the child, measure from their collar to belt line. The length should be about 14.5- to 17-inches. If the length is smaller, take a look at pre-tied necktie options. For longer lengths, the child can likely wear a men's necktie.
Just a tip. For boys over 13-years old we recommend a men's size tie. We usually suggest a width 3-inches or less for most boys in their early teens, compared to a traditional men's 3.25-inch or larger width. Most 13-, 14-, sometimes even 15- and 16-year olds are still quite slender. The width of a standard men's tie might overpower them. A narrow, slim or skinny width in a men's length often looks better proportioned.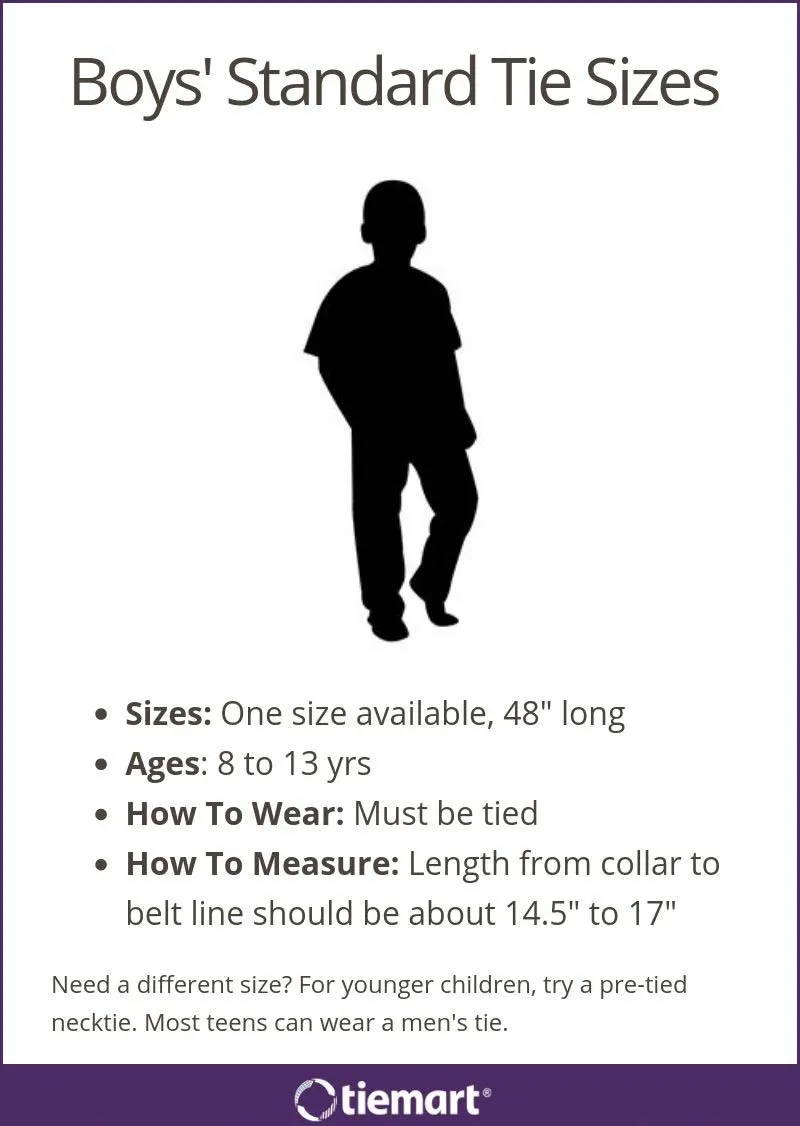 If you want the necktie look for your child, the clip-on tie is our recommendation. The clip simply attaches to the shirt collar with no band around the neck, so it's a safe choice for younger kids. The only downfall is that a child can probably remove the tie. (If keeping the tie in place will be a problem, take a look at our children's pre-tied zipper ties instead.)
Our boys' clip-on ties come in three lengths: 8-, 11- and 14-inches. Usually, our 8-inch clip-on ties fit children from birth up to 2 years. The 11-inch is sized for 2- to 5-year olds. And that leaves the 14-inch for kids 6- to 10-years old.
It's always smart to measure the child because, again, kids come in different shapes and sizes. Measure the child from the collar to the belt line. Select the length of tie that is closest to your measurement.
If you're buying a tie for an occasion several months away, remember that kids grow quickly. If you anticipate a growth spurt, you might want to size up if the measurement is already close to the next size.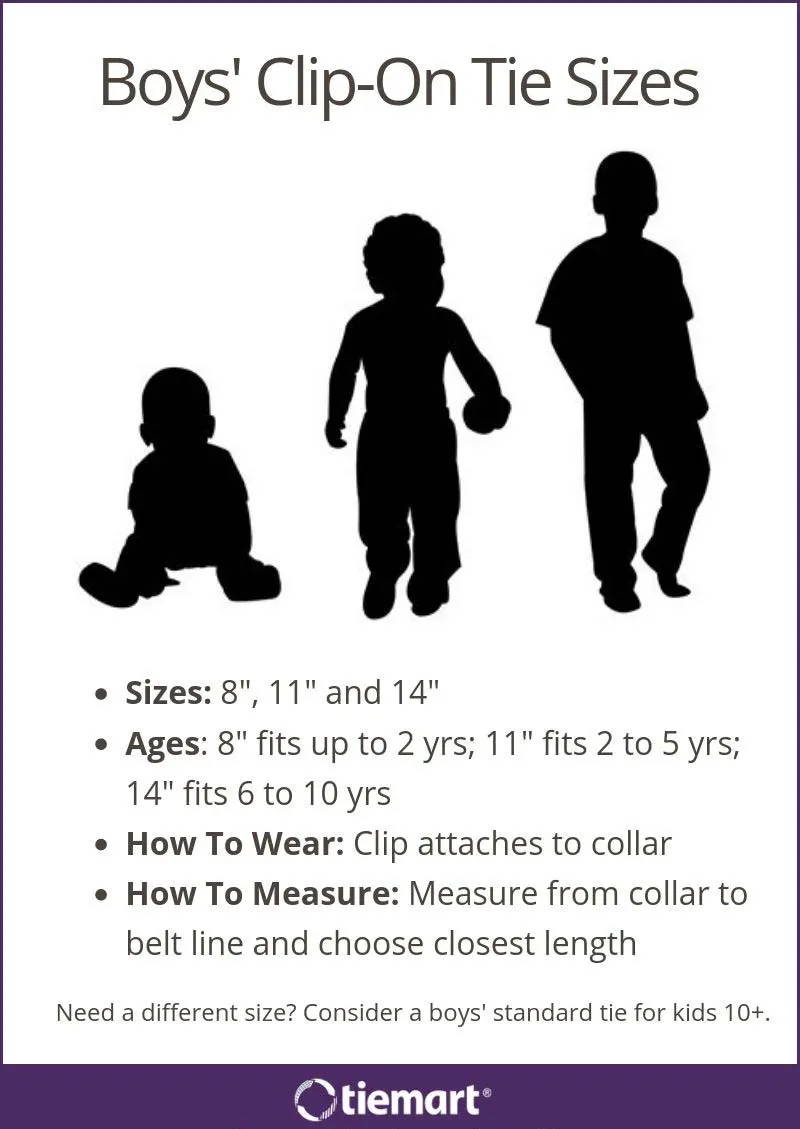 Boys' zipper tie sizing is just like our clip-on ties, with one exception. We only carry zipper ties in 11- and 14-inch lengths; an 8-inch is unavailable.
The advantage of the boys' zipper tie is that it stays more securely in place than a clip-on tie as there is a loop that goes around the neck. Zipper ties are popular for school uniform attire because, boys will be boys, and pulling at each other's clip-on ties to yank them off can be fun.
So how does a zipper tie work? There is a zipper in the tie tail that unzips and zips back up to expand and tighten the neck band. Pull on the band to release the zipper and fit the band over the head. Put it in place under the collar, then pull the zipper down to tighten the band.
As far as sizing, an 11-inch zipper tie will fit most boys ages 2 to 5. Choose a 14-inch zipper tie for boys 6 to 10. Ensure that proper fit by measuring the child from the collar to belt line, and pick the length that is closest.
For children who need a length shorter than 11-inches, look for an 8-inch clip-on tie. For longer lengths, try boys' standard ties. Or, many of our adult-sized zipper ties are available in a 17-inch length that will fit most pre-teens.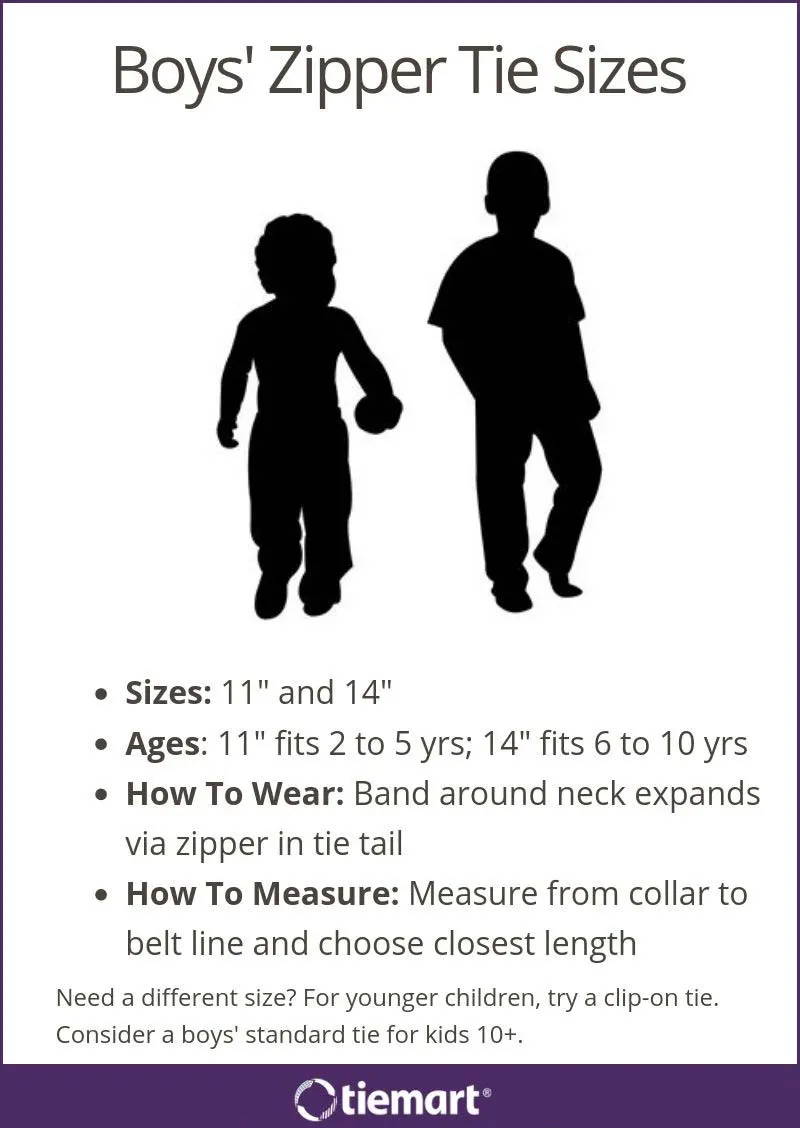 TieMart is an online retailer of men's neckties, bow ties and other accessories. A wide selection of pattern ties are available at TieMart, including popular paisley ties for weddings, traditional plaid ties for the office and collegiate two-color striped ties for graduation or school uniforms. Their ties and accessories come in sizes for infants, children, pre-teens and teens. TieMart ties are affordable and ship quickly from their Midwest location.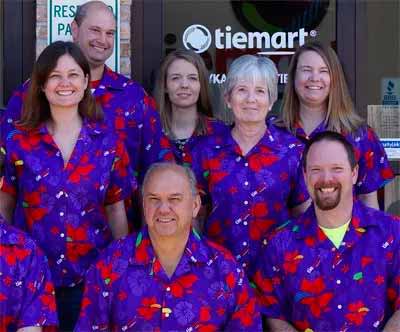 We are a family-run tie company based in Illinois. We've been in the biz since the late 90s, so by now we know a thing or two about men's fashion and accessories. Tiepedia is our lil spot on the web to share that knowledge with you.