DIY: Father's Day Coloring Book Ties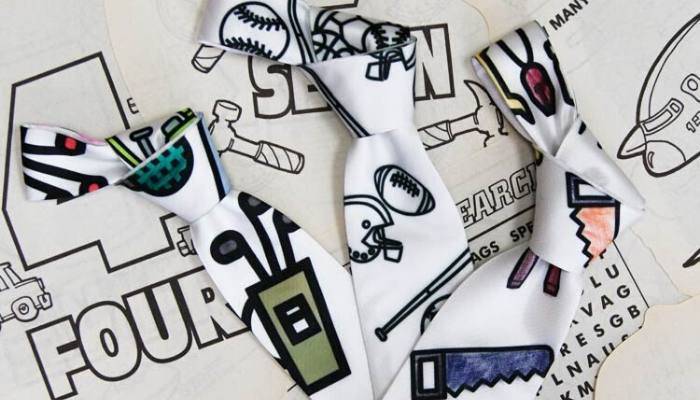 ---
Traditionally for Father's Day, we gift dad with tools, gadgets, electronics and the classic, neckties. But of course, the best gifts are handmade. If you are a parent with young kids, you probably know that Pinterest is full of crafty gift ideas for dad. But let's face it. Some of us can turn our child's hand print into a work of art, while the rest of us are better at Pinterest fails. If you're a master crafter, check out our guide on how to decorate a tie for dad. But if your craft attempts fall into the latter category (or you want something the little ones can create completely on their own), we have the perfect gift for you!
Exclusively from TieMart, we bring to you coloring book ties! These dye-sublimated ties are created by our design team and printed in-house. The dye sublimation process prints the coloring book outlines onto special transfer paper, then using a heat press the designs are permanently dyed onto the front of white polyester neckties (the back of the ties are left blank). This creates a unique coloring book style necktie that kids simply color directly onto using fabric markers or crayons. Seven themed ties are available, including barbecue, fishing, outdoors, gamer, sports, golf and tools.
The fabric markers or crayons are not included with the ties, so you can pick up your favorite brand from your local convenience or craft store. Before coloring, test the markers or crayons on the tie tail to see how the fabric reacts. Some markers will bleed more than others. If there are heat set instructions, we recommend following them to ensure that the colors do not fade onto clothing when worn. Typically, you can put a piece of computer paper between an iron and the tie to set the colors. Some color will bleed onto the paper and the colored portions of the tie will feel smooth, less waxy, when set. Again, see instructions on your fabric markers or crayons.
Get your coloring book ties today and create a one-of-a-kind gift that dad is sure to love!
TieMart is an online retailer of men's neckties, bow ties and other accessories. A wide selection of pattern ties are available at TieMart, including popular paisley ties for weddings, traditional plaid ties for the office and collegiate two-color striped ties for graduation or school uniforms. And, yes, if you really want to put your face on a tie, it's possible with a custom photo tie. TieMart ties are affordable and ship quickly from their Midwest location.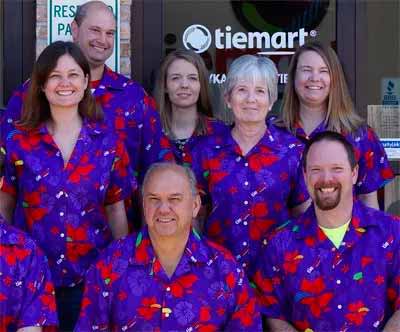 We are a family-run tie company based in Illinois. We've been in the biz since the late 90s, so by now we know a thing or two about men's fashion and accessories. Tiepedia is our lil spot on the web to share that knowledge with you.