Uniforms And Ties For Schools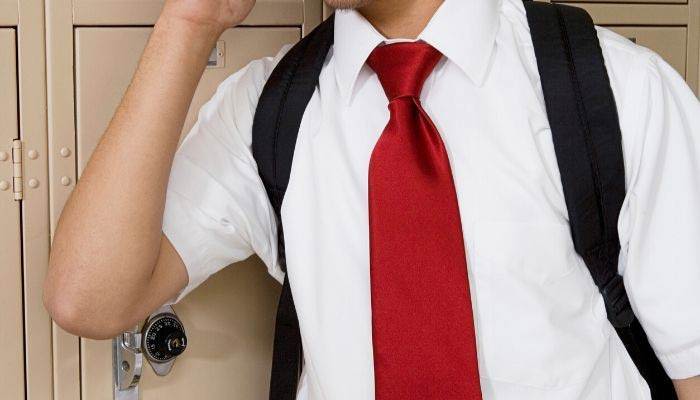 ---
More and more schools around the country are choosing to adopt school uniforms in an effort to create a safer, more focused and egalitarian learning environment. The trend doesn't just apply to private schools. Many public schools are choosing to reap the rewards a standardized school uniform can bring about.
Still, it can be difficult to know where to start when thinking about implementing a standardized uniform in your school. Use this school uniform necktie guide to start.
School Uniforms Can Help Create A Safer School

While typically associated with private schools, an increasing number of communities are choosing to enact school uniform policies in their public school districts. Many schools are choosing to implement uniforms in an effort to create a safer, more structured learning environment.
Standardized uniforms prevent students from wearing clothing that displays suggestive, violent or offensive themes and also eliminates thefts related to clothing. On another level, they help instill a sense of discipline and belonging to a larger school community. Uniforms don't only benefit students. With a school uniform in place, teachers and administrators can spend less time patrolling student's attire and instead focus on education.
School Uniforms Keep The Focus On Learning

We've all been kids before and know the kind of pressure students feel to fit in. A lot of that anxiety is directly related to appearance and dress. Kids want the latest styles and brand names and if those clothes are out of their parents price range they often face teasing and harassment.
School uniforms do away with that pressure—the class distinctions different types of clothing indicate aren't present. Whether from a high or low income family, every student is wearing the same thing. Standardized uniforms prevent children from being distracted by what clothing they or their peers are wearing, keeping the focus on learning rather than social status.
In the United States, the most common uniform is either a dress shirt and tie or polo shirt paired with khaki or black dress pants. Skirts are also sometimes an option for girls.
Understated colors like blue, white and gray are typically chosen for shirts. After all, the point of uniforms is to make dress an afterthought so students can concentrate on learning. Their purpose isn't to be flashy or make a fashion statement.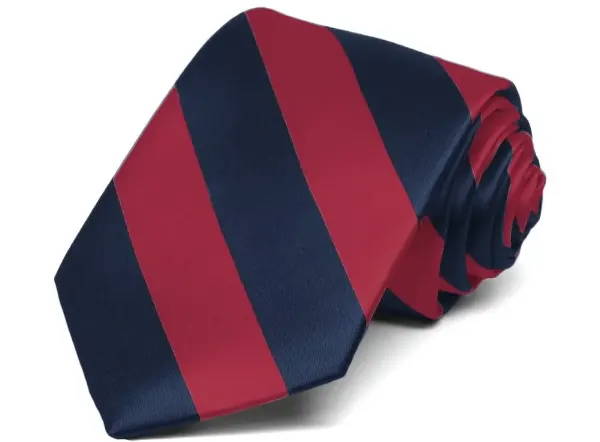 Boys' Crimson Red and Navy Blue Striped Tie
Choose Materials That Can Withstand Some Abuse

Whatever components you choose, they need to be well-made, durable and machine washable. Kids are tough on clothes. While stains and tears are going to happen, choosing clothes that reduce the likelihood of them occurring are a smart investment.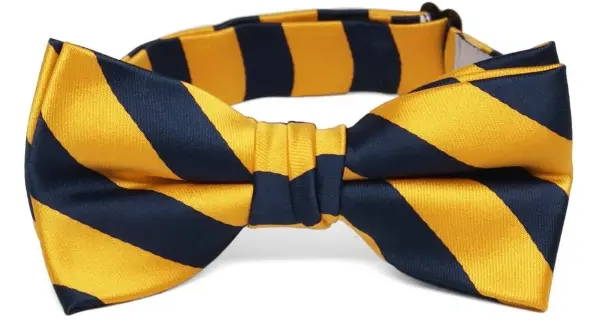 Boys' Navy Blue and Golden Yellow Striped Bow Tie
Cost always matters, but it's an especially important factor when it comes to school uniforms. Parents will most likely end up buying multiple sets of the same uniform to get their child through the school week. Finding quality-made uniform components should be your first goal; finding them at the right price is what will narrow down your search.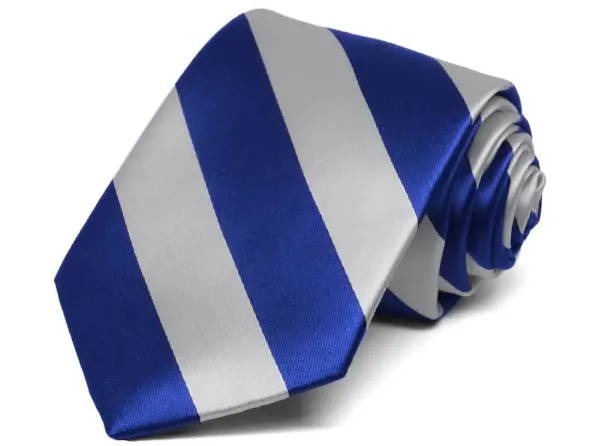 Boys' Royal Blue and Silver Striped Tie
Striped ties are a classic choice for school uniforms—think Hogwarts and the maroon and gold striped Gryffindor tie Harry Potter wears.
Striped ties got their start in Great Britain, beginning as a way to show membership in a specific military regiment. They eventually were adopted by clubs and schools so members and students to display affiliation. The tradition continues today. A striped tie featuring your school's colors is a popular option and a way you can punch up an otherwise muted uniform. Solid color neckties in one of your school's colors are another option.
Just like the other components of your uniform, the neckties you choose need to be durable and easy to wash. Kids play, they get dirty and they spill things it's what makes finding durable kid-friendly neckties so important. Silk ties aren't a good choice for kids and teens. They're not stain resistant and difficult to clean. Polyester ties are a much better option. They're more stain resistant, don't wrinkle easily and are much less fussy when it comes to washing.
Finally, you have to make the choice between self-tie, pre-tied or clip-on ties. Your choice should depend largely on the age of the students you're buying the ties for. Younger students will do better with clip-on or pre-tied neckties.
High school or middle school aged students may prefer self-tie neckties. They'll have to learn how to tie a necktie some day, right?
TieMart is your destination for affordable, durable, great looking student uniform ties. We offer a large selection of kid-friendly solid color and striped polyester ties in a wide array of colors to match your school.
Filling large necktie orders for schools and other organizations is something we do on a regular basis. We even offer special discounts!
Getting enough neckties for an entire student body may seem daunting, but it's nothing we can't handle. We have a large 99% in-stock inventory and can usually get your order out the door the same day if it's placed before 12 p.m. central time. If you're looking for custom ties for your school, we can help with that, too.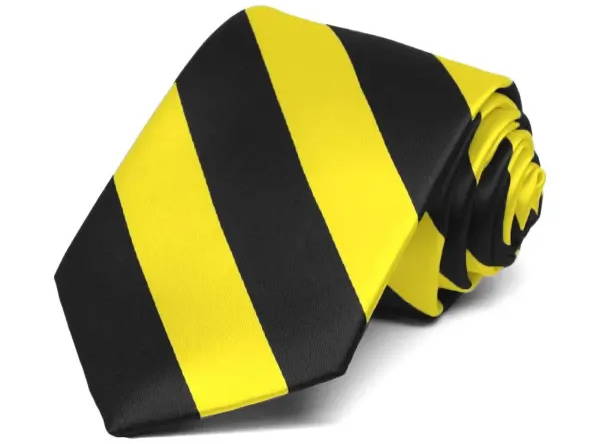 Boys' Yellow and Black Striped Tie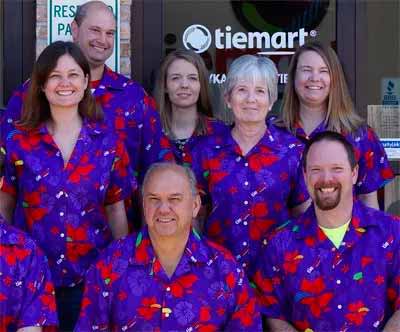 We are a family-run tie company based in Illinois. We've been in the biz since the late 90s, so by now we know a thing or two about men's fashion and accessories. Tiepedia is our lil spot on the web to share that knowledge with you.