Cheap Catering Ties
---
Let's face it. When you're in the food service industry, spills and stains happen. You need your staff to always look fresh, but not every uniform will make it through an event.
That's where our staff ties come in. These are our most affordable ties for caterers. They're bulk priced, so the more you buy the more you save. Here's the pricing:
1+: $6.95 each
25+: $4.95 each
50+: $3.50 each
Remember, even if you don't need 25 or 50 ties now, it's always good to have extras on hand during events. At some point an employee is going to slop mid-event and need to change his or her tie.
The ties are made from durable polyester. Polyester is the best tie material for the food service industry. It's affordable, looks good and it's usually possible to extend the life of a stained tie once or twice by spot cleaning or hand washing after an event. (Air dry flat, cool iron if needed. Results vary depending on the makeup of the stain.)
We don't recommend silk ties for caterers since they must be professionally dry cleaned to remove stains and most of those food stains are permanent anyway.
Check out our staff ties below. We offer an array of colors, as well as the catering favorite—solid black.
TieMart sells affordable, quality ties to many industries, including restaurants. They keep large quantities in stock at all times. Styles of their most popular ties, including many skinny ties, are never discontinued. This allows restaurants to confidently order the same ties year after year, without having to worry about changing waitstaff uniforms.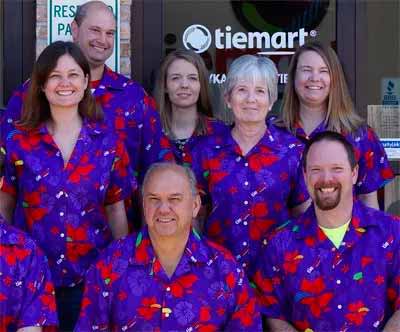 We are a family-run tie company based in Illinois. We've been in the biz since the late 90s, so by now we know a thing or two about men's fashion and accessories. Tiepedia is our lil spot on the web to share that knowledge with you.