Ties And Uniforms For Hotel Staff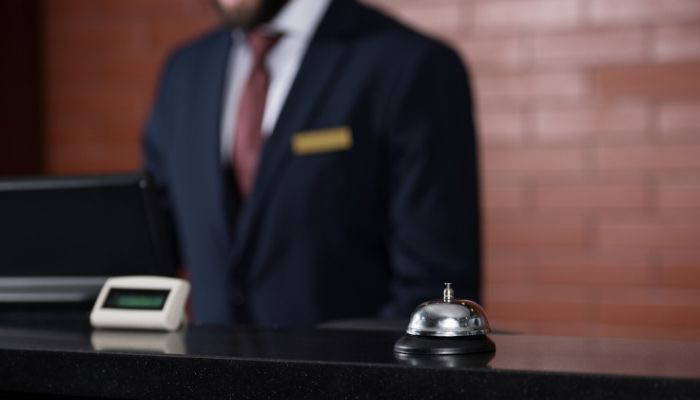 ---
For hotels and resorts, meeting and exceeding guests' expectations can be a tall order. Nothing should be left to chance, including your staff's uniforms. Finding just the right uniforms for both your male and female employees is an important but often challenging task. The sheer logistics of getting enough uniforms for your whole staff can be a headache in and of itself. But choosing a uniform can be fun too. So relax and get your creative juices flowing—this is TieMart's helpful road map to the perfect uniform for your hotel's staff.
It's Called The Hospitality Industry For A Reason

The people staying at your hotel are more than just customers, they're guests. Making someone truly feel like a guest requires effort, attention to detail and, most importantly, a pleasant demeanor.
In many ways, uniforms will help your hotel's staff deliver better customer service. Guests will be able to easily identify staff if they have concerns or requests. Uniforms naturally help create a sense of team that can help your staff work together in their different roles to create an all around positive experience for your guests.
A Successful Hotel Is A Clean Hotel

The most important amenity a hotel can offer is a clean room. Cleanliness should always be a hotel's first aim. Your hotel can be in the perfect location, priced right, have the biggest swimming pool and the best on-site restaurant, but if the rooms or lobby aren't clean it's all for naught. Cleanliness and hygiene are what your hotel will be judged on first and foremost.
Part of creating a clean and hygienic hotel is having a clean and hygienic staff. That means a well-dressed staff. A nice uniform can go a long way towards that clean and polished look every hotel or resort should be striving for.
Don't sacrifice functionality entirely for something that is aesthetically pleasing. There are plenty of options out there that offer the best of both worlds—uniforms your staff will look and feel good in.
Working in a hotel is a job after all and a demanding one at that. Not only can it be physically challenging, it can be mentally draining too. It's hard to deliver customer service with a smile, especially to a less than friendly guest, if your employees are wearing something that isn't comfortable.
Think stain resistant fabrics that breathe, can handle multiple washings and allow for a wide range of motion.
Obviously, look matters too and the style of uniform you choose depends on your own personal tastes and the nature of your hotel or resort. Is it upscale or a more casual affair? For tourists or business travelers? A historical landmark furnished with period pieces or a trendy new hotel with a modern aesthetic?
Think about your hotel's design, decor and color scheme and choose a uniform that fits within that package. Ultimately, your staff's uniforms should reflect and enhance the atmosphere you're trying to create. They're a form of branding for your hotel. Make sure you choose something you're proud to have represent your business.
The necktie will be the stately accent that makes your hotel uniforms complete, whether your employees are wearing full suits or simply dress shirts with pants or a skirt. Much like the other components of your uniform, functionality is important. Silk isn't an ideal option because it is difficult to clean and snags easily.
Polyester is the best fabric for your hotel staff's ties. It holds its shape well without wrinkling, can be washed and dry cleaned easily and is stain resistant. It's an especially good choice for employees that will be handling food or using cleaning products.
The same kinds of factors you considered when choosing your uniform's style should influence what kind of ties you choose. Traditional neckties, bow ties, skinny ties, and striped or solid color ties—it all depends on personal taste and the vision for your hotel. We offer a wide selection of ties in an array of colors and styles, making your options for customization almost limitless.
While your female employees can look just as good in ties as their male counterparts, scarves are another attractive option.
Our wide selection of solid color scarves are designed to match our solid color neckties, so you won't have to worry about having an uncoordinated look.
TieMart is used to meeting the necktie demands of the hotel industry. They fill large tie orders for hotels and other businesses on a regular basis. Operating a hotel can be stressful, but getting the perfect neckties or scarves for your hotel staff, and enough of them, doesn't have to be.
TieMart carries a huge selection of neckties and scarves, a 99% in-stock inventory and can usually get your order out the same day if placed before 12 p.m. central time.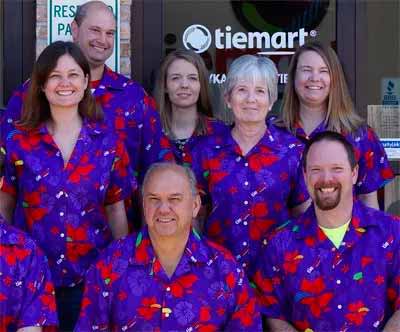 We are a family-run tie company based in Illinois. We've been in the biz since the late 90s, so by now we know a thing or two about men's fashion and accessories. Tiepedia is our lil spot on the web to share that knowledge with you.