Ties For Caterers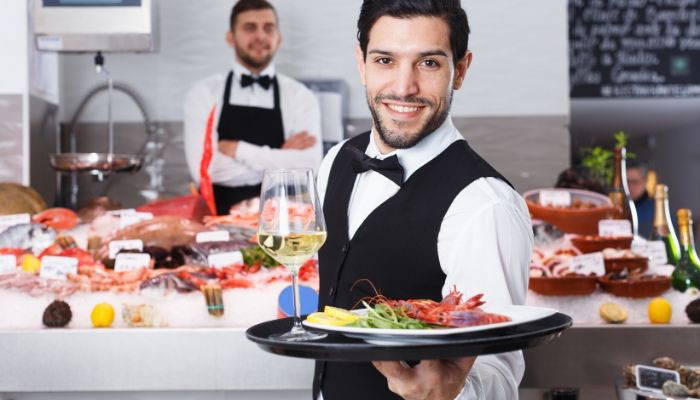 ---
If you run a catering company, you know how much effort is spent on perfecting the taste and presentation of every menu. But food isn't the only part of your company's reputation; your catering staff's appearance factors in, too. While it's easy to overlook your staff attire, you shouldn't. A small and affordable detail like a tie can give your staff a professional look that reflects positively on your company. Choosing the right tie(s) for a crew of caterers is a straightforward process. Here's what you need to know.
There's no rule that says a catering staff must wear a bow tie versus a necktie and vice versa. However, in most cases the bow tie is the easier option of the two. Bow ties are just as versatile as neckties and fit in well in both casual and formal settings. The real advantage to a bow is the size. Bow ties are compact (without any extra material hanging), easily stay in place and don't get in the way of the job. With all the handling of food and leaning over that caterers do, neckties can become a source of frustration.
With all that being said, you shouldn't avoid long neckties all together. There are fashionable ways to keep a long tie in place, such as a tie bar or tucked under a vest. And sometimes a staff simply needs to get used to wearing a necktie. (Think of it as workplace training.)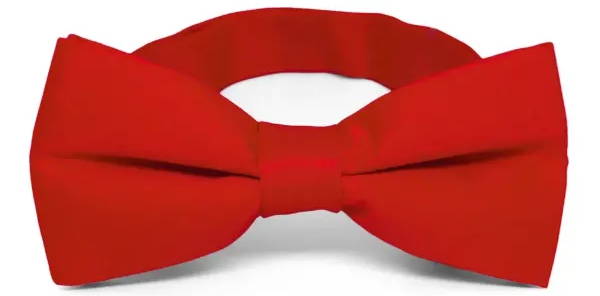 Both bow ties and neckties come in self-tie and pre-tied styles. For bow ties, most caterers wear pre-tied band collar bows. The majority of people don't know how to tie a bow tie, so the band collar allows for a clean, uniform look within a group. It fits most adult neck sizes and will stay securely in place through any event.
We see caterers use both standard (self-tie) and pre-tied neckties. If cost is a factor, a standard tie will be a dollar or two cheaper per tie than a pre-tied necktie (there's less labor involved making it). If you're looking for something less traditional for your staff, standard ties are available in more colors, patterns and styles, too. On the flip side, with pre-tied neckties you don't have to worry about who can and can't tie a necktie. You'll also create a more uniform look among your staff since every necktie knot will be the same. Pre-tied neckties come in clip-on and zipper styles. (The first simply clips over the shirt collar, the latter has a band that expands around the neck. See our video on how a zipper tie works.) Because a zipper tie stays in place a bit more securely than a clip-on, it is our personal preference in the pre-tied category.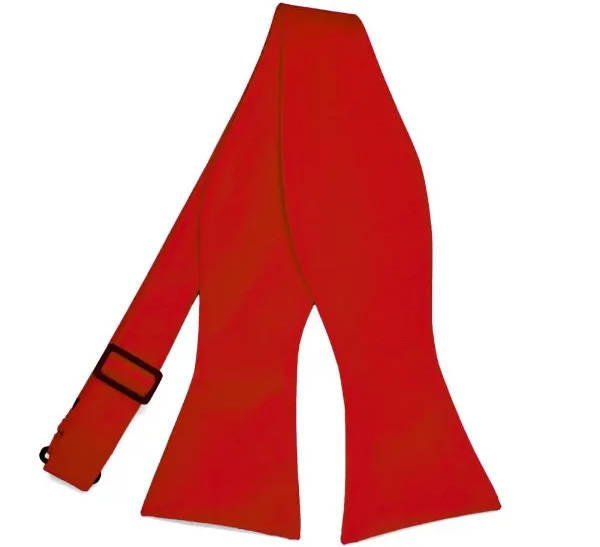 The go-to choice for a caterer's tie is solid black. It's professional and versatile for any event, formal or casual. If you're not sure which color to purchase, go with black.
Sometimes the color of the ties is pre-determined based on your own company colors or venue location. If a particular color is a big part of your own branding, you might put your staff in the same color ties. If you cater every event at the same location, such as a university banquet room, it might be appropriate to select the location colors. In the example of the university, choose the college colors for your staff ties.
Other caterers change ties for each event, based on the client's theme. If you cater weddings, you might select the color of the ties based on the wedding colors. If the event is a fun, company-wide Christmas party, have your staff wear equally fun holiday-themed ties. All in all, the one thing to always take into consideration is the wish of the host or planner. You never want your staff to show up to an event in ugly Christmas sweater ties when the client expected the catering staff to blend seamlessly into the background.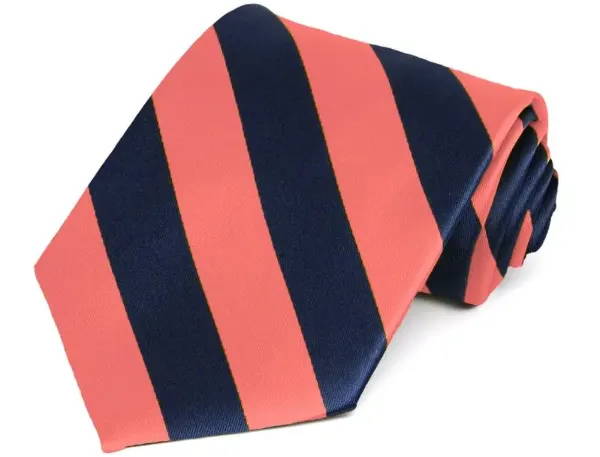 Bright Coral and Navy Blue Striped Tie
In the vast majority of cases, the dress code of the party you're catering should determine the appropriate attire for your crew. When it comes to more formal occasions like black tie weddings, military balls, fancy fundraisers, or an elegant New Year's Eve party, it is more crucial than ever to dress appropriately. Showing up underdressed to a formal event can be disrespectful. When hearing the word "caterer", the picture that pops into the minds of most people is someone hold a tray of food and wearing a white tuxedo shirt, black dress pants, and a black bow tie. Unless specified otherwise by the event's host or planner, we recommend making the black bow tie your formal occasion default.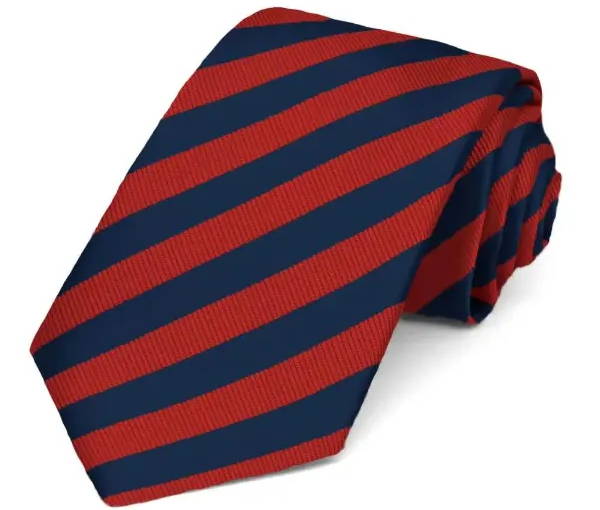 Red and Navy Blue Formal Striped Tie
A casual occasion is a fairly broad term that can include anything from a low-key wedding reception to a high school graduation party. While casual events allow you to get a little more creative, it's still important to be careful about choosing the right tie. For example, a casual wedding usually still calls for dressier attire, so sticking with a solid color or subtly patterned bow tie might be the way to go. But, on the flip side, wearing a bow tie of any kind to a graduation party might be a little over-the-top.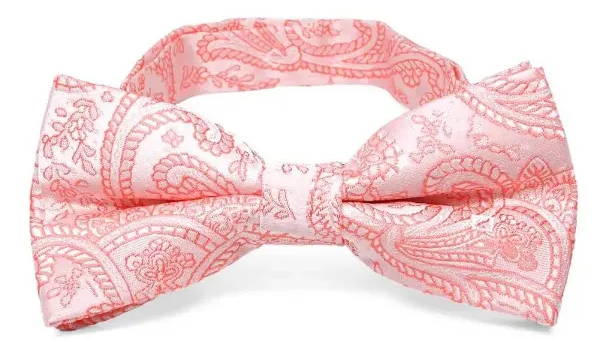 Coral Clara Paisley Band Collar Bow Tie
When ordering ties for your catering staff, don't forget to order extras. Here's why:
New hires. At some point, you're probably going to hire someone new, and it could even be last minute before an event. Having ties ready for new employees will save you time and money on shipping costs.
Accidents happen. Ties can get stained and slopped on during an event. Rather than a staff member wearing a messy tie or taking it off altogether, keep extra ties on hand in case of an accidental mid-event spill.
Lost or forgotten. No one is perfect and we've all lost or forgotten something. Even your best employees could forget to bring their tie to an event or lose it altogether. Bring extras to every event yourself and you'll have one less thing to worry about. (As a side note, if you frequently change the color or pattern of the ties for each event, order extras in neutrals like black or white that can easily be mixed or matched with any color, in case of emergency.)
While you may not wear the same uniform as your catering staff, don't forget your own outfit. If you're a man and your staff is wearing bow ties, consider donning the same tie in the necktie version for yourself. If you're a women, consider a coordinating fashion scarf.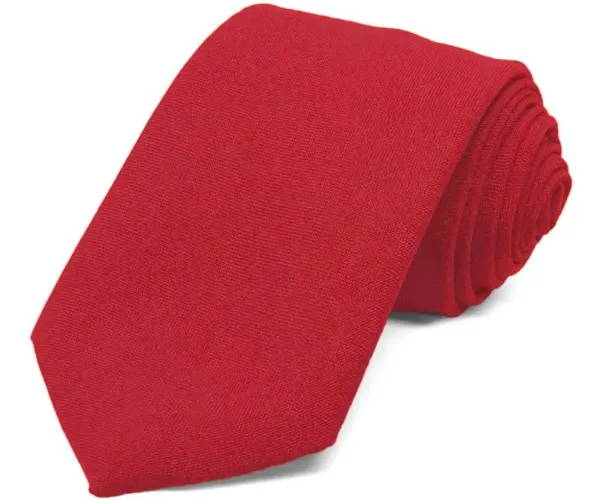 Men's Red Uniform Necktie
TieMart sells affordable, quality ties to many industries, including restaurants and catering companies. They keep large quantities in stock at all times. Styles of their most popular ties, including many skinny ties, are never discontinued. This allows restaurants to confidently order the same ties year after year, without having to worry about changing waitstaff uniforms.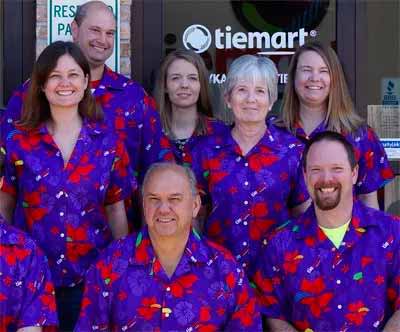 We are a family-run tie company based in Illinois. We've been in the biz since the late 90s, so by now we know a thing or two about men's fashion and accessories. Tiepedia is our lil spot on the web to share that knowledge with you.