How To Dress For Graduation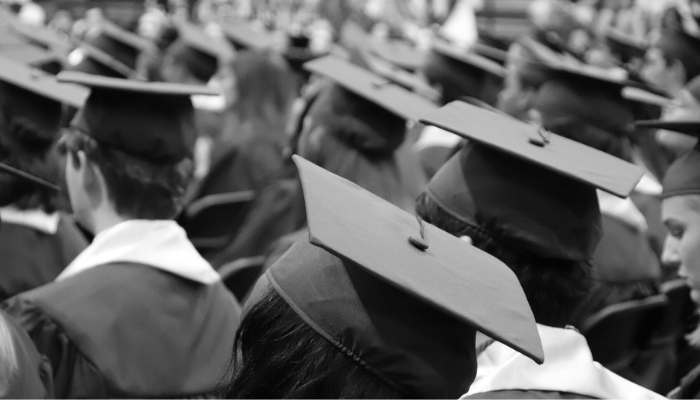 ---
Graduation is a special time to reflect upon your academic accomplishments, but you don't need a degree in fashion to celebrate your graduation in style. A graduation ceremony is a formal event. You've been working towards this day for a few years after all. You also want your attire to match the merry mood and reflect your individuality in a sea of graduates. Choosing appropriate apparel can be a challenge. The right graduation attire will have you looking and feeling sharp while you celebrate your special day of scholarly success.
You may be wondering why your attire is so important when you'll be covered from head to toe in a cap and gown. You could probably get away with wearing a velour sweatsuit or nothing at all under that gown (don't do it). Clothes have a huge impact on your attitude and say something about who you are as a person. On a big day like graduation day, you want to feel accomplished and confident. Look sharp and feel smart in dress slacks, a button down shirt, dress shoes and a graduation tie. This is a classic combination that you'll see at a graduation. You'll want your slacks, socks and shoes to all go together. This is one part of your outfit that will be on full display. Clashing color combinations can be distracting. Don't let your mismatched shoes and slacks ruin your big moment. Celebrate your unique style with properly paired color combinations and a dapper tie to pull the look together.
Make sure to keep the graduation location in mind as you choose your clothing material. If the ceremony is going to be outside on a warm day, you'll want to wear lighter materials so you won't be sweltering and uncomfortable. If you know the auditorium tends to be chilly, make sure to wear long sleeves or a blazer.
Graduation Striped Necktie
You've probably put a lot of blood, sweat and tears into reaching this pivotal point in your life. Give a nod to your soon-to-be alma mater by sporting your school colors. If your school colors include extremely bright hues such as orange, you don't have to wear an obnoxiously orange shirt. Tone it done with a softer hue that still fits the color palette and let your tie do the talking.
The tie is the most important part of your outfit on graduation. Let your tie say something about your personality or proudly display your school colors with a solid color necktie, a striped tie or a patterned tie. Make sure to pair your neck wear with your shirt. The presentation of the tie is also an important aspect of your outfit. Beware of crushed collars that can put a damper on your fresh look.
Navy Blue and Orange Striped Tie
Don't Shy Away From The Bow Tie

The bow tie is a perfect accessory to add a little character to your graduation outfit. You can opt for a bow tie that displays your school colors or a fun print that showcases your personal style. Patterned and textured bow ties are appropriate for a formal occasion with a light atmosphere, such as graduation. When choosing your bow tie, it's important to keep in mind the material. While solid colors and silky material are nice for a black-tie event, seersucker and madras are a seasonal fit for spring and summer events. Don't fret if you're new to the bow tie trend. Take a look at this previous post Bow Ties: A Wearer's Guide, to find your perfect bow tie.
Stick to these style guidelines and you'll be walking across the stage with your head held high on graduation day.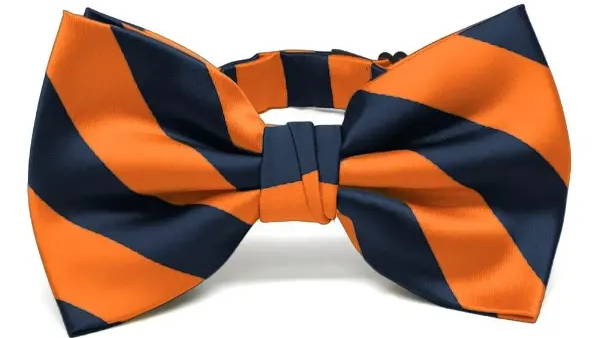 Navy Blue and Orange Striped Bow Tie
TieMart is an online retailer of men's neckties, bow ties and other accessories. A wide selection of pattern ties are available at TieMart, including popular paisley ties for weddings, traditional plaid ties for the office and collegiate two-color striped ties for graduation or school uniforms. And, yes, if you really want to put your face on a tie, it's possible with a custom photo tie. TieMart ties are affordable and ship quickly from their Midwest location.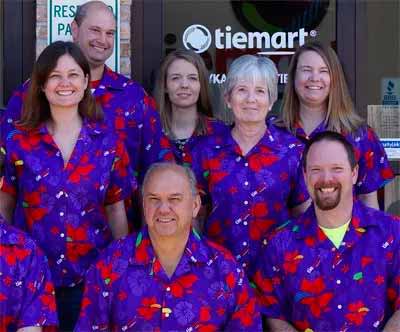 We are a family-run tie company based in Illinois. We've been in the biz since the late 90s, so by now we know a thing or two about men's fashion and accessories. Tiepedia is our lil spot on the web to share that knowledge with you.