Ties And Apparel For Trade Shows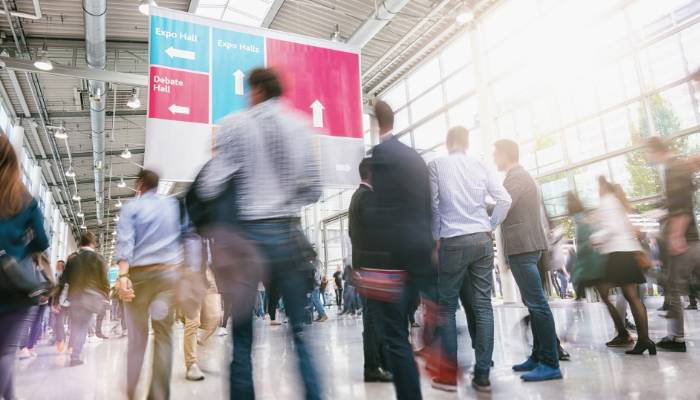 ---
Trade shows are an opportunity to showcase your business and what it has to offer. As an exhibitor, it's crucial for you and your company to put your best foot forward. It's not only your product or service on display, the look and appearance of your team is as well. Putting a little extra thought and planning into your employees' look can make a lasting impression on a potential client and land that sale you came for.
Dress Up And Consider The Venue

A trade show isn't just another day at the office. Even if casual or relaxed attire is the norm in your job, it's a smart decision to leave the flip flops at the office. Part of this is making sure the employees representing your company are dressed in a manner that is appropriate and reflects your company's values. Think of a trade show as a job interview. As an exhibitor, everyone that visits your booth is, in fact, interviewing your company, and your team should look the part. Keep reading for tips on how much to dress up.
The trade show venue does impact what you and your co-workers should wear. Is the trade show being held in a large arena or conference center, or a more intimate setting?
In a large exhibition hall, branding should be a huge part of your trade show uniform. Attendees are likely to visit hundreds, if not thousands, of exhibitors in a few short days. Information overload definitely occurs at these large shows, and it's easy to confuse one company with another or entirely forget others.
While this reality can seem daunting, a well-planned uniform can help your company stand out and be remembered. Matching or coordinated apparel pieces are key in this scenario. If you have a large team, when outfitted correctly attendees will begin to recognize your company uniform throughout the show. (Plus, company uniforms or coordinated apparel create a sense of cohesiveness that can help your employees operate better as a unit.) So how do you do this without getting too crazy?
Dress shirts or polos with an embroidered logo are a popular option for trade shows. They look great among a large group of people and clearly identify your company. To really stand out, consider branded polo shirts in a bright color. It's hard to forget talking to someone in a neon green or fuchsia polo shirt.
For a professional look, outfit your team in matching neckties. Choose a necktie that reflects your company. Striped neckties in your company colors or custom company ties are options that are hard to forget. For a classic option, consider solid ties in either your company colors or a bright color that will stand out. (For an affordable option, Tiemart offers staff ties that are priced from $3.50 to $6.95 depending on quantity.)
While women can definitely wear neckties, at trade shows you often see women wearing coordinating scarves instead. A solid satin scarf in a company color is a great choice. Scarves can be paired with a branded dress shirt or a classic white button down.
For all of these options (branded shirt, necktie or scarf), complete the look by instructing your team to wear slacks or chinos in similar colors (khaki, gray, tan or black).
In more intimate settings, like a hotel ballroom, a matching company uniform may not be necessary. In these settings, you might only bring a few employees along to handle your booth. Branded polo shirts or button downs are an option if available, but business appropriate attire is suitable, too. Think slacks and a dress shirt (with a neutral or classic necktie for the guys). A suit is an option in small trade shows, too. Dress like you would for a job interview. Neat, clean and put together
At any trade show, your team's focus should be on networking with colleagues and potential clients. Feeling uncomfortable will naturally inhibit their ability to perform their best, so you do need to consider comfort when it comes to attire. A company uniform may not include footwear, but remind your employees that hard, concrete floors or large venues require more comfortable footwear. Despite most venues feeling like the North Pole, you never know when you'll encounter that overheated venue. If ordering branded shirts, opt for moisture-wicking fabrics so there's no worrying or fidgeting over sweat stains.
(Hopefully) it goes without saying that you need to be clean and presentable at a trade show. For the guys, shave or groom your beard daily and consider a haircut the week before the show. There will be a lot of handshaking, so make sure that your hands are clean and presentable. Trim nails and hangnails and make sure your hands are washed. Keeping a bottle of hand sanitizer with you isn't a bad idea either, especially during cold season.
The same kind of etiquette you would consider when dressing for a job interview should apply when completing an outfit for a trade show. For women, keep jewelry to a minimum and make it tasteful. Err on the side of conservative. If you're a man, lose the necklace, bracelet and earrings and do your best to cover any tattoos (unless you're at a tattoo artist conference, of course). A wristwatch and wedding ring is acceptable.
Tiemart is uniquely equipped to handle your trade show attire needs. We have a wide selection of neckties in different colors and styles, and we fill bulk tie orders for groups on a regular basis. We even offer special pricing on large tie orders!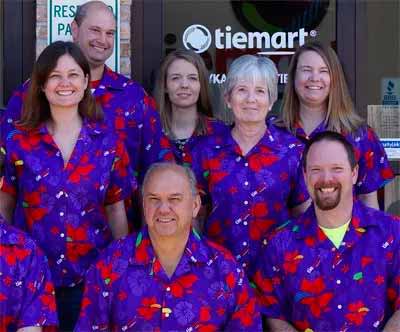 We are a family-run tie company based in Illinois. We've been in the biz since the late 90s, so by now we know a thing or two about men's fashion and accessories. Tiepedia is our lil spot on the web to share that knowledge with you.