Blush Pink Wedding Ties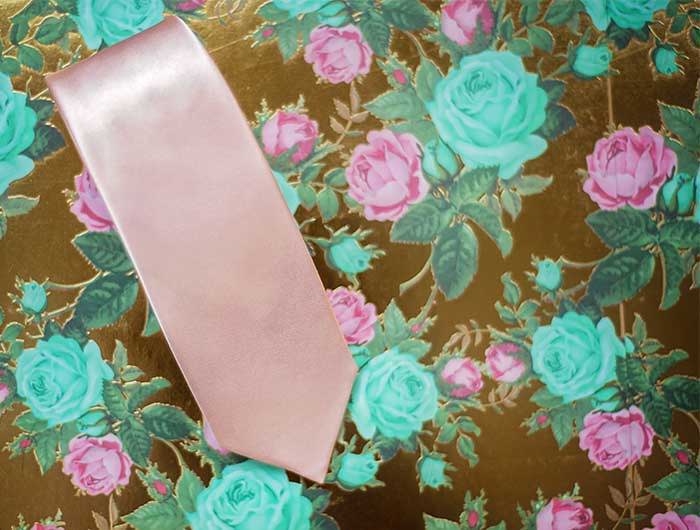 ---
There's no denying it. Blush pink has been the hottest wedding color of the twentyteens, and it's still going strong. This light, muted pink/beige shade is soft and romantic. And, because it's not overly pink, it's not too feminine either. In fact, this millennial pink is often referred to as the new neutral.
Here at TieMart, we offer a lot of matching blush pink wedding ties and accessories. Sizes and styles are available for your entire wedding party, from the groom and groomsmen to the ring bearer and father of the bride. (Need a wedding tie for the dog of honor? Our customers love our men's and boys' band collar bow ties for their pets!)
Free Blush Pink Color Swatches

See our blush pink before you buy! Finding wedding ties to match your blush bridesmaid dresses is easy with our free color swatches. Simply fill out the free color swatch form and we'll mail you fabric samples from our blush pink ties and similar colors. Seriously, it's that's easy and it's totally free! (Free swatches are only available in the USA and Canada.)
Ties To Coordinate With Blush Pink

It's so popular to offset the groom, father of the bride and/or father of the groom with a tie that coordinates with the groomsmen's ties or the main wedding color. The ties and accessories listed below are great choices for achieving this look at your blush pink wedding. These ties have elements of blush pink or are close in color to blush pink. While meant to coordinate with our blush pink ties, they may not be an exact match to our blush pink.
When blush pink first entered the wedding scene, the color was primarily used by itself, no accents needed. As the color become more and more popular, we saw our customers beginning to mix it with navy, ivory and metallic-tone ties, such as pale gold and mercury silver. Now embraced as a new neutral, blush pink is being paired with a variety of colors, including burgundy, bridal clover (think greenery), even fuchsia. Here are our top ties to accent with blush pink.
TieMart offers budget-friendly wedding ties in a huge range of colors and patterns. You'll find accessories for your entire wedding party, from the groom and groomsmen to the ring bearer and father of the bride. Match your wedding colors by requesting free fabric color swatches today.