How To Include Your Dog On Your Wedding Day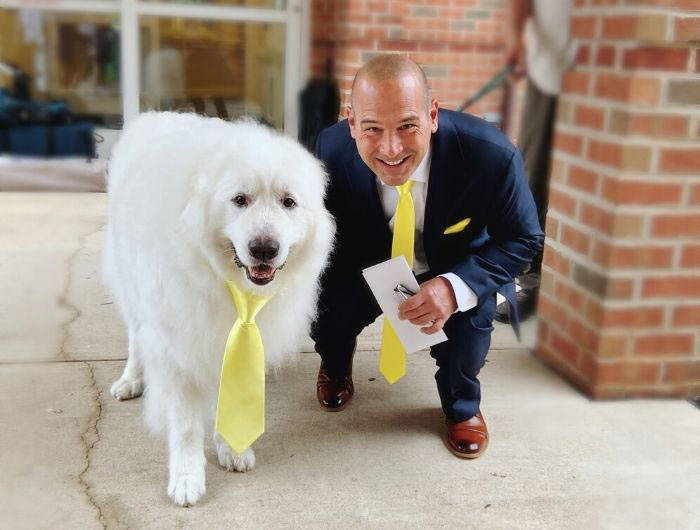 ---
From the dog of honor to the ring bearer, it's becoming quite common to include those four-legged family members on your wedding day.
But weddings can be stressful enough. Avoid any unnecessary surprises with these tips for including your pets in your big day.
Tips For Pet-Owning Brides and Grooms

A wedding isn't for every dog and you should really consider Fido's personality and temperament before making him part of your wedding party. Is he easily distracted? Kid friendly? A barker? Able to sit for long periods of time? At an outdoor ceremony, will he be easily distracted by birds flying over, a loud car, plane or even the wedding music? If he's a low-key lad that isn't bothered by much (your lack of attention included), making your pet a part of your wedding is probably a go. For pets that won't make it through a wedding ceremony, consider including them in your wedding photos instead.
Before you bring your pet with on your big day, check with your wedding venue to make sure it's allowed. As you can imagine, many indoor venues like churches, restaurants and banquet halls will restrict pets. Public beaches and forest preserves are great venues for outdoor weddings, but usually have no pet policies you'll be expected to follow as well.
You're going to be busy on your wedding day, and putting someone (that isn't part of your wedding party) in charge of your pet is highly recommended. Pet sitting services can be found online, but a teenage niece, nephew or cousin is great for this role. Give them some dog treats, toys and doggie bags, and let them know that it's okay to take Spot on a walk if he becomes a distraction during the ceremony. Even though you'll be partying the night away, your dog will likely want to call it an early night. Have your designated dog sitter take your tired dog home post ceremony.
If including your pup is a go, then it's time to get him all gussied up for the big day. While most of us won't be taking our pets to the tuxedo shop, a matching accessory or two will get them ready for your big day.
Our most savvy couples have discovered that our band collar bow ties (the same ones you may be purchasing for your groomsmen), fit dogs, too. With most priced at $5.95 to $6.95 each, these bow ties are usually at least 50% cheaper than bow ties specifically made for pets. Band collar bow ties have a band that adjusts like many dog collars to fit any size pet. For medium to large dogs, we suggest sticking to a men's size bow tie. For small dogs, a boys' sized bow tie may be better proportioned, but this is definitely a personal preference. (There's something adorable about a pup in an oversized bow!) If the groom and groomsmen are wearing neckties, most of our bow ties come in the same colors and patterns as our ties so everyone can still match.
Bright Coral Premium Bow Tie
We've all seen the adorable photos of ring bearers holding signs that read "Here She Comes" or "It's Too Late To Run" as they walk down the aisle. With heavy paper or a chalk board and some ribbon, you can make one for your dog to wear around it's collar, too. The key is to make the sign readable for your guests, but not too heavy for your pup. Popular sayings include "Here Comes The Bride", "My Humans Are Getting Married", "Ring Guard Dog", "Always A Bridesmaid, Never A Bride", "Have You Seen The Rings?" or "I'm Here For The Cake."
Floral garland around the collar is another popular accessory choice for wedding dogs, and a bit more feminine for female dogs. This is an easy DIY or job for your florist. Just remember, daffodils, daisies, lilies and a ton more plants are toxic to dogs. ASPCA has compiled a huge list of safe and unsafe plants for dogs. Be sure to only use plants from the non-toxic list or head to a craft store for artificial flowers.
Show us your pet wearing our bow ties! Tag your dapper dogs on Instagram @tiemart. (Photos from a phone or personal camera are perfect! Any professional photos must include a release from the photographer for us to post. Photos may be used on our website, affiliate sites, blog or social media accounts.)
TieMart offers budget-friendly wedding ties in a huge range of colors and patterns. You'll find accessories for your entire wedding party, from the groom and groomsmen to the ring bearer and father of the bride. Match your wedding colors by requesting free fabric color swatches today.