Fall 2022 Wedding Colors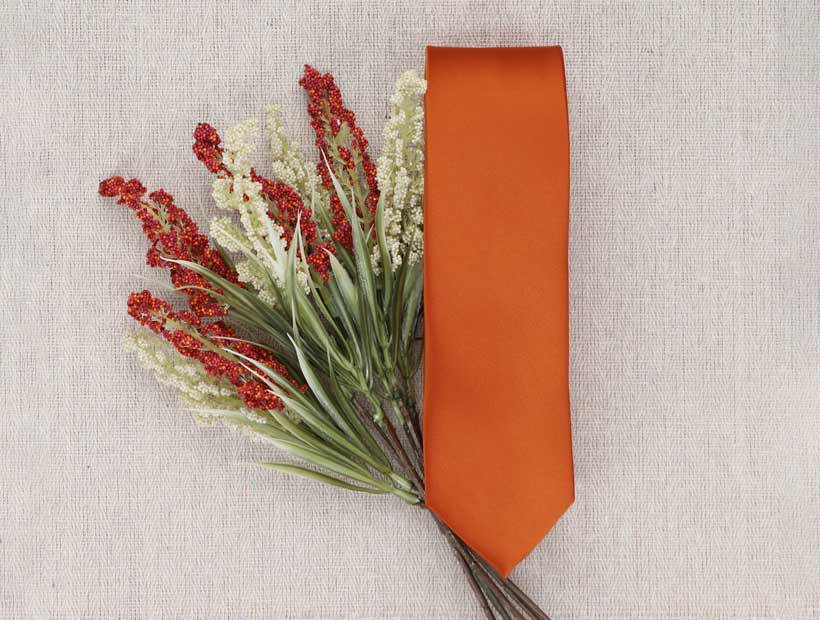 ---
The summer wedding season is wrapping up, and that means it's time to talk about fall!
Expect wedding colors to turn earthy, romantic and even a bit moody this year. Shades are getting darker and accented with new hues. Other trends (like greens) are gaining popularity as we approach the start of autumn.
Take a look. These are the wedding colors of fall '22.
Burnt orange has surprised us this year. This deep orange hue is usually reserved for fall weddings, but it has been popular all year. Nonetheless, fall will continue to be big for burnt orange. This nature-inspired color can be worn with crisp navy blue or dark gray groomsmen suits. Accent the hue with golden yellow, hunter green, burgundy or even a blue-green teal shade like oasis.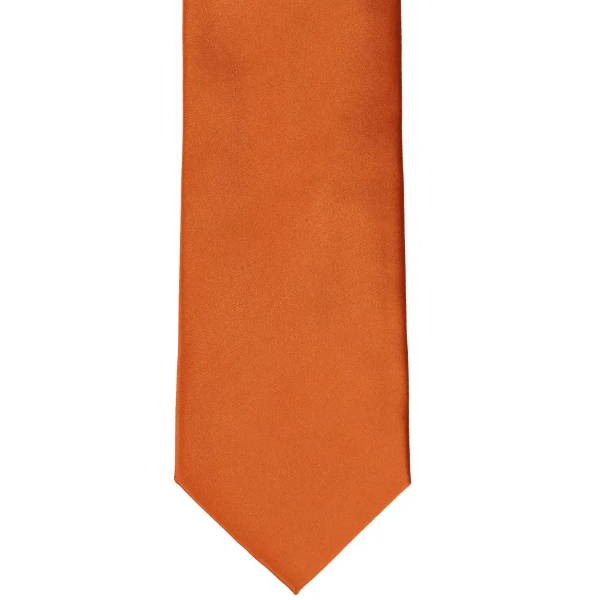 Pair burnt orange wedding ties with gray groomsmen suits and a burgundy boutonniere.
Greens are such a popular trend for weddings right now. It started with the greenery trend, adding more botanicals to wedding bouquets, boutonnieres and floral arrangements. But these green shades have moved into bridesmaid dresses and groomsmen accessories. Earthy greens like sage and eucalyptus (which has subtle blue tones) have gained popularity all year and certainly blend with fall hues.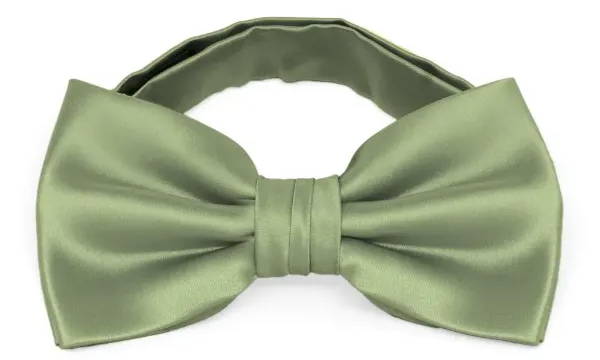 Try a fall combo of earthy sage wedding ties with dark gray suits and a burgundy or white boutonniere.
Besides sage, similarly hued darker greens like olive, fern and hunter green will be popular this fall as well. You may want to consider these colors as accents to a sage wedding. Or deepen the look with burgundy accents.
Like burnt orange, burgundy is another color we now see worn year round for weddings. But this color shines for the changing seasons. While it can certainly stand on its own, there are a lot of ways to accent burgundy in fall. Golds, greens, blush and navy add to its richness.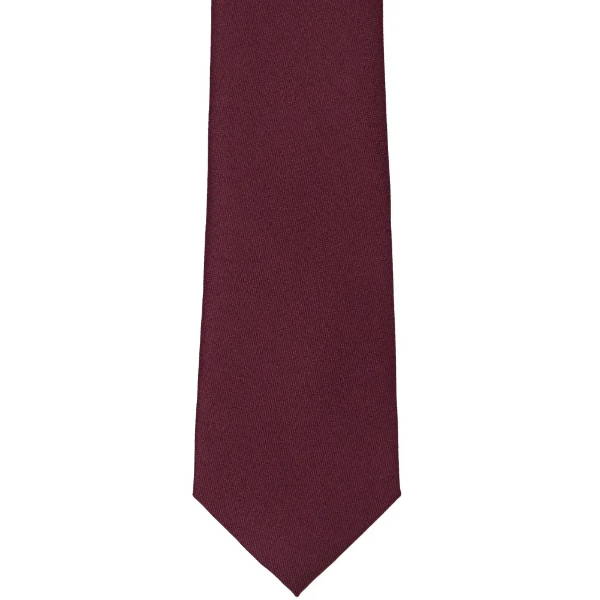 Pair burgundy wedding ties with navy blue or gray groomsmen suits in fall. Consider an accent like a blush pink boutonniere and touch of greenery.
Certainly, there are more colors to wear for a fall wedding besides burnt orange, sage and burgundy. Here are a few more hues that will be making the rounds this fall.
Dusty Blues, Pinks and Purples

Dusty blues, dusty pinks (like blush) and dusty purples are, without a doubt, the most popular wedding colors right now, regardless of the time of year. These not-so-bright hues transcend seasons, whether they're added as wedding accents or the main wedding color.
For some cold-weather inspiration, pair dusty blue with darker navys or a touch of burgundy. Blush pink can be mixed with dark reds like burgundy and dark greens like hunter green. Dusty purples can be paired with sage or darker greens as well. However, in fall rich eggplant purple (think the purple version of burgundy) gains popularity and is the perfect way to add some autumn vibes to those lighter dusty purples. The tone of eggplant is similar to dusty purples (i.e. typically more red-hued), so they easily pair together.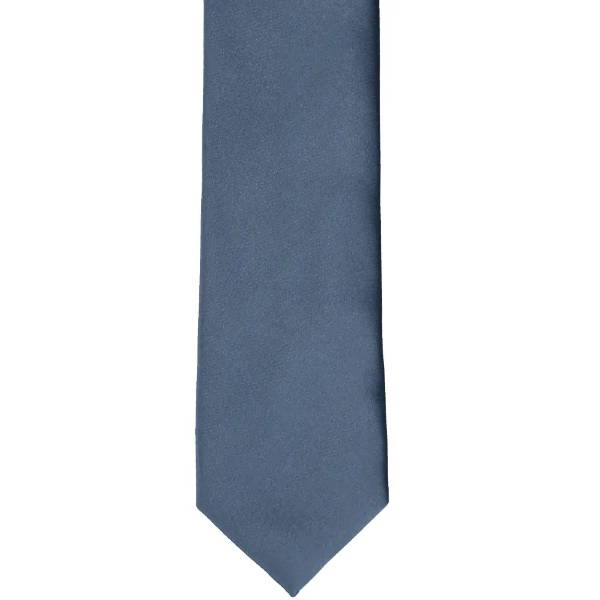 For fall, complement a dusty blue tie with navy blue groomsmen suits and a touch of burgundy.
Jewel tones enhance the colors of fall, especially if your wedding is set for that sweet spot when leaves are changing and quite vibrant. Mix together rich, dark saturated colors like oasis, navy blue, eggplant and hunter green for a wedding palette that's on-trend, but perhaps not as popular as some of the above combinations. (Which can sometimes be a good thing if your fall is packed with friend's weddings, too.)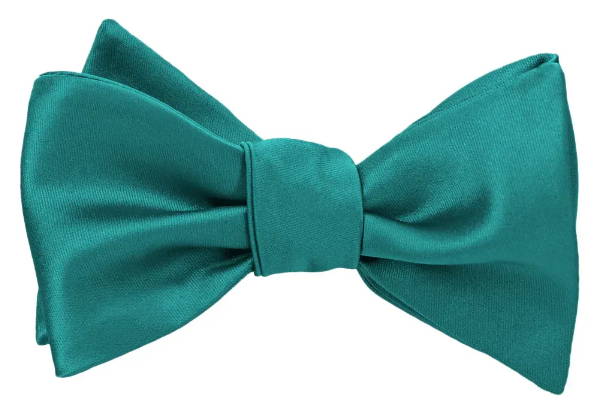 Embrace the richness of fall with jewel tones, like this oasis bow tie, a navy blue groomsmen suit and a deep purple accent.
Persimmon is a color similar to burnt orange, but with more red tones. This color exudes natural boho vibes, and pairing it with gray, tan, white and cream will add to this rustic fall feel. Or, enhance the shade with rich hues like burgundy and hunter green, plus navy blue groomsmen suits.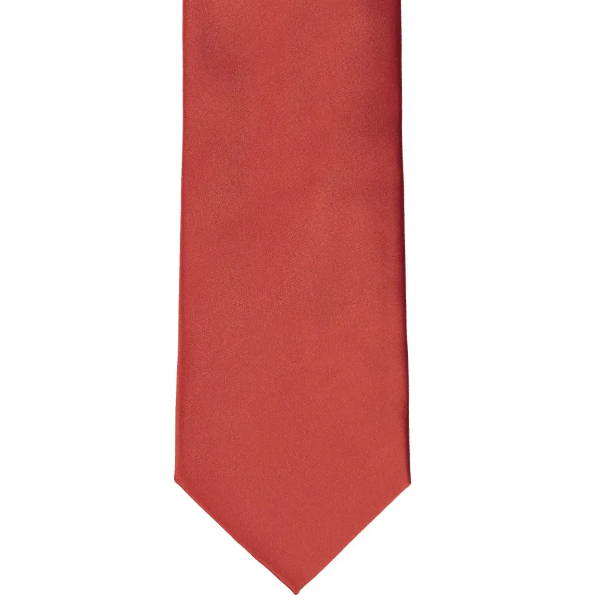 A persimmon tie with a gray or tan groomsmen suit and white accents creates a rustic fall look.
As we round out the last few weeks of summer, it's time to get serious about those fall weddings. The bright colors we were adding to our carts and outfits the last couple months will soon be replaced by darker, richer shades like burnt orange, burgundy and sage green, among others. Even if your fall wedding isn't until 2023 or beyond, take note. Wedding color trends tend to stick around for several years, with minor adjustments, so what is in this year won't go out of date by next year.
TieMart offers budget-friendly wedding ties in a huge range of colors and patterns, including top fall colors. You'll find accessories for your entire wedding party, from the groom and groomsmen to the ring bearer and father of the bride. Match your wedding colors by requesting free fabric color swatches today.