Danielle and Cayd's Dusty Blue Outdoor Wedding
---
This Idaho couple planned a stress-free outdoor wedding. And then it rained. Despite the weather, their wedding colors were the only thing blue that day.
Danielle and Cayd's romance started well before their wedding day. These middle school sweethearts met in seventh grade science class when Cayd persistently asked Danielle to go on a "date" with him. After three tries, Danielle finally gave in.
Fast forward to a family camping trip years later where Cayd got down on one knee and asked Danielle to marry him. This time, it only took one shot for Danielle to say YES!
Danielle and Cayd were ahead of their time when they chose dusty blue and blush pink for their wedding colors in 2019. Blush pink weddings were definitely trending, but few couples (or wedding companies) had dusty blue on their minds.
"It was actually hard to find ideas in the color dusty blue but everything came together perfectly," Danielle said.
When it came time to purchase groomsmen neckties, Danielle and Cayd knew ties could be expensive. An online search lead them to TieMart, whose low prices were a pleasant surprise.
"[TieMart] had SO SO many colors and styles so instantly I loved it. Plus you were less expensive than every where else and when planning a wedding if you can save somewhere, do it," Danielle said.
Danielle and Cayd purchased serene premium solid color neckties for their groomsmen. The color matched their bridesmaids' dusty blue dresses perfectly. They decided to put their dads in something a little different, so the father of the bride and groom wore navy blue ties.
Finally, Danielle and Cayd's wedding day arrived: June 23. As Danielle and Cayd were getting ready, it started to rain. And they were having an OUTDOOR wedding, you guys! Luckily, things cleared up for the ceremony. It started raining again just as the outdoor dance floor opened, but that didn't stop anyone from dancing the night away. According to Danielle, she had never seen so many people on a dance floor.
Now that her wedding day has come and gone, Danielle calls wedding planning one of the funnest moments of her life. She admits it can get stressful, but hopes other couples will just have fun on their wedding day.
"Forget about if you remembered someone's table number card; it doesn't matter now," Danielle advises. "Go marry the love of your life and enjoy every second of it because you'll miss it when it's over."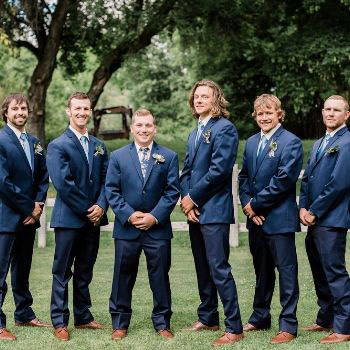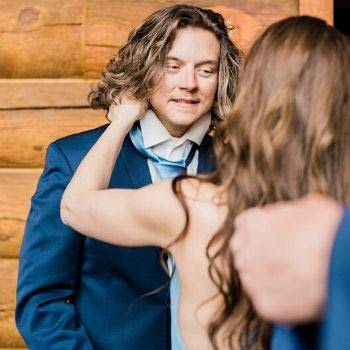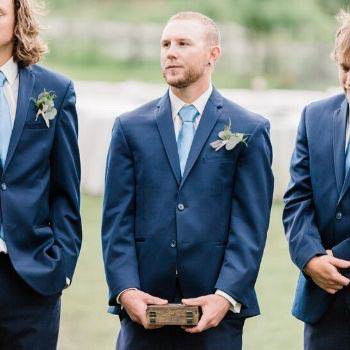 TieMart offers budget-friendly wedding ties a huge range of colors and patterns, including several shades of dusty blue ties. You'll find accessories for your entire wedding party, from the groom and groomsmen to the ring bearer and father of the bride. Match your wedding colors by requesting free fabric color swatches today.