8 Things The Groom Is Responsible For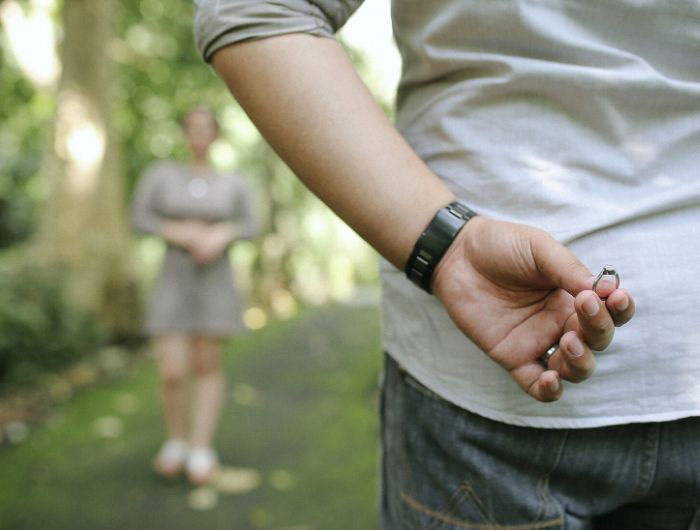 ---
Let's face it guys. When it comes to planning a wedding, we have it easy. For the most part, we simply show up and stand at the end of the aisle. Meanwhile, your bride-to-be is putting her heart and soul into every little wedding detail, from flower meanings to linen colors and china patterns.
That doesn't mean you should put your feet up and relax quite yet. Though a short list, there are a few traditional groom responsibilities to take care of before the big day.
A word of advice. This checklist is guide. Ask you bride if she needs help or if there are other tasks she'd like you to take on. This answer may be NO, but you'll definitely earn bonus points for asking.
1. Purchase Bride's Ring And Wedding Band

Congrats, you may have already checked this item off your to-do list when you proposed! Traditionally, the groom is responsible for purchasing the bride's engagement ring and wedding band. If her engagement ring didn't include the band, it's time to go shopping. Since the surprise of the proposal is over, bring your bride with to pick out the band.
One of the first tasks of wedding planning is selecting your wedding party. As the groom, you're responsible for choosing your best man, groomsmen and ushers, if applicable. Remember, you'll need the same number of groomsmen as there are bridesmaids. If your bride has brothers, make room for them in your wedding party.
3. Create Groom's Side Guest List

Make a list with addresses of everyone you want to invite to your wedding. Depending on how large of a wedding you're planning, this may include parents, siblings, grandparents, aunts and uncles, cousins, co-workers and friends.
4. Coordinate Attire For Self And Groomsmen

Your bride's opinion is important for this one. What you and your wedding party wears definitely depends on wedding colors, formality of the wedding and what the bridesmaids are wearing. Ask your bride what she envisions you and your groomsmen to wear (including colors), add a bit of your own personal style and then make it happen. Your main responsibility is to make sure each of your groomsmen have their tuxes, ties, socks, shoes, etc., in order.
5. Pay For Marriage License And Officiant Fees

Traditional etiquette calls for the groom to pay for the marriage license and officiant fees. The marriage license fee will vary by location, but you typically apply for this a few days before your wedding. The officiant fee could already be included with any ceremony costs. If not, coordinate this payment.
Wedding party and parent gifts are a wedding tradition. Best man, groomsmen and usher gifts are up to you. Neckties, socks, tie bars and cufflinks, personalized barware, watches, tools. The ideas are endless and really depend on you and your groomsmen's interests.
Some couples purchase the same gift for both sets of parents, like a bottle of wine. If you'd prefer something more personal, frame a childhood photo. It's okay to give separate gifts to mom and dad, too.
It's not a requirement, but some couples choose to give each other gifts on their wedding day. If you know your bride has a gift for you, definitely find a gift for her, too. Otherwise, it's up to you whether you surprise her. Typical gifts from the groom to bride include jewelry (a necklace or watch) or anything that says Wife, Wifey or Mrs. [Your Last Name].
If you're writing your own vows, please don't wing it. Sit down and type your vows. Save, save, save again and make a backup.
As the groom, it's your responsibility to give a short speech at your reception. This is usually before or during dinner. Thank your guests for coming. Thank everyone involved in your wedding day, including the wedding party and parents. If you didn't write your own vows, say something about your bride. It might be the story of how you met, your proposal or simply "I love you." It's okay to wing this speech, it should be short and sweet.
8. Plan Rehearsal Dinner With Parents

While the bride and her parents are traditionally responsible for planning and paying for the wedding ceremony and reception, details and costs associated with the rehearsal dinner are up to the groom and his parents. The rehearsal dinner is held the night before the wedding after a run through of the wedding ceremony (hence rehearsal). Typically, the wedding party and immediate family are invited. Sometimes out of town guests will be invited as well. Decide with your bride and parents who you'd like to invite.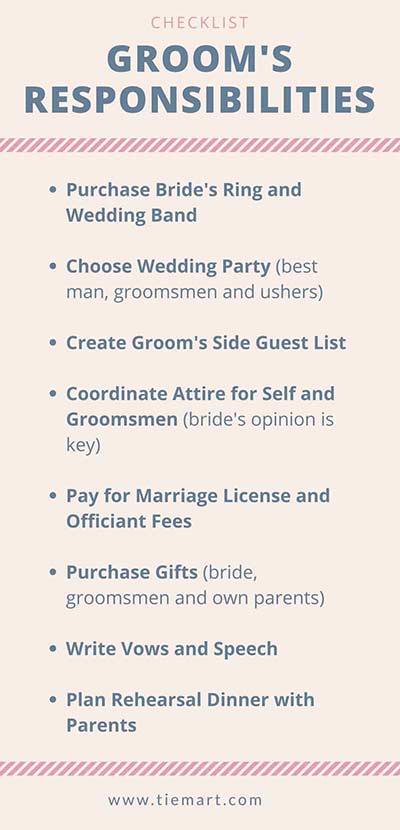 TieMart offers budget-friendly wedding ties in a huge range of colors and patterns. You'll find accessories for your entire wedding party, from the groom and groomsmen to the ring bearer and father of the bride. Match your wedding colors by requesting free fabric color swatches today.