Popular Wedding Colors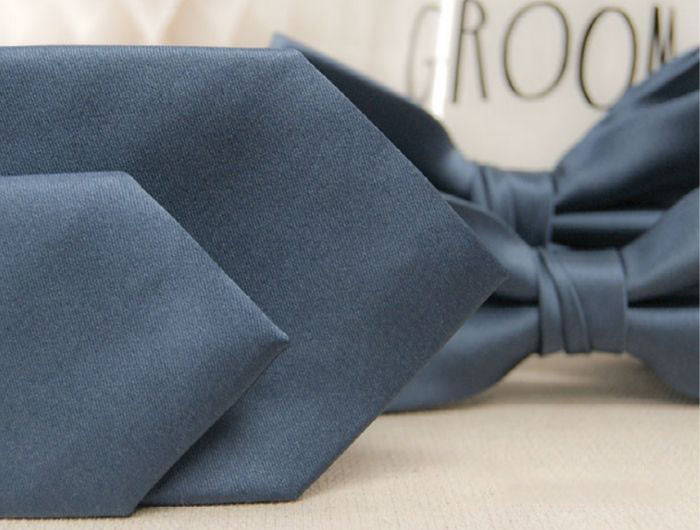 ---
Dusty blues, rich reds, pale pinks. This year's trending wedding colors are all about romance. These are the top wedding colors TieMart customers are choosing for their weddings.
You'll find these popular colors in tie sizes and styles for your entire wedding party, from the groom and groomsmen to the ring bearer and father of the bride.
To ensure our wedding ties match your wedding colors, request free color swatches and see a fabric sample in person before you buy.
Here are those top wedding colors:
When groomsmen started trading in the classic black tux for a stylish navy blue suit, it was only a matter of time before soft, muted blue wedding ties started trending. This is a great color to mix in with those trending floral bridesmaid dresses or groomsmen ties, or try pairing these muted blues with burgundy and blush.
Not too long ago, burgundy was reserved for fall and winter weddings only. Today, couples are choosing this color year round by accenting it with lighter shades like blush pink. We've even seen burgundy paired with unexpected color choices like coral or fuchsia!
Blush pink, millennial pink, rose gold. Whatever you call it, this muted pink is the new neutral of weddings. Blush pink has been popular for several wedding seasons now, and it's still a top choice. Try accenting it with burgundy, navy blue, earthy greens or gold.
Five years ago, coral was THE COLOR for weddings. Once blush pink entered the wedding scene, coral's popularity definitely diminished. This year, we're seeing coral re-emerge. Rather than the bold and bright corals of year's past, it's a bit dustier and toned down. This softer hue looks great with blush pink accents.
Jewel-Tone Blues and Greens

Blue and green jewel tones are brand new to the wedding scene this year. Teals, gems and jades and deep aquas. We definitely expect to see these colors used for an ombre effect in colder months. For summer weddings, expect to see those blue jewel tones used as an accent with dusty blue.
More Popular Wedding Colors

These wedding colors are trending, too. Consider accenting your dusty blue, burgundy or blush pink wedding with any of these colors.
TieMart offers budget-friendly wedding ties in a huge range of colors and patterns. You'll find accessories for your entire wedding party, from the groom and groomsmen to the ring bearer and father of the bride. Match your wedding colors by requesting free fabric color swatches today.