Budget Weddings: Flower Alternatives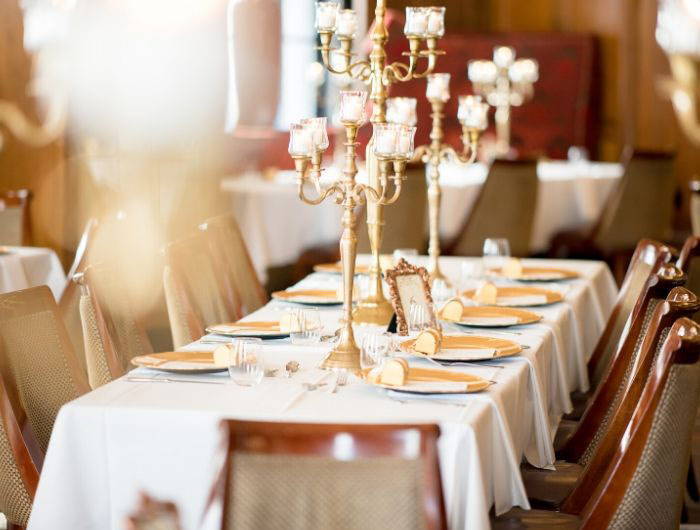 ---
Let's face it, for most of us, planning a wedding comes with a budget. Luckily, you've already found Tiemart and saved a ton on neckties and accessories for the groom, groomsmen and ring bearers, but maybe you're still looking for a way to save more. With an average cost of $2,000, floral arrangements can definitely be a thorn the pocket book and cutting back can be a big saver. But who wants to sacrifice the ambiance of the occasion? We've compiled this list of 12 unique floral alternatives to help save on your budget, no ambiance sacrificed. You can save a little by using these alternatives for the bouquets and boutonnieres, or save a lot by incorporating these looks into the reception decor, too.
Candle light can really help create the perfect atmosphere for your wedding, especially in a low lit or night time setting. During your ceremony, light up the aisle with long stem candle holders or lanterns. At your reception, use candelabras as centerpieces. While you can purchase these items in bulk online, don't be afraid to mix and match various styles of candle holders, lanterns and candelabras found at your local secondhand shops.
If you're planning an outdoor wedding in the summer, this is a cool pick for you. Parasols can add some shade from the sun for you and your bridesmaids. They can also be a fun prop for pictures. For outdoor decor, place them strategically down the aisle. Bring parasols indoors by (securely) hanging them from the ceiling for visual appeal. They will draw your guests attention up, which means you can have smaller (and more affordable) centerpieces on each table.
One trend that's really starting to take off is the use of balloons in place of floral decor. While this option is not the best for replacing bridal bouquets, it's a fun and affordable alternative for pictures and reception decor. Like parasols, you can float balloons above your guests' heads.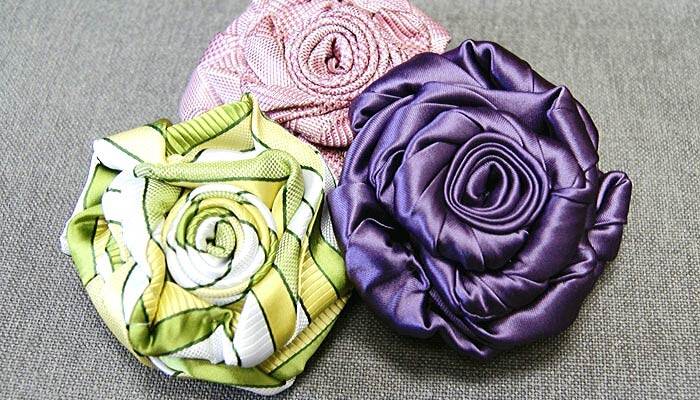 Yes, you read that right. Roses made out of neckties! To achieve this look, purchase extra ties that match the groomsmen's or upcycle old neckties. (Consider using your dad's or grandfather's vintage ties.) Combine different colors and patterns for a look as unique as you. Make just one for the bride or get all the girls together and have each of the bridesmaids make their own. Whatever you choose, the possibilities are endless. So get your sewing pins and start crafting.
Just like neckties, you can make flowers from paper. Use colored paper to match your wedding colors, newspaper or sheet music for a vintage look, or tissue paper for an artificial flower just as delicate as the real thing.
If you are a yarn crafter this is a darling way to make your wedding even more you! With a seemingly endless option of colors, you're sure to find the perfect yarn to bring your ideas to life. And as an added bonus these adorable flowers are something that will last forever, unlike real flowers that will wilt and fade away over time!
Feathers can be a beautiful accent to any wedding. With a wide variety of patterns and colors, this look can be natural and simple or lavish and elegant. Use feathers alone or add beads to embellish this option for the bouquets, boutonnieres and centerpieces.
This is a fun option especially if you are a thrifter or antique shopper. Most secondhand and antique shops have bins full of old brooches and pins for less than $1 each. You can keep them looking as is or spruce them up with a little spray paint for a custom look.
Head to the thrift store and look for antique brooches for a unique DIY bouquet.
Who says buttons are just for clothes? Buy them in coordinating colors from the craft store or find a bag of mixed-matched buttons in secondhand stores. Stack buttons of various sizes on top of one another to create a single flower. If you're able to score some more elaborate buttons, piece them together like the brooch bouquet. Whatever look you are going for, there's a button to fit your style!
Perfect for an outdoor summer wedding, pinwheels are a charming alternative to floral arrangements. Pinwheels come in a huge range of colors and styles, or you can make your own with a square piece of paper, bamboo stick and pin. Add some ribbon or greenery for an added touch.
From simple to elaborate there are a ton of options when it comes to handheld fans. Add different beads or rhinestones to each fan to customize it for each of your bridesmaids.
12. Pine Cones And Evergreen

Earthy and rustic, but still beautiful. Pine cones and evergreen create an enchanting mood for an outdoor or winter time wedding. Add some silver accents for an even more captivating look.
TieMart offers budget-friendly wedding ties in a huge range of colors and patterns. You'll find accessories for your entire wedding party, from the groom and groomsmen to the ring bearer and father of the bride. Match your wedding colors by requesting free fabric color swatches today.