Wedding Guest Attire: What To Wear To A Backyard Wedding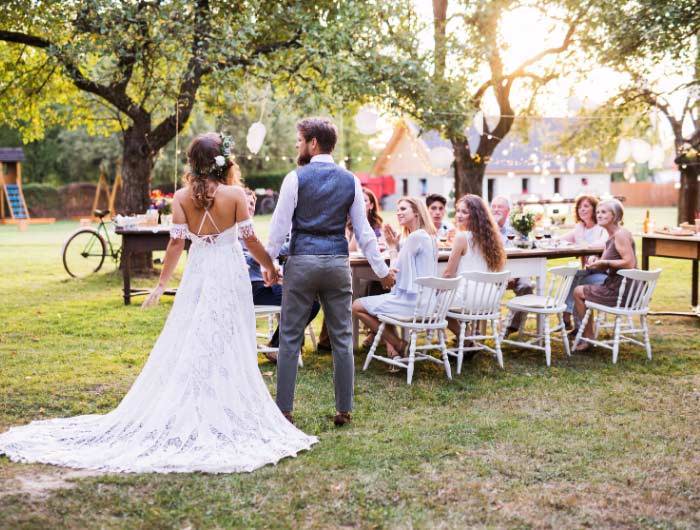 ---
The wedding scene has temporarily changed. Large and elaborate ballroom weddings are on hold or taking place on a much smaller scale. If you've received an invite to one of these newly dubbed micro weddings, you probably have questions. In fact, you might be wondering what to wear. The backyard wedding is a bit more casual, but that doesn't mean carefree. So let's take a look at what to wear to a backyard wedding, and how to decipher the dress code.
First things first. If you received a NEW invite for a replanned wedding, take a look at it again. (To verify, you're NOT looking at the original invite for their church and reception hall wedding. Any info on that invite is old news.) A dress code might be right there on the invite. If it's not, check for a wedding website. This is a common place to mention a dress code, too.
If you do indeed find a reference to a dress code, that's awesome, and it's time to interpret the dress code. Invites sometimes say "come as you are," especially for backyard weddings. This means that the wedding is going to be casual, no formal attire needed. Still, remember that this is a wedding. There will probably be photographs taken and, since the guest list is limited, you can expect to make an appearance in those wedding pictures. Do the bride and groom's wedding album a favor and keep your outfit from being sloppy. Wear a collared shirt, even if it's a polo or casual button down. If you're going to wear denim, make sure it's your darkest pair of blue jeans. There's nothing wrong with swapping those jeans for a pair of khakis either.
Sometimes a dress code includes the word "optional." This means that it's the suggested dress code for the event, but it's not mandatory. Typically you'll see "black tie optional" on an invite. This means that a tuxedo is requested, but it's okay to wear a black suit if you don't have a tux available. (It does not mean it's okay to show up without a jacket though.)
Now if you fail at finding a specific dress code on the invite and wedding website, look at the time of the ceremony. Generally, the earlier the wedding the less formal the dress code. An evening wedding is more formal than a morning wedding, even in an intimate setting. Bring a jacket to a 6 pm wedding. A 10 am wedding may not warrant a suit and black tie, but a bright and cheerful necktie and collared shirt is appropriate. Keep reading for ways to put together a fool-proof outfit.
So you've studied the (new) invite and you're still not sure what to wear. Worry not, there's a go-to backyard wedding dress code. Start by skipping the suit. There's a chance that the groom will be dressing more casually than a suit and you don't want to overdress that groom.
The key to your outfit is putting on these layers: A dress shirt, slacks, sport coat, necktie and (optional) suspenders. You're going to look put together wearing these pieces, but not overly formal. So why are we saying layers? Because if you show up and realize you are overdressed, you can strategically remove a layer or two until you fit the scene. Here are your outfit options, based on the original layers:
Dress shirt, slacks, necktie and suspenders. With this outfit, you're removing the sport coat. Easy move since guys hang their coats over a chair all the time. The suspenders keep your outfit dressier than what you'd wear to work and also gives you that backyard wedding vibe. If suspenders don't suit your style, head to option 2.
Dress shirt, slacks and necktie. This is the same look at option 1, but without the suspenders. It's perfectly respectful for the occasion, especially if you're not a suspender guy.
Dress shirt, slacks and sport coat. With this outfit you're only removing your necktie. (It's small and can probably fit inside your coat pocket anyway.) It's a bit more stylish of a look than option 2, but as far as level of dressiness it's pretty equal. So how to pick between option 2 and 3? Sometimes it's simply about where you're located. Option 3 is more common in urban areas, as well as the East and West Coasts.
Dress shirt and slacks. This is the most casual your outfit will take you. We don't recommend this option if any other guests are wearing ties. However, if you show up and you're the only one not in denim, then take your outfit down to these two clothing pieces.
Wear a pair of suspenders under your sport coat. If you remove your jacket for a more casual look, the suspenders give that backyard wedding vibe.
Still debating what to wear? Well, let's be honest here. The only people invited to micro weddings these days are those who mean the most to the bride and groom. (And that's you.) You're already pretty close to one of the two, thus it's okay to simply ask their opinion of what you should wear. Couples are stressed these days, so if you get a vague answer, followup by asking what they will be wearing. You want your level of formality to match the bride and groom's, so you're looking to see if they are wearing their original wedding day outfits or if they have scaled back to something more casual.
If the groom is still wearing a tuxedo or suit, then definitely wear a suit and tie to the backyard wedding. If the groom has taken his wedding day look more casual, you should too. Don't wear a suit if the groom isn't, but don't assume casual means jeans and a t-shirt without getting more details. Casual could mean a collared shirt and slacks, it could be a sport coat or maybe even jeans.
Now if the groom says he's wearing jeans, ask what else he's wearing. Jeans and a sport coat is dressier than jeans and a t-shirt. If the groom is in fact wearing jeans and a tee, go for it and wear the same. Just make sure your clothes are clean and free of holes. As far as your t-shirt, select a neutral color without any writing or logo on it. If you don't have any plain t-shirts, select a polo shirt instead.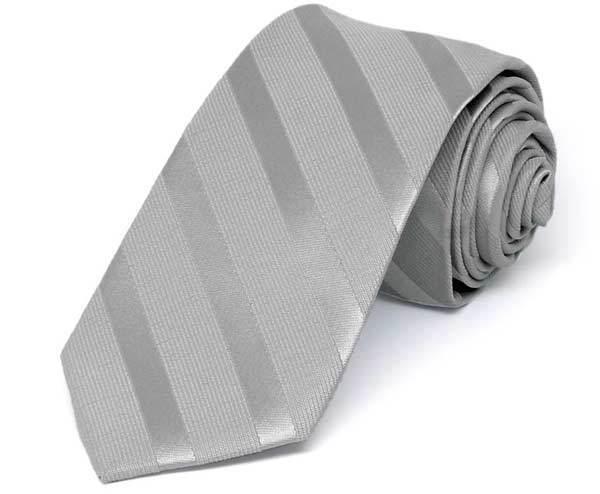 If you know the groom is wearing a tuxedo or suit to his backyard wedding, definitely wear a suit and tie to the ceremony.
More Outfit Considerations

Don't forget that a backyard wedding is, in fact, outside. In today's world, you won't be heading inside if the weather doesn't cooperate. Although the couple is likely making plans for bad weather (tents, portable heaters, etc.), you should plan for the weather as well. Wear shoes that can stand up to the elements. (No, this doesn't mean rain boots or sneakers. Just make sure your loafers are waterproof.) Bring an umbrella and/or trench coat if it looks like rain. Wear an overcoat for cooler temps. If it's cold enough to wear a hat, leave the beanie at home. Instead, make this the year that you start wearing hats. You might be surprised at how much you like wearing a flat cap, trilby or fedora.
The last piece to your backyard wedding attire is, of course, a face mask. Don't be the guy that shows up without a mask. The bride and groom already changed their wedding plans due to a global health crisis and probably want everyone to stay safe and healthy on their wedding day. You might already social distance with everyone attending the wedding, but don't forget that there could be caterers, florists, wedding planners, photographers and an officiant around, too. Throw a mask in your pocket and you're all set to (safely) attend the backyard wedding, 2020 style.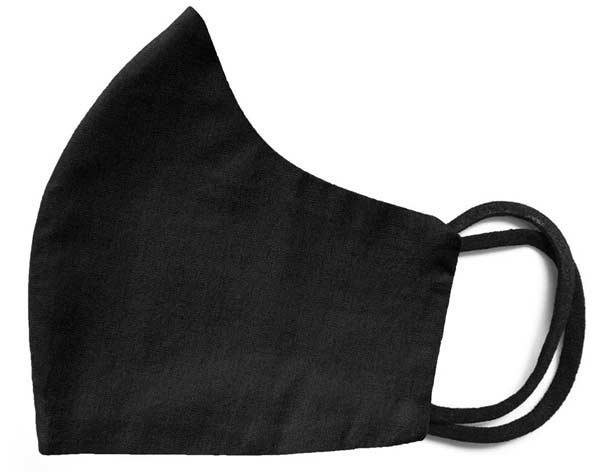 Throw a face mask in your pocket and you're all set to attend a backyard wedding, 2020 style.
TieMart offers budget-friendly wedding ties in a huge range of colors and patterns. You'll find accessories for your entire wedding party, from the groom and groomsmen to the ring bearer and father of the bride. Match your wedding colors by requesting free fabric color swatches today.