Men's Attire: What To Wear To A Wedding Rehearsal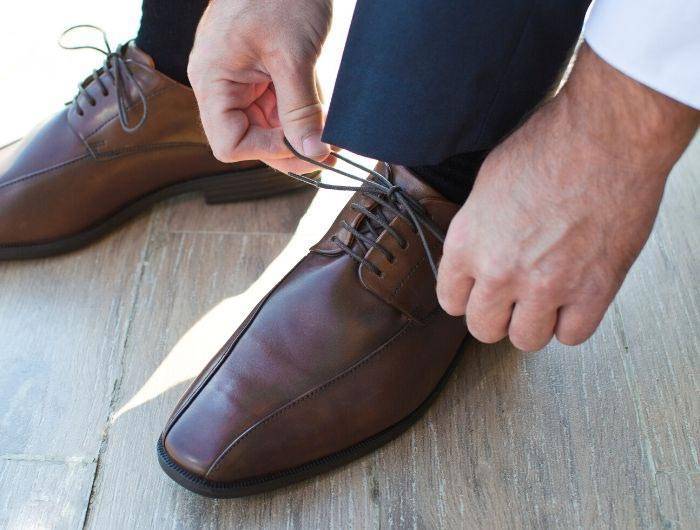 ---
Dressing for a wedding rehearsal is not as straight forward as a wedding. Keep reading to learn the dos, the don'ts and decipher how formal or casual you need to be.
If you're the groom, our best advice is quite simple: Ask your bride! She may already have in mind or purchased items for you to wear to the wedding rehearsal. If she's leaving it up to you, ask what she will be wearing and in which color.
Dress as formal or casual as your bride. She's likely to be the best dressed person at the wedding rehearsal, and you should aim for the second best. If she's wearing a cocktail dress, you should be in a suit. Add accessories that will complement hers. If she's wearing a blue dress, try to find a matching blue tie.
For a day dress, you should be in slacks, a collared shirt and necktie at minimum. Also consider the rehearsal venue to determine if you should add a jacket. A rehearsal at a country club warrants one. A local restaurant or relative's home may not.
If she is dressing a bit more casual, wear slacks and a collared shirt. Only wear jeans to your wedding rehearsal if your bride is as well.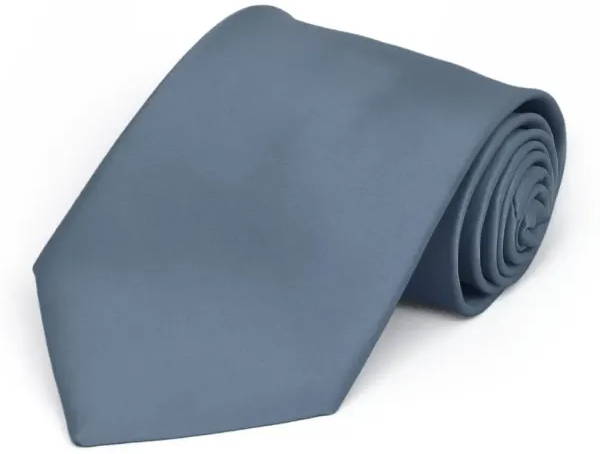 Dusty Blue Premium Solid Color Necktie
Unless you've been specifically told otherwise, assume a wedding rehearsal is, at minimum, a business casual event. Dress slacks or khakis and a collared shirt (polo or button down) should be the least formal you dress. Without asking the bride or groom, there are a couple ways to know if you should wear a tie, jacket or suit to a wedding rehearsal.
Is the actual wedding a black tie event? If the wedding invitation specifies that it's black tie, it's likely the wedding rehearsal will be more formal as well. Opt for a black, gray or navy suit, collared shirt and tie.
Where is the rehearsal dinner? The location of the rehearsal dinner is really the key factor in deciding what you should wear. If it's at a restaurant, look up the dress code and dress accordingly. (Even it the dress code is casual, at minimum still wear khakis and a collared shirt.) If it's at a private location, like a country club, you can usually find a dress code online, but many country clubs require men to wear a jacket.
Ask the bride or groom for their input. (Really, it's ok!)
If you're still worried of being over or underdressed, there are a couple things you can do. Ask the bride or groom for their input. (Really, it's ok!) Or, be prepared for any occasion by dressing in separates. Wear tan slacks and a button down dress shirt. Bring with a necktie in a classic dark color (navy, burgundy or gray are our favorites) and a dark sport coat. If you arrive to the wedding rehearsal and see that a collared shirt and slacks won't cut it, put on the tie and coat for a dressier look.
One thing we can't stress enough for groomsmen is to not wear the wedding colors to rehearsal, especially any items you'll be wearing in the wedding. At a rehearsal dinner, the colors and any theme are still a bit of a surprise for the wedding guests, some of whom may be in attendance. It's okay for the bride and groom to wear the wedding colors if they choose, but steer clear of it yourself.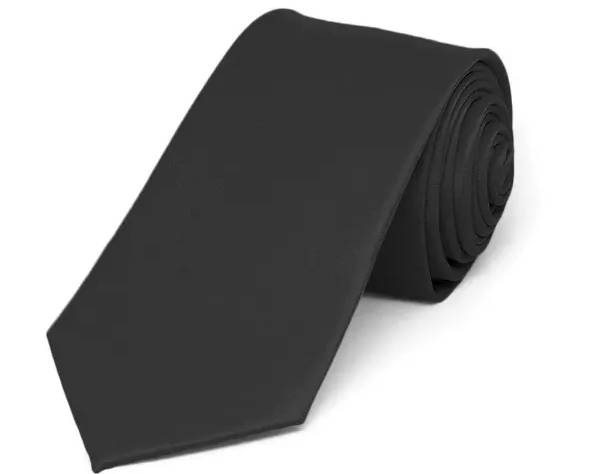 Black Slim Solid Color Necktie
Much of the same advice for groomsmen applies to all other male guests at a wedding rehearsal. At minimum, wear a collared shirt and dress pants or khakis, and then do your research based on the location to see if you should add a necktie and/or jacket. It's best to stick to more neutral colors, too. Just like we advise groomsmen, don't wear what you think is the wedding color; that's reserved for the wedding party on the big day. It's not necessary to ask the bride or groom about attire if you're not part of the wedding party or immediate family. Use your best judgement, don't wear the wedding color and what you wear will be fine.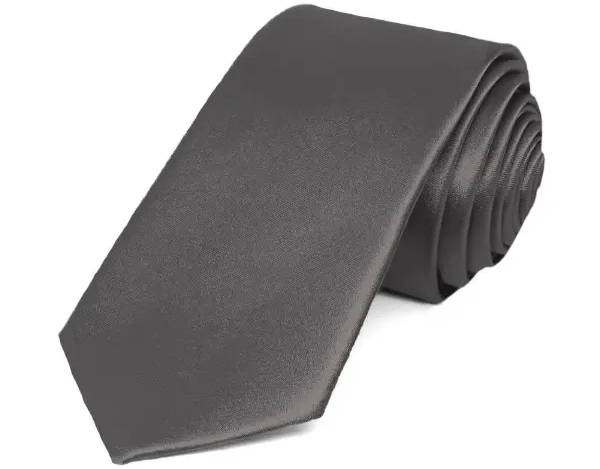 Graphite Gray Slim Solid Color Necktie
TieMart offers budget-friendly wedding ties in a huge range of colors and patterns. You'll find accessories for your entire wedding party, from the groom and groomsmen to the ring bearer and father of the bride. Match your wedding colors by requesting free fabric color swatches today.