Men's Guest Attire: What To Wear To A Summer Wedding
---
Summer weddings typically give guests the opportunity to dress in a way that they normally wouldn't. Bright colors, patterns and materials like linen that are usually not appropriate for such formal events find their place to shine here. This can apply to accessories like ties, pocket squares and socks or even the suits themselves.
Picking the right tie for a summer wedding depends on a couple of things. The most important thing is that you follow the dress code. Don't make the mistake of wearing a colorful polka-dot tie to a black tie or formal wedding.
Check the wedding invite for a dress code. If it's not there, head to the couple's wedding website and see if they've indicated one there. If all else fails and you know the couple well, simply ask them or someone involved in the wedding.
Once you know the dress code, the next step is to find a tie that looks good. This seems simple, but many guys don't have a solid grasp on which ties are appropriate for which wedding. Below, we'll provide a helping hand to guide you to the right tie for any summer wedding occasion.
While the term "summer wedding" may sound like it refers to one type of wedding, depending on the dress code and location of the wedding, a summer wedding can mean many different things in regards to what tie you should wear.
A summer wedding can mean many different things in regards to what tie you should wear.
Black tie is perhaps the most straightforward dress code as it offers little to no leeway for you when it comes to choosing a tie, regardless where the wedding is taking place. This dress code means black bow tie, and nothing else.
Formal or black tie optional gives you a pinch of freedom compared to strictly black tie, but wearing a black bow tie or a very conservative necktie here is advisable.
A semi-formal or dressy casual dress code opens up a few more options. If the wedding is during the day, a solid, lighter colored tie is appropriate. An evening wedding means you should stick with a dark, sleek tie to match your darker colored suit. A subtly patterned bow tie is also a great option here.
If the dress code is something along the lines of "festive attire" or "casual", it means you have a lot of freedom to do something fun with your tie. It does not, however, mean that you shouldn't wear a tie. Feel free to break out that polka-dotted bow tie or that flower-print necktie.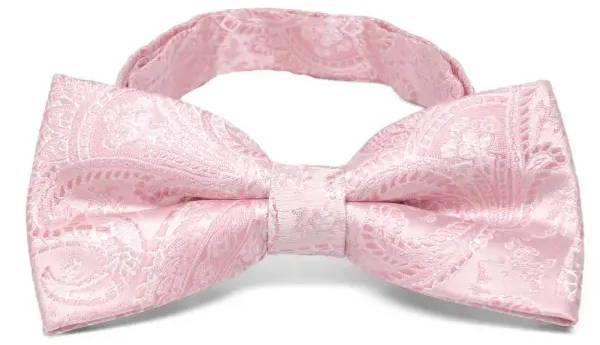 Pale Pink Clara Paisley Band Collar Bow Tie
The general location or venue of the wedding should always be taken into consideration when you're picking out a tie. Obviously, the dress code does a lot of the deciding when it comes to what tie you wear, but the location of the wedding begins to hold more weight as the formalness of the wedding's dress code lessens.
A beach wedding is one of the more common summer weddings and is probably the only instance in which it is okay to wear a white suit. If you're brave enough to go with a white suit, an ocean-blue, lightly patterned bow tie or necktie is your best bet.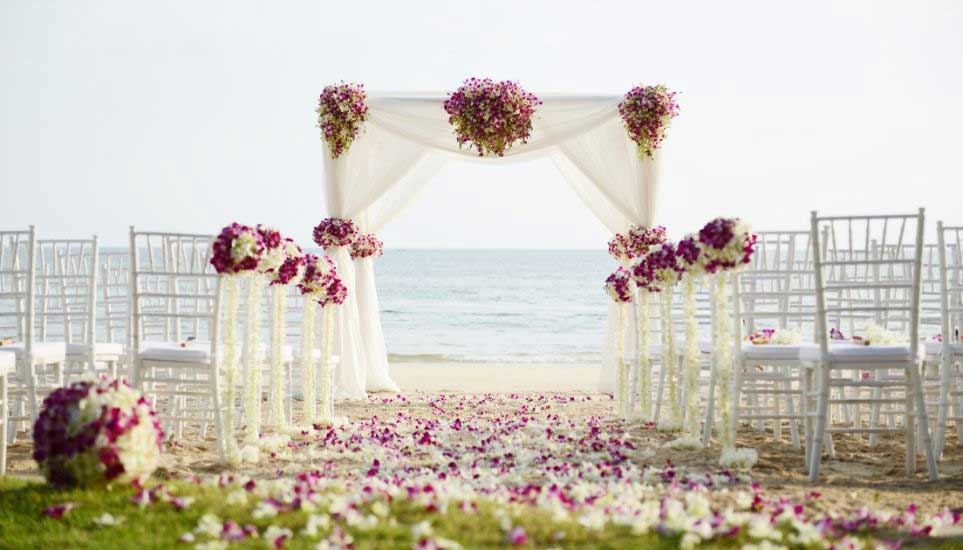 The location or venue of the wedding should always be taken into consideration. You're not going to wear the same thing to a beach wedding and a city wedding.
Also a very common summer wedding, the country wedding calls for a tie in an earthy tone like green, navy blue, light blue or even grey. Donning a tie with a small flowery pattern is also a stylish move here. As far as materials go, chambray and linen are perfect in terms of comfort and aesthetic.
The city wedding may require a somewhat more modern look, but you still have a ton of options when it comes to your tie. You'll look best with a dark, solid color necktie or bow tie to complement your sleek, dark colored suit.
Burgundy Formal Striped Tie
At TieMart, we're obviously more focused on—you guessed it—ties. But we want to make sure you're still able to look spiffy from head to toe, not just around your neck. Here are a few tips to consider when you're picking out the rest of your outfit.
Above all else, when you're dressing up for a wedding (whether it's formal or more casual), make sure your clothes actually fit! There's no bigger mistake a man can make when attempting to dress up than when he throws on some loose-fitting misshapen shirt or pair of pants.
When you're dressing up for a wedding, make sure your clothes actually fit!
If the wedding calls for a dress code that's anything less than formal, go for a khaki or lighter-than-navy blue suit. These lighter shade suits will make you stand out in a tasteful manner. Additionally, these colors work well with just about any wedding location. To really make your tie pop with a suit like this, pair it with a white or very light blue shirt.
In terms of footwear, it has been very trendy to wear no-show ankle socks along with either a saddle shoe or a classic solid color buck shoe. If you'd prefer to stay away from what's trendy, you can never go wrong with a pair of more traditional long cotton socks. If you'd still like to add a little something extra to your outfit, pick up a pair of patterned socks—you might be surprised by how big of a difference this subtle touch can actually make.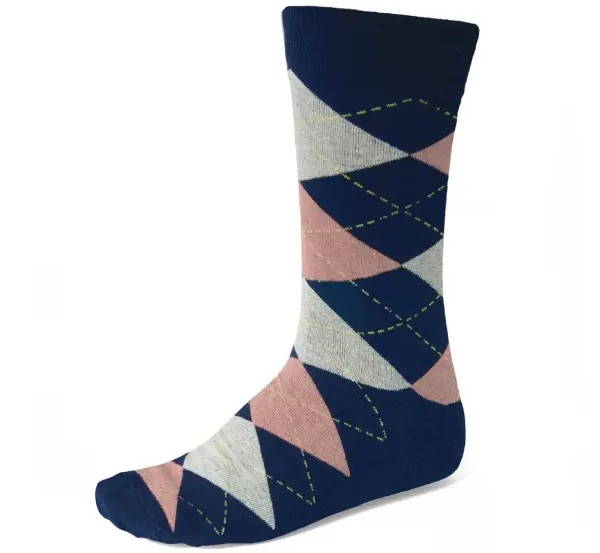 Men's Navy Blue and Blush Pink Argyle Socks
TieMart offers budget-friendly wedding ties in a huge range of colors and patterns. You'll find accessories for your entire wedding party, from the groom and groomsmen to the ring bearer and father of the bride. Match your wedding colors by requesting free fabric color swatches today.