A Guide To Boys' Valentine's Day Bow Ties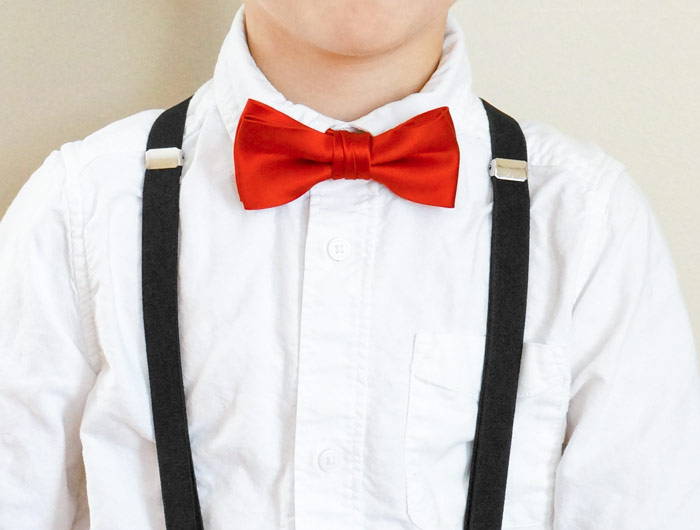 ---
Valentine's Day is the perfect excuse to add a new bow tie (or two) to your little guys' growing tie collection. (There is nothing cuter than a little boy in a bow tie.) Let's take a look at what to consider when shopping for Valentine's Day bow ties for children.
Bow Tie Patterns And Colors

When you start browsing children's Valentine's Day bow ties, you might instinctively begin looking for heart-themed bow ties. But a Valentine's Day bow tie doesn't have to be a novelty tie. Also look for kids' bow ties in Valentine's Day colors. Pinks and reds, perhaps some purples. (Whichever color you go with, it's really just a personal preference.) You'll find a much larger selection of children's bow ties when you expand your search to V-Day colors. You'll come across solid color bow ties, of course, but you'll also find patterns like paisley and stripes. The biggest advantage of looking at non-themed bow ties is that these bows can be worn after Valentine's Day. A boys' pink bow tie can be worn for Easter or a wedding. Red bow ties are perfect for next Christmas or maybe even a school photo. So if you want a Valentine's Day bow tie that can be worn more than once, definitely skip the XOXOs.
One note on color. An infant or (young) toddler isn't going to have an opinion on which color bow tie he wears. But some older boys unfortunately might be against wearing pink. So definitely take his own preference into consideration.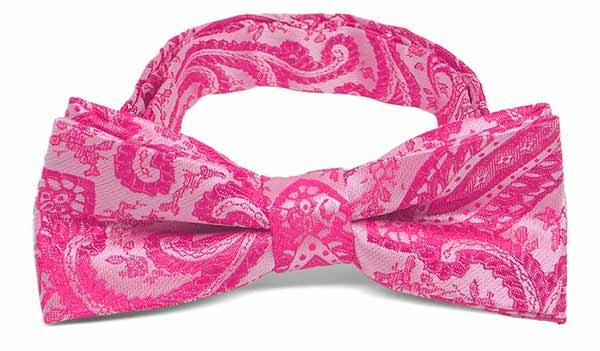 You'll find a wider selection of children's Valentine's Day bow ties if you expand your selection to non-themed pink and red patterns and colors.
Here's the great thing about boys' bow ties. Unlike neckties, boys' bow ties almost always come in one size and one size only. Phew! Band collar bow ties are the most widely made style of bow tie for children. The bow tie is pre-tied, so it always stays the same size, and there is an adjustable band that goes around the neck. That band typically adjusts small enough to fit infants and toddlers and large enough for boys around 10-years old. (For older children and pre-teens, look at men's bow ties for a better fit.)
Bow ties are adorable on kids. But want to know what's even cuter? A bow tie worn with suspenders. Boys' suspenders are the perfect pairing for a bow tie. They can be worn more casually with jeans. For a dressier look, add suspenders to a pair of children's chinos or dress pants.
If you've never put your child in suspenders don't worry, they're really easy to use. There are (typically) metal clasps at the end of the suspenders that open and attach onto the top of the boys' pants in the front and back. The suspender straps are adjustable, so just like boys' bow ties there is usually only one size of suspenders for kids. Again, boys 10 and up might need to go with a pair of men's suspenders.
When it comes to selecting a pair of Valentine's Day suspenders, go with one of these colors: Pink, red, black, white or tan. Pink or red suspenders will look the most themed for Valentine's Day. Either match the bow tie and suspenders (pink bow tie and pink suspenders, red bow tie and red suspenders) or alternative the colors (pink bow tie and red suspenders, red bow tie and pink suspenders). Black suspenders create a dressier look and are perfect for keeping up a pair of black dress pants. Boys' tan suspenders are really popular to wear with jeans and match most bow ties, so you're likely to get more use out of them in the future. Boys' white suspenders will look great with pink or red bow ties and are a great choice when black or tan don't match other clothing pieces you've selected.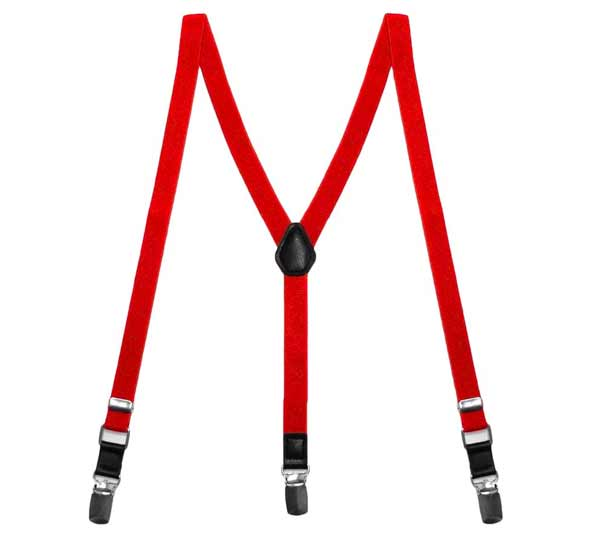 A pair of boys' suspenders will complete his Valentine's Day outfit.
Matching Valentine's Day Bow Ties

If you are buying bow ties for more than one child, or maybe Dad is getting in on the love, there are several ways you can coordinate a Valentine's Day look. The easiest option is to put everyone in the same bow tie. When browsing children's bow ties, make sure you're looking at ones that also come in men's sizes for Dad. A lot do, but start your search looking at boys' bow ties. There are a lot more men's bow ties available, and not everything out there has a children's size.
Another option when shopping for matching V-Day bows is to match the colors of the bow ties, but not the pattern. Example: One pink paisley bow tie and one pink plaid bow tie. Or a red solid color bow tie and a red striped bow tie. This option really looks like you put a lot of thought into selecting the bow ties, but it's quite easy to accomplish.
The last option is to select completely different colors of bow ties for everyone. If you're matching two people (siblings or child and dad), go with pink and red. For three people, consider pink, red and purple. If you're not feeling the purple for Valentine's Day (again, personal preference), then have two people wear the same color, either pink or red. For larger groups, simply repeat the colors selected. Pink, red, pink, red, etc. Once you know which colors everyone is wearing, it's time to think about patterns. The easiest option is solids in all those different colors. Or, you can mix and match solid colors and patterns. Or mix different patterns. If you're really lucky, you may find a pattern that comes in multiple shades of pink, red and maybe purple, and can select bow ties exclusively from one pattern. The important thing is to go with your gut. It might be hard to envision what your boys will look like in their different bow ties, but once you get a group together in those Valentine's Day colors they are going to look incredible.
There are a lot of choices when it comes to selecting a boys' Valentine's Day bow tie, but non-themed bow ties in Valentine's Day colors are often overlooked. Consider pattern or solid color bow ties in pink, red or purple for a children's V-Day look that you can use for other occasions, too. Don't forget to add a pair of suspenders to complete the little boys' outfit. When dressing a family in Valentine's Day bow ties (siblings and dad, included) considering matching their bow ties exactly, matching the colors of their bow ties but not the pattern or selecting completely different colors.
Shop Boys' Valentine's Day Bow Ties

Okay, okay. Now that we've considered all your kids' bow tie dilemmas, let's take a look at those actual Valentine's Day bow ties. These bow ties are available online from TieMart, and all of these bow ties are offered in men's sizes, too. Despite the great quality, prices are cheap.
TieMart is an online retailer of men's neckties, bow ties and other accessories. A wide selection of pattern ties are available at TieMart, including popular paisley ties for weddings, traditional plaid ties for the office and collegiate two-color striped ties for graduation or school uniforms. Send in a picture and you can even create a custom photo tie. TieMart ties are affordable and ship quickly from their Midwest location.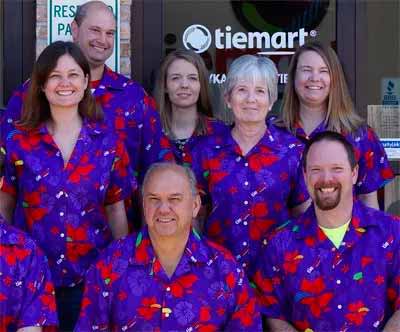 We are a family-run tie company based in Illinois. We've been in the biz since the late 90s, so by now we know a thing or two about men's fashion and accessories. Tiepedia is our lil spot on the web to share that knowledge with you.