Customer Spotlight: Ostrich Hat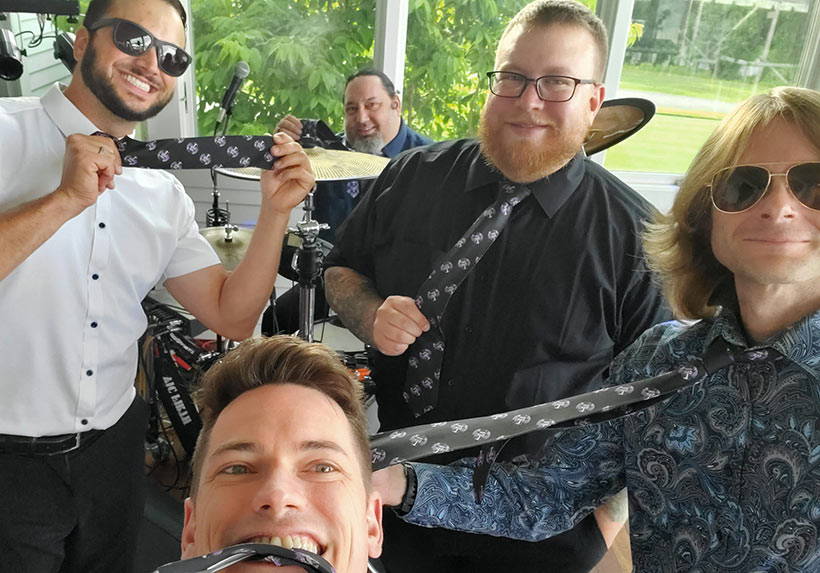 ---
A band name like Ostrich Hat is hard to forget. When the band members wear ties covered in hat-wearing ostriches, you know they're going to make a lasting impression.
Ostrich Hat started as a three-piece acoustic band, playing their first gig way back in 2011 at a restaurant bar in Hazleton, PA. Times have changed and today the multi-genre band has grown to five members.
In their decade-plus career, venues have expanded, too. They've played across the country, from gigs at casinos in Atlantic City, NJ and Las Vegas, NV to spring break events in Panama City, FL as well as countless weddings and private parties. Every now and then, Ostrich Hat has even opened for larger arena acts.
The band's catchy name is often a topic of conversation. Surely there's some deep meaning behind it. Guess again. According to bassist Jeff Tomassacci, the name was the brainchild of the drummer's sister.
While browsing through a magazine she saw a picture of an ostrich on one page and a man wearing a fedora on the next. Knowing that the band was looking for a fun name, she suggested Ostrich Hat. Her brother told her "that is the dumbest name ever" but it stuck.
This quirky ostrich is the band's mascot and logo.
Not only is their name catchy, but their fun party music is, too. Collectively, band members have experience in a huge range of genres—rock, punk, country, bluegrass, metal, pop and the list goes on—which allows Ostrich Hat to tailor their show to the venue and get the audience to the dance floor. According to the band, there is no better feeling than a happy audience.
Wardrobe is an important part of any performance, and Ostrich Hat has that down with custom logo ties featuring the band's mascot—an ostrich wearing a top hat, of course.
Drummer Jeff Bonomo can be credited with the band's look. Several years back, he surprised his bandmates with custom Ostrich Hat ties as a Christmas gift and it became a standard part of their concert attire.
The band recently needed to upgrade their custom ties for something more on-trend for weddings, i.e. a skinnier width. According to the band, after several days of searching custom tie companies online, TieMart stood out above the rest.
"[TieMart's] work looked wonderful from all the pictures online, but the customer service and the care they put into crafting each of their responses was unmatched," said Jeff T.
Ostrich Hat's original custom ties were regular-sized black ties with their logo repeated in an all-over pattern. The band worked with TieMart to come up with a more modern style. After several free design revisions, Ostrich Hat's design was complete: Black slim ties with a diagonally striped logo.
A mockup of Ostrich Hat's new custom tie design.
With an upcoming gig only a few days away, TieMart was able to quickly create the band's custom ties via dye sublimation at their Midwest location.
The company starts with a pre-manufactured tie. The design is printed onto special transfer paper and then dyed onto the front and back of the ties via a heat press. The process is permanent, doesn't fade, peel or crack and allows orders to be turned around quickly without any order minimums.
Ostrich Hat's new custom ties arrived before that next gig.
"We can't say enough for TieMart," said Jeff T. "But we can say we will be life long customers and will be ordering more than ties in the near future."
Get your toes tapping and check out Ostrich Hat (and their new ties) at an upcoming show or for your next wedding or event.
TieMart can create custom logo ties, even if you only need a few! Custom ties are created in their Mundelein, IL warehouse. The process is affordable ($29.95 each) and orders can be turned around quickly. To get started, send your artwork on their custom logo tie page. The company puts the design together and sends you a free digital sample to approve.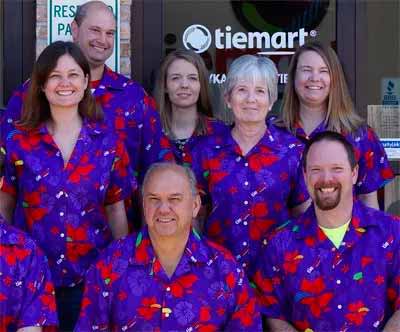 We are a family-run tie company based in Illinois. We've been in the biz since the late 90s, so by now we know a thing or two about men's fashion and accessories. Tiepedia is our lil spot on the web to share that knowledge with you.