Funeral Tie Colors And Etiquette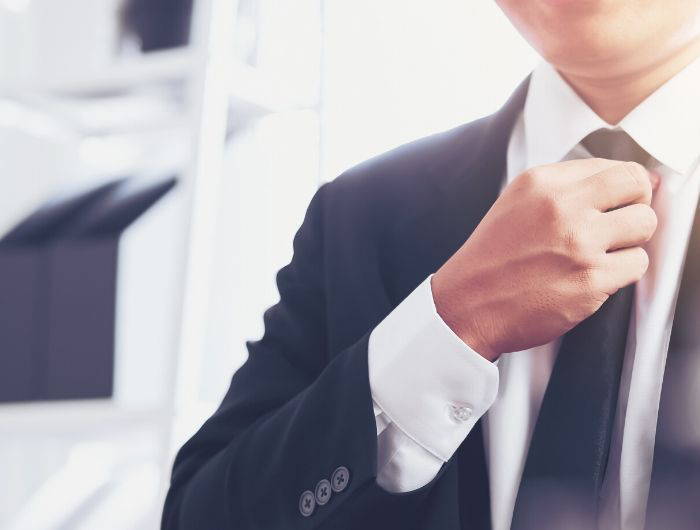 ---
Do You Have To Wear A Tie To A Funeral?

While attire has become more casual over the years, a funeral is one place the necktie should still be worn. Let's take a look at funeral-appropriate ties, and what to do if you don't have a tie to wear.
Let's first start with the type of tie to wear. A funeral isn't a place to make a fashion statement. Don't try out a skinny tie for the first time at a funeral. Unless you're known for wearing bow ties, that black formal bow tie in your tie drawer will look out of place at a funeral. (Even if it is the only black tie you own.) Out of respect, it's best to stick to traditional width ties (3-inches or wider) in the proper length for your size. (Standard 57-inches long for most men, extra long 63-inches+ for big and/or tall men.) Just remember that your tie should hit at about your belt line when tied.
As far as the tie knot to choose, don't get fancy. Tie the knot you know best. Most men will wear their everyday four-in-hand tie knot to a funeral. If you don't know how to tie a tie, it's okay to wear a pre-tied clip-on or zipper tie to a funeral. Most people can't tell the difference between a pre-tied tie and one you tied yourself these days. If you do go the pre-tied route, just stick to our color and pattern guidelines we'll get to below.
You can't go wrong with wearing a black necktie to a funeral. In fact, a standard-width black necktie is the go-to choice for a funeral. Solid black or tone-on-tone black ties are the most popular choice. Don't shy away from wearing a tasteful black pattern tie to a funeral. If you have a subtle black paisley, plaid, striped or geometric tie, it most definitely can be worn to a funeral, too.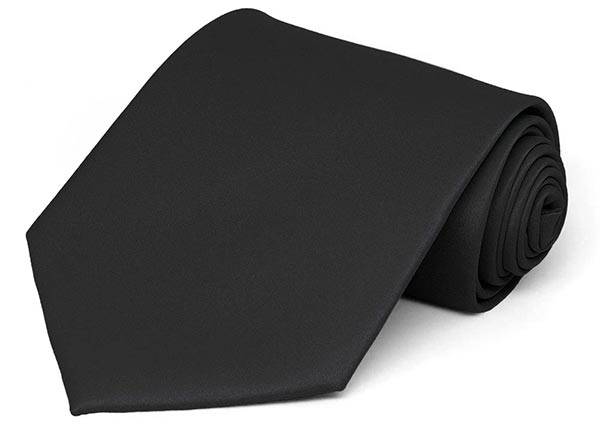 Black Solid Color Necktie
Dark Color Funeral Neckties

So if you don't own a black necktie, don't worry yet. Search your tie drawer for a necktie in a dark color instead. There is nothing wrong with wearing a gray or navy blue tie to a funeral, and we'd even wear a hunter green or burgundy tie in a pinch. Solid color ties in any of these colors are okay to wear. If you have a pattern tie in these colors, just make sure it's not too bold or mixed with a color you don't want to wear. (Keep reading below for details on colors to avoid.)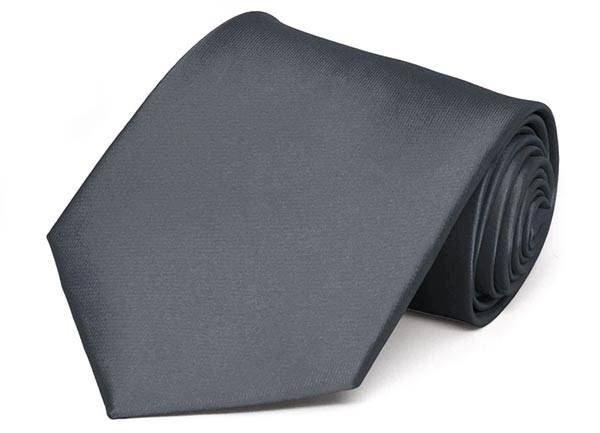 Dark Gray Solid Color Necktie
Just because it's a tie doesn't make it okay to wear to a funeral. We really suggest you leave those bright colored ties at home. Orange, yellow, bright greens, bright blues, pinks, reds, etc. Ties in these colors are great for the office, date night, weddings, etc. But out of respect for the deceased and their loved ones, you want your tie to blend in and be unmemorable. (For once, wear a boring tie.) This is even true if you were close to the deceased and know a certain color had special meaning to him or her. Based on your relationship with the deceased, it might seem right that wear a bright blue tie to the funeral. But unless those planning the funeral have requested that a certain color be worn, you really should stick to those black or dark tones.
What To Do When You Don't Have A Tie To Wear

If you've searched your tie drawer and concluded that you don't have an appropriate tie to wear, don't worry. Here are three things you can do.
If time allows, consider purchasing a tie for the funeral. Since you're purchasing a tie, we suggest you stick to those black solid color or patterns ties. TieMart offers a wide selection of budget-friendly and funeral-appropriate ties, with shipping as fast as the next business day available. To quickly find a tie, take a look at our Black Ties For Funerals. Any of these ties are timeless designs that are easy to match with the rest of your outfit.
For a one-time event like a funeral you could try reaching out to your friends or neighbors to see if anyone has a tie you could borrow. As not everyone knows funeral etiquette, be sure to ask for a black or dark solid or patterned necktie. Let them know that you'll dry clean the tie before returning it, too. Be sure to follow through with the dry cleaning (unless they told you otherwise) and return the tie in a timely matter.
If time is of the essence and you simply can't get an appropriate tie in time, it is okay to attend the funeral without a necktie. Make sure the rest of your attire is appropriate, and dress as you would if you were wearing a tie. (See our article on What To Wear To A Funeral If You Don't Have A Suit? for some guidelines on proper funeral attire.) If you're wearing a classic button down shirt with a tie, be sure to tuck in your shirt and unbutton the top button.
TieMart offers an array of funeral appropriate neckwear and accessories for life's more somber occasions. You've got a lot on your mind, so TieMart has made it easy to order and quickly receive your items. Orders placed before 12 pm central time typically ship the same day.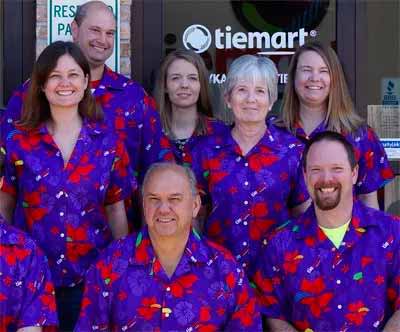 We are a family-run tie company based in Illinois. We've been in the biz since the late 90s, so by now we know a thing or two about men's fashion and accessories. Tiepedia is our lil spot on the web to share that knowledge with you.