What To Wear To A Funeral If You Don't Have A Suit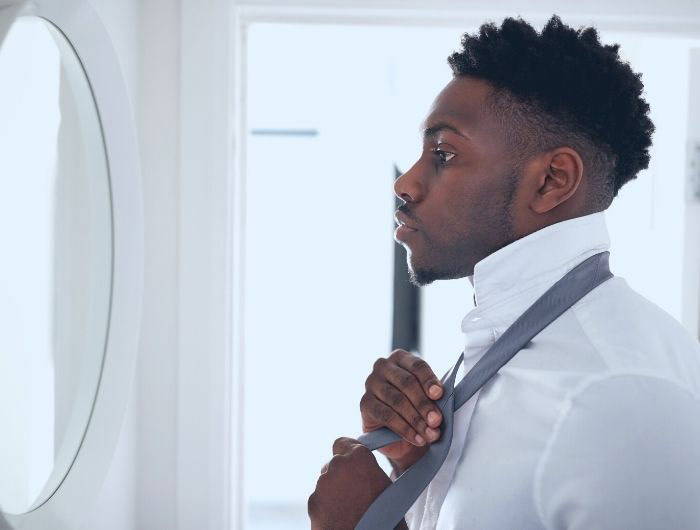 ---
Funerals are a stressful life event and not knowing what to wear only adds to this anxiety. Etiquette says that men should wear a black or dark colored suit to a funeral. However, this isn't always possible and that's okay. Not owning traditional funeral attire is no reason to skip a funeral. In fact, we discourage it. You won't be kicked out of a funeral for not wearing a suit, but we suggest wearing an outfit that will blend in rather than start a conversation. (I.e. no shorts, tees and flip flops.) So let's take a look at appropriate funeral attire when you don't have a suit.
Sport Coat, Dress Shirt, Necktie And Dress Pants

Perhaps you don't have a suit, but you do have a sport coat or blazer. Great, you are set. Pair your sport coat with a button down shirt, necktie and dress pants. Keep your tie subtle in a dark color. (See our post on Funeral Tie Colors And Etiquette.) Your dress shirt should be solid white if possible. As fair as pants, a sport coat is not designed to be worn with matching trousers. However, we recommend sticking to the rules of funeral suits for your pants. Black, gray or navy should be your first choices. Brown or tan colored pants are okay, if this is your only option, and preferably worn with a dark colored sport coat. Keep your shoes dark and dressy.
While a full suit is difficult to borrow, you might want to reach out to family or friends to see if anyone of a similar size has a sport coat to loan you. Sport coats and blazers fit looser than suit jackets, so it's okay to wear one that's close to your size, but not exact, for this one-time event.
Button-Down Shirt, Necktie And Dress Pants

So if a sport coat isn't an option either, that's okay. Dress like you would if you were wearing a jacket. Dark dress pants, a dress shirt and dark colored tie. Since you're not wearing a jacket, you don't have to stick to a white dress shirt. Still keep the pattern solid, but gray and black shirts are okay, too. (Stay away from bright colors and pastels.) Opt for a long sleeve dress shirt over short sleeve and keep the sleeves unrolled. Finish your outfit with dark dress shoes.
If you own a vest or waistcoat, you could add it on top of this ensemble as well. Again, just make sure it's a dark solid color, even on the back. Stay away from vests with shiny satin finishes, as this style is better suited for formal occasions like weddings, prom and galas.
Just like a suit, not everyone owns a dress shirt and tie, but this shouldn't stop you from attending a funeral. A nice sweater and dress pants can be funeral appropriate, weather permitting. Keep both pieces of clothing dark, and any pattern on your sweater should be very low key. A fine knit is a bit more appropriate than a chunky cable sweater, but the color and pattern is more important than the weave.
Note the distinction between a sweater and a sweatshirt, as these two words are often used interchangeably. A sweatshirt (think fleece, hoodie material) should not be worn to a funeral. A sweater is a knitted or crocheted shirt, often made from cotton or wool.
In colder temperatures, a sweater also can be worn on top of a button-down shirt and necktie for added warmth.
If none of the above options are possible, we suggest wearing a polo shirt and the dressiest pants you own, which may be a pair of khakis. Again, dark colors are best for the polo shirt, and ideally you should wear a black, dark gray or navy blue polo. Be sure to tuck in your shirt and wear a black or brown belt and matching dress shoes. This is really the most casual you should dress to attend a funeral. You may be tempted to, but don't wear a tie with your polo shirt. A tie will actually make the polo shirt look more casual.
Be prepared to feel underdressed in this option. However, reality is that no one is going to remember that you didn't wear a suit or a tie to a funeral. They will remember that you paid your respects, and that is more important than wearing what "etiquette" says.
Can You Wear Jeans To A Funeral?

Now unless you've been specifically told to dress casually, avoid wearing jeans to a funeral at all costs. A funeral is already uncomfortable, and you don't want to feel completely out of place being the only person wearing jeans. Do everything you can to find a pair dress pants or even khakis in time for the funeral. Borrow a pair from a friend, go shopping at the local big box store, head to a second-hand store, shop online and pay for overnight delivery if you can.
We do understand that situations happen and sometimes your only option is denim. In this case, it is still best to go to the funeral and pay your respects versus not attending. (Not going a funeral is definitely worse than showing up in jeans.) So if you must wear jeans, wear your darkest pair of denim or black jeans. Try to pick a pair free of holes. Pair them will a tucked in dress shirt (and tie) or polo shirt. Wear a sport coat if you have it. If you don't, consider a nice sweater over the dress shirt or polo. Your shoes will matter here too, so try not to wear sneakers.
TieMart offers an array of funeral appropriate neckwear and accessories for life's more somber occasions. You've got a lot on your mind, so TieMart has made it easy to order and quickly receive your items. Orders placed before 12 pm central time typically ship the same day.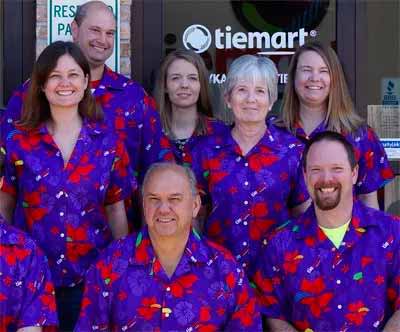 We are a family-run tie company based in Illinois. We've been in the biz since the late 90s, so by now we know a thing or two about men's fashion and accessories. Tiepedia is our lil spot on the web to share that knowledge with you.