How To Wear A Skinny Tie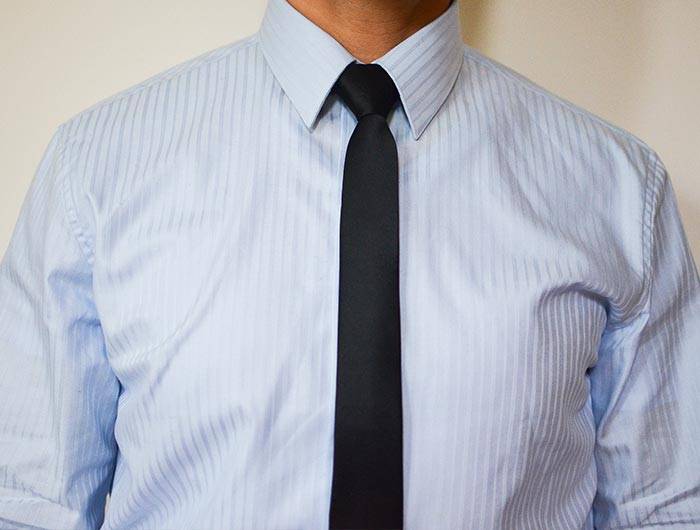 ---
The Skinny On Skinny Ties

Skinny ties look great, when they're worn correctly. Wearing a skinny tie the right way is all about proportions, from the cut of your clothes to your body type. So let's dive in and take a look at the art of wearing a skinny tie, both casually and professionally.
First things first. Let's define the skinny tie. Skinny ties come in several widths, but any tie 3 inches or less is typically a skinny tie. Skinny ties comes in several different widths. 2 to 2.5 inches is the most common skinny tie width, but they can be even skinnier than this.
Who Should Wear A Skinny Tie

A skinny tie isn't for everyone. Because of the slim width, proportionally skinny ties are reserved for leaner body types, especially as you get into widths under 2.5-inches.
For more full-figured men looking for the skinny tie look, try wearing a narrow 3-inch width. This size tie is modern compared to a traditional tie, but it's not so skinny that it will look out of place on a larger body.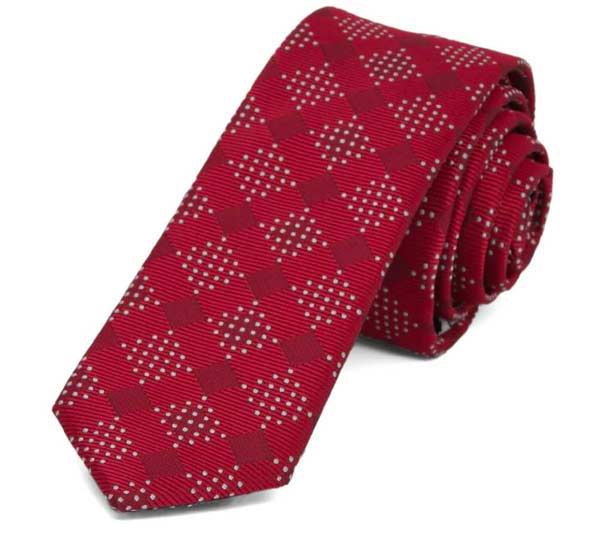 Skinny ties aren't one size fits all. This tie width is better suited for leaner body types.
What To Wear With A Skinny Tie

Not every suit and collared shirt looks good with a skinny tie. The key is fitted attire in slimmer cuts, including your shirt and pants. Let's take a look at a few clothing pieces you might wear with a skinny tie and how exactly to pair them.
As we mentioned, you want to wear fitted dress shirts with a skinny tie. A regular fit button down shirt will look too baggy with a skinny tie. Instead, opt for slim fit dress shirts. You might also find dress shirts labeled fitted, tailored or semi-slim. These are in between a regular and slim fit. We don't recommend this cut with super skinny ties, but that can be worn with skinny ties on the wider spectrum, especially if you prefer this fit.
Keep your shirt collars short, too. When a skinny tie is tied, there is simply not enough material in the knot to justify a tall collar. (More on skinny tie knots below, so keep reading.)
Skinny ties can be worn with suits, but the cut of the suit matters. Classic fit suits are too wide for skinny ties and look out of place when worn together. Instead, select a modern or slim cut suit with skinny ties. (Slim cut is the preferred choice, but select a modern cut if it's better styled for your body type.) On either cut, your lapels should be narrow, too.
Skinny ties are great for more casual outfits. As such, you might find yourself wearing one with a vest, sweater or even jeans. Keep the same guidelines in mind and look for slim-fit or tailored vests and sweaters, too. As far as denim, you can probably guess that skinny and slim fit jeans work well with skinny ties. Regular fit jeans can work with those wider skinny ties, but make sure the jeans are a straight fit, not tapered.
A tie bar can really polish your skinny tie outfit. However, a tie bar made for a standard size tie is going to be too large for your skinny tie. Instead, look for tie bars that are specifically sized for skinny ties. The tie bar should be placed in your mid chest area. Not too close to the knot and not so low that you would not see it if you buttoned a sport coat.

Tie bars look great with skinny ties. Just be sure to purchase one that is specifically sized for a skinny tie or it will hang over your tie.
Just like the width of your clothes, the size of your tie knot matters, too. Skinny tie knots should be kept small and simple. The width of the tie is just not wide enough to look good with a larger Windsor or Pratt knot. Most people use the standard four-in-hand or half Windsor knot with skinny ties.
Are Skinny Ties Professional?

Now that you know how to wear a skinny tie, you might be wondering if you should wear one to work. Short answer: Yes and no. Skinny ties can be worn in the workplace, but it depends on the job. In more creative fields like artists and designers, skinny ties are likely a go. For more professional fields like bankers, lawyers, accountants, etc., formal business attire is still the norm and the skinny tie is most likely not appropriate. Instead, stick to a tie wider than 3 inches and keep those skinny ties for your everyday, casual outfits. Of course, if you work in a business casual environment, you can always add a skinny tie to your work attire, too. For more details on wearing skinny ties to work, we have a whole blog post on this topic.
TieMart offers a large selection of stylish and affordable skinny ties in widths ranging from 2- to 3-inches wide. You'll find skinny ties at TieMart for every occasion, from casual everyday looks to office appropriate skinny ties and even skinny ties for formal occasions.
So there you have it, the skinny on skinny ties. If you still need help deciding what size tie to wear, check out our post on Choosing Your Necktie Width.
TieMart is an online retailer of men's neckties, bow ties and other accessories. A wide selection of pattern ties are available at TieMart, including popular paisley ties for weddings, traditional plaid ties for the office and collegiate two-color striped ties for graduation or school uniforms. Send in a picture and you can even create a custom photo tie. TieMart ties are affordable and ship quickly from their Midwest location.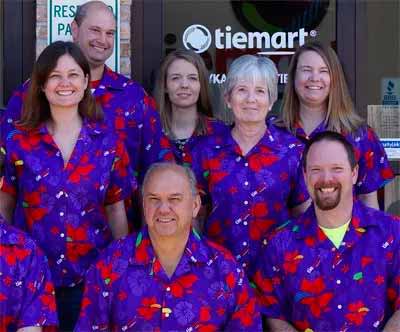 We are a family-run tie company based in Illinois. We've been in the biz since the late 90s, so by now we know a thing or two about men's fashion and accessories. Tiepedia is our lil spot on the web to share that knowledge with you.