How To Wear Crazy Socks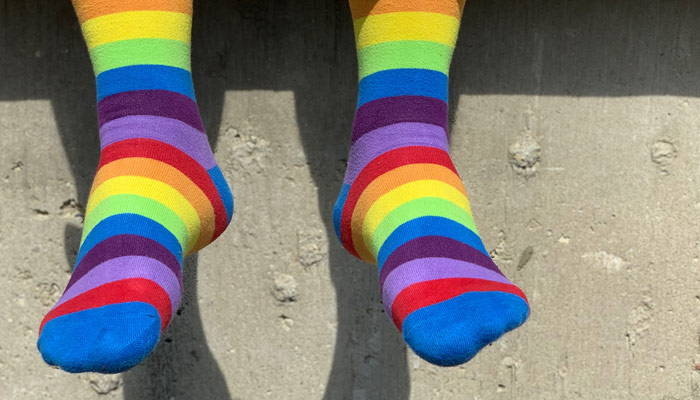 ---
Fun, crazy, colorful…SOCKS! Some say no, no, no! But we are saying YES, YES, YES! It's not 1950 anymore and it's time to add some pizazz to your feet. The rule used to be match your socks to your suit. Wear black socks with your black suit, navy socks with your navy suit, and so on. But that is…BORING!
For some, wearing bright and colorful socks with funky, fun patterns comes with no hesitation. For others, it can be a little intimidating. But with these few tips, you too can soon be sporting flashy feet! Here is everything you need to know when it comes to wearing pattern socks.
If you are new to pattern socks, start simple. A classic pattern like argyle is a great way to add a splash of color without going over the top. Argyle socks are nothing new. What has changed are the color combinations you can find. You're no longer restricted to neutral black, gray and navy argyle. Look for red, green, yellow, pink, purple or even turquoise argyle! Just be aware of contrast levels. The idea is to coordinate your crazy colors, not clash. (And, remember, coordinating doesn't mean to perfectly match, but rather to harmonize.)
Once you've got argyle down, expand your sock drawer. Polka dots, stripes, bold solid colors, pink flamingos. Colorful pattern socks are an easy way to liven up your look without going overboard. You can even show off your personality with novelty patterns. And believe us, EVERYTHING is available in a novelty pattern. Golf socks, coffee socks, cat socks, pizza socks, taco socks!
When NOT To Wear Crazy Socks

Even if you're now known as the guy with cool socks, there are a few occasions when funky feet are inappropriate. When attending a funeral, you are there to pay your respect, not draw attention to yourself. Unless your colorful socks are a tribute to the deceased, we suggest classic, neutral socks for this one.
If you are trying to pull off a serious business ensemble and want to portray a no-nonsense type of look, then the obvious would be to steer away from the colors and patterns. This includes job interviews and important business meetings. Think about it. At a job interview, you want your past work, skills and experience to stand out, not your feet. Save your cool socks until you land the job. At an important business meeting, especially when clients are involved, you're representing your company. While crazy socks are appropriate at your desk, stick with classic black in the board room.
Start Your Sock Collection

TieMart is an online retailer of men's neckties, bow ties and other accessories. A wide selection of pattern ties are available at TieMart, including popular paisley ties for weddings, traditional plaid ties for the office and collegiate two-color striped ties for graduation or school uniforms. And, yes, if you really want to put your face on a tie it's possible with a custom photo tie. TieMart ties are affordable and ship quickly from their Midwest location.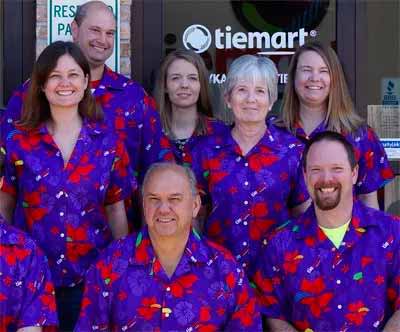 We are a family-run tie company based in Illinois. We've been in the biz since the late 90s, so by now we know a thing or two about men's fashion and accessories. Tiepedia is our lil spot on the web to share that knowledge with you.