What Are Argyle Socks?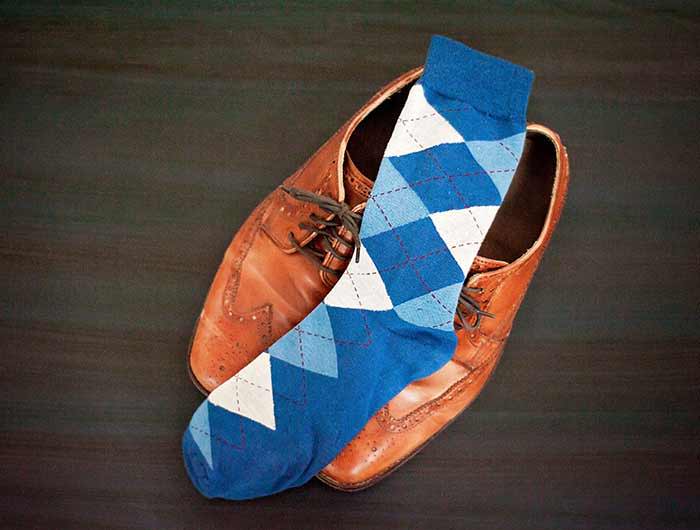 ---
You might be asking yourself, what in the world are argyle socks? Argyle is one of those things you probably know once you see it, but you never knew it had a name. But, alas, argyle isn't just that diamond pattern. It has a name and a long history behind it. So let's get going and take a look at the argyle sock.
Before we discuss argyle socks, we should probably define what argyle is exactly. Argyle is a diamond shaped pattern made of several colors. Those diamonds are usually on a solid background and thin solid or dotted lines cross the diamonds diagonally from both directions. Argyle is most often found in clothing, like socks and sweaters. Today, there are no right or wrong colors when it comes to argyle. The pattern can feature neutral toned done hues or fun and bright shades. Perhaps even a mixture of both!
Argyle isn't new. In fact, it dates back to Scotland in the 17th century. The rumor is that the pattern comes from the Clan Campbell of Argyll in western Scotland. Scottish Highlands wore argyle on their kilts, plaids (shawl) and socks.
In more recent times, we didn't see argyle become mainstream until after World War I. A British fashion brand created the modern argyle pattern we know today. The Duke of Windsor liked the pattern and often wore it while golfing. This set the argyle golf trend that we still see today. Fast forward to the 1960s and argyle expanded outside of the golf green to everyday sweaters and dress socks. Today, it's hard to imagine a time without argyle. The diamond pattern is a classic part of men's business attire and preppy everyday outfits.
Are Argyle Socks In Style?

Argyle socks are really popular right now. In fact, they might be more popular than ever before! Today, argyle socks aren't only found in the boardroom. Argyle has become a really trendy pattern for everyday and groomsmen socks, too. This surge in popularity has to do with the colors we now find in argyle socks. In the late 20th century, argyle socks were pretty much only available in typical business appropriate colors. Blacks, grays, browns, maybe navy. Argyle socks were worn exclusively with suits and ties with a polished pair of shoes. Then sock companies got the crazy idea to mix up those colors with bold and colorful hues. These new bright socks still make an appearance in the business attire world, but they are now worn casually, too. Many of today's bestselling argyle socks feature the season's hottest wedding colors.
What's The Difference Between Plaid And Argyle?

Argyle and plaid. Are they the same? Is argyle a plaid? Some people consider argyle a plaid and it can definitely take on a plaid look. (This is especially true when the diamonds are close to a square shape versus rectangular and neutral or similar colors are used in the pattern.) There are a lot of different plaid patterns, so we definitely see why argyle gets categorized as a plaid. However, we would say that argyle is its own standalone pattern. Going back to Scotland, argyle was often worn and matched with plaids (known as tartan then).
So how is argyle different than plaid? While argyle is a diamond pattern, plaids are a square pattern consisting of right angles. There are a lot more variations of plaids out there, and it's important to note that not all plaid patterns have those consistent intercepting thin lines that we see in argyle. So yes, the patterns have their similarities, but really just complement each other as two separate patterns.
Believe it or not, there is an entire day dedicated to argyle. (Unofficially) January 8th is National Argyle Day! Go ahead and mark your calendars so you remember to wear a pair of argyle socks every January 8th.
In conclusion, argyle socks are a geometric plaid-like pattern that is popular in men's casual, business and formal attire. Argyle isn't a new sock pattern. It dates back to Scotland in the 17th century, but didn't become popular in modern times until the 1920s. Today, argyle socks are perhaps at their height of popularity thanks to casual wear and weddings.
TieMart is an online retailer of ties and accessories. Besides neckties and bow ties, TieMart sells a wide range of socks for men and boys. And, you guessed it, TieMart specializes in argyle socks for business, casual, group and wedding attire. TieMart's argyle socks come in classic color combinations for the office, bold shades for a bit of style and top wedding colors for your groomsmen.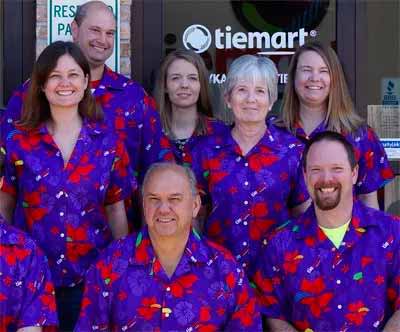 We are a family-run tie company based in Illinois. We've been in the biz since the late 90s, so by now we know a thing or two about men's fashion and accessories. Tiepedia is our lil spot on the web to share that knowledge with you.