Christmas Ties For Large Groups
---
Christmas must be coming! As we're pulling orders here at TieMart, we're seeing more and more large orders of holiday ties and accessories each day. If you haven't already put your group's holiday look together, now is a great time to start planning and ensure your group is decked out all season long. Whether you're outfitting a group for the first time or looking to change up a look, here are our favorite options for the holidays.
You can't go wrong with red ties for the holidays. It's our most popular option for groups and provides a look that is classic, elegant and festive. With new lower pricing on our red staff ties and red band collar bow ties, this is also our most affordable choice. Purchase either for just $3.95 each or $2.50 when you buy 50 or more.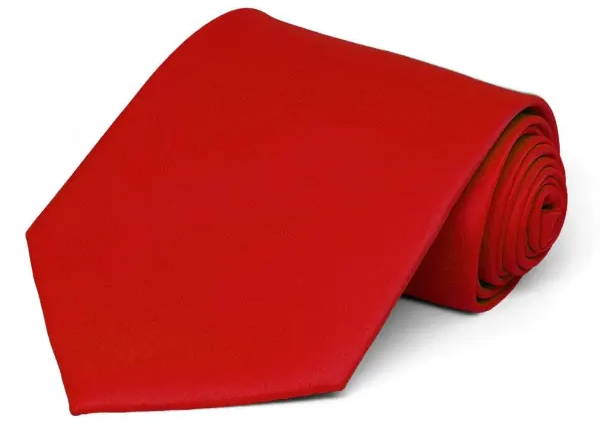 For a jolly look that won't go unnoticed, choose novelty ties for your group. Santa ties, reindeer ties and O Christmas tree ties are always a hit. For a festive look that's a bit less Christmas, opt for snowman or snowflake themed ties. No one will question your group's holiday spirit, but the snow-themed ties will be appropriate well into January, too.
Striped ties aren't an obvious choice for holiday attire, but it's one of our personal favorites. These ties create a really sharp look when worn in bulk. Choose our three-color kelly green, white and red stripes or two-color red and green stripes for a traditional Christmas look. For a fun candy cane vibe, go with our red and white striped ties. Don't forget your matching Christmas striped socks.
Red and Green Striped Tie
If you're looking for a holiday pattern that's not quite as bold as a novelty, look for patterns in holiday colors. Red ties, green ties or a combo. Our red douglas stripe tie is a mix of patterns and stripes. Plaid is always a hit at Christmas. Our dark green michael glen plaid tie is a favorite year round, but perfect for the holidays, too.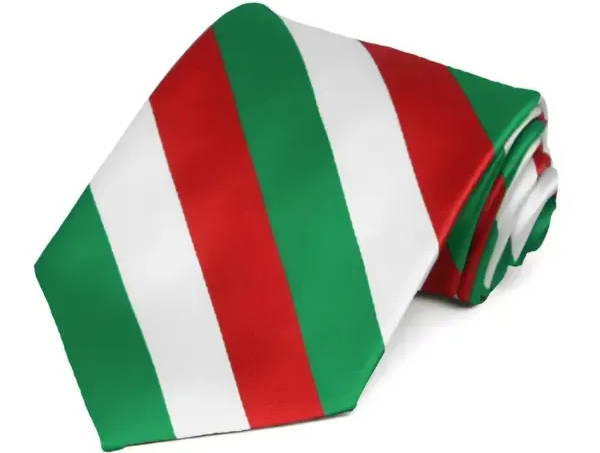 Kelly Green, Red and White Striped Tie
---
---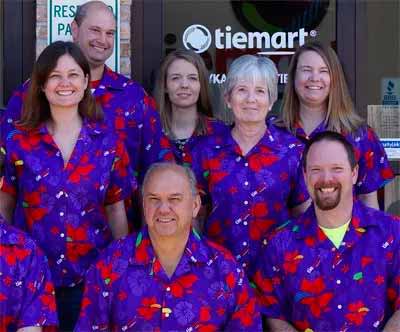 We are a family-run tie company based in Illinois. We've been in the biz since the late 90s, so by now we know a thing or two about men's fashion and accessories. Tiepedia is our lil spot on the web to share that knowledge with you.