Giving Ties As Gifts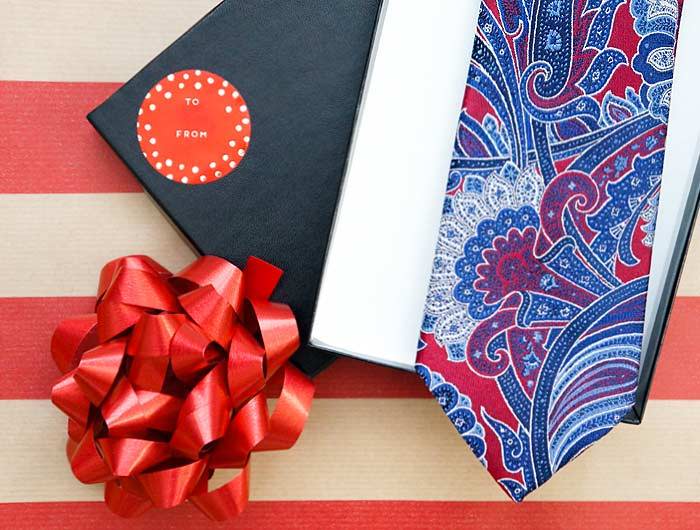 ---
There are some gifts that are classic and a necktie is one of them. But does that make a tie a good gift? Short answer: Yes. A tie may be small, but just one can be a complete gift that's well received. Plus, the great thing about neckties is that they are affordable, but you don't look cheap when you gift a single tie. It's true, you can purchase a necktie for $50, $80, $100+. But there are great ties available for $20 (or less!). And even in fabrics like silk! The key to gifting a tie he'll like is to factor in the style of the giftee. This means considering different tie styles, patterns and colors. So let's look at how to pick out the perfect tie for any guy on your list.
How To Choose A Tie For A Gift

Even though ties are a classic gift, you still have to put some thought into the tie before gifting it. With a little bit of time (and we promise, it's just a little), you can pick out the perfect tie for any guy. Here's what to consider before buying him a tie.
Don't assume that a standard size tie is the right size for every guy on your list. Start with style. Are you buying a tie for someone who wears neckties or bow ties? Both neckties and bow ties come in pre-tied styles. While most necktie-wearing men wear ties they tie themselves, it's not as straight forward with bow ties. Some men only wear self-tie bow ties, while some prefer pre-tied bow ties. It's important to know which style of tie your gift recipient is wearing before you start shopping.
As far as tie size, bow ties are usually one size fits all. Easy peasy. Neckties, however, come in different lengths and widths. Starting with length, the majority of men wear a regular width tie, which is about 57- to 58-inches long. Big and tall men, however, require a longer length tie. Consider an extra long tie for men over 6-feet tall or those with a more full-figured body type. Extra long ties are most common in 63-inch lengths, but longer lengths like 67-inches can be found, too.
Now here's the important part: The necktie width. Today's regular width tie is about 3.25- to 3.5-inches wide. This is what most men wear, especially older generations. However, ties 3 inches and slimmer are popular among younger men. There's the skinny tie, measuring 2-inches wide and is typically a more casual style. The slim 2.5-inch tie is usually the thinnest size tie worn to the office, but many young professionals do wear this width regularly. The narrow 3-inch size tie is a modern width and a safe bet if you're purchasing a tie for someone under 35-years old. It's not too wide and not too skinny.
Ties come in every color imaginable, but that doesn't mean you should buy him a tie in your favorite shade of pink. If he wears ties regularly, think about what color ties you see him in, and buy a tie in a similar shade. (When it comes to pattern ties, it's okay if you buy a tie in color he already has. As long as the pattern is different, it's a whole new tie.) If you're not sure which color ties he prefers, ties in dark colors like navy blue, burgundy and dark grays, dark greens are usually safe bets. Avoid pinks and purples, as well as bold hues and pastels unless you've seen him wear these colors. And this might surprise you, but avoid gifting a black tie, even in a pattern. Many men only wear black ties for formal occasions and funerals, so this choice of tie won't make the regular outfit rotation like a different shade of dark solid might.
Paisleys. Plaids. Florals. Novelty. Stripes. Solids. Ties come in a lot of patterns. So how do you know what's okay to gift? Don't worry, we can help.
First, if you're going to see your giftee in a tie between now and when you're buying the tie, pay attention to what they wear. There is no such thing as too many ties, so it's okay to give him another paisley tie if that's what you see him wearing. If he's already wearing the pattern, it's safe to assume he likes it.
If you simply have no idea what tie patterns he might like, go with a subtle one. This might be a tone-on-tone pattern, a textured tie, a small stripe, thin plaid or low-key checked design. The less bold and fewer colors the better.
Pattern trends change when it comes to ties. Floral ties, for example, are really trendy right now. But this trend is typically worn by younger generations in more modern tie widths (under 3 inches). So while floral ties are great for that under 35 crowd, choose more traditional patterns, like paisleys and plaids, for older generations of tie wearers.
You can find a novelty (aka themed) tie in almost any object imaginable. Sports, animals, gaming dice, pizza, etc. These ties are an easy way to really fine tune your selection to the gift recipient and show that you did put some thought into the tie you picked out. However, there's a time and a place to wear a novelty tie, and this might not be a special occasion or even their workplace. So while novelty ties make great gifts, make sure the recipient will be able to get use of the tie.
Solid ties are just that: A single color. Your tie wearing guru probably has a whole closet of solid color ties, so we would avoid gifting solid ties to the seasoned professional. However, solid ties are a great gift for someone just starting to wear ties regularly. Every man should have an assortment of dark solid colors in their collection. (These are the navys, burgundys, dark greens, dark grays, etc.) Consider giving a tie newbie a few solid color ties that he'll be able to mix and match with his wardrobe.
Ties come in several different materials. Most men have a mixture of silk and polyester ties in their closet, but in all seriousness they probably don't know which are which. Polyester ties resemble silk pretty closely these days, and they are a bit more durable, too. If you're buying a tie for an acquaintance, co-worker or someone that doesn't wear ties regularly, polyester ties are a great option that's more affordable than silk. If you're purchasing a tie for a tie aficionado or someone you're trying to really impress, consider a silk or silk-blend tie. Don't worry, there are still great silk ties available for around $20 each.
It really is okay to gift a tie to any guy, but there are some extra considerations if the giftee is your boyfriend, a dad or co-worker.
Keep reading!
Buying A Tie For Your Boyfriend

If your boyfriend is a frequent tie wearer, it's safe to assume that a new tie will make a great gift. However, even if you've never seen your guy in a tie, a necktie or bow tie is still an appropriate gift. Styles can change when you get into a serious relationship simply because of the venues you're frequenting. You go out more and start celebrating special occasions together. This means trading the at-home loungewear for more suitable clothing pieces. If you know your boyfriend does not have a lot of dressy attire, a tie can make a very sensible gift he'll get use out of.
When you buy a tie for your boyfriend, it's important make sure the tie suits his style as we described above. However, your boyfriend will likely wear the tie on your next special occasion together. Thus, it's okay to think about your own style (to a degree) when picking out a tie for him. If you often wear green, try not to buy a red tie or you two may look like you're dressing for Christmas at your Valentine's Day dinner. Have a floral dress picked out for your next date night? Then you probably don't want to buy your beau a floral tie.
Giving A Tie To Dad (Or Grandpa)

Here's the thing. Most dads and grandpas will wear any tie their children or grandchildren give them (and with pride). So as long as you select a tie in his size/style, don't worry too much about picking out the perfect pattern for him. He's going to love it no matter what. Now, if dad/grandpa wears ties frequently, it's practically a requirement that you gift him a personalized tie at least once or twice. This might be a custom photo tie with pictures of the kids/grandkids. Or start with a solid white tie and have the kids create their own design with fabric markers, crayons or paint. (Polyester ties work best for DIY tie designs. Most fabric markers and crayons will not work with silk ties.)
Gifting Ties To Co-Workers

Ties are so underrated when it comes to co-worker gifts, but they're such a great (and practical) present. If you see your co-workers in ties 5 days a week, you probably have a sense of their tie style by now. Neckties versus bow ties. Skinny ties versus standard ties. Preferred colors and patterns, etc. So go on and pick out a tie that suits their style. A single tie will look like a sizable gift to the guy that sits in a cubicle next to you, as long as it's a brand-new tie they'll wear. But secret's out. You don't need to spend a lot on a tie for a co-worker. It's okay to shop clearance for co-workers. You might even consider looking for a multi-pack of ties that you can split up among multiple men in the office. No one will know!
Now that you have the skills to pick out the perfect tie for him, don't forget about wrapping it. Wrapping a necktie can be tricky. They are an odd, long and skinny shape that makes most shirt gift boxes impractical. A gift bag might seem like an easy solution, but it's important to keep neckties laying relatively flat so that they don't wrinkle. To present a tie in style, look for a gift box specially designed for a tie. TieMart offers tie gift boxes in black or white. These two-pieces boxes are pre-assembled and made from a heavyweight material. Up to two folded ties fit nicely in each box. The boxes can be gift wrapped, but are elegant enough to simply secure with a ribbon bow.
If you're thinking about giving a tie as a gift, go ahead and do it. Ties are classic and will always be a great gift. With just a little bit of thought in terms of the tie style and pattern, your gift will be well received by anyone on your list.
TieMart is an online retailer of men's ties and accessories. Tie prices are kept low at TieMart without sacrificing quality. Shop TieMart for stylish men's neckties and bow ties in colors and patterns for every type of tie wearer, whether he's an occasional tie guy like your boyfriend or someone like your co-worker who wears a tie to work everyday.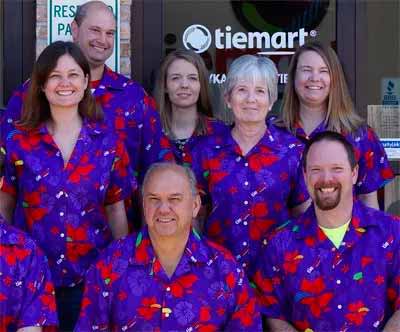 We are a family-run tie company based in Illinois. We've been in the biz since the late 90s, so by now we know a thing or two about men's fashion and accessories. Tiepedia is our lil spot on the web to share that knowledge with you.