How To Dress For A First Date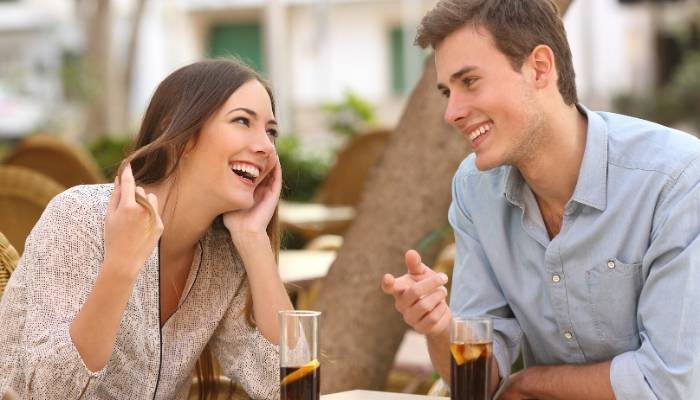 ---
So someone's caught your eye, eh? The obvious next step is to ask that special someone out on a first date, but first dates are often accompanied by stress, anxiety and a few butterflies in the stomach. You only get one first impression, and finding the perfect outfit can cause panic. Should you wear a necktie? Jeans? A sweater?
Tiemart's wardrobe tips will help take the pressure off. Show up at your date's doorstep looking tall, dark and definitely handsome after following a little bit of advice.
Before you pick out an outfit, make sure you know where you're going. You're not going to wear a suit to a baseball game, and you're not going to wear a t-shirt and jeans to a fancy restaurant.
No matter where you're going, it is important to dress well and step up your game just a little. (And since we've caught you reading about how to dress on a first date, you're on the right track.) You are trying to dress to impress. A first date is the opportune time to look even nicer than you do on a normal basis. If the location is appropriate, there is nothing wrong with wearing jeans on a first date; in fact, we recommend it. But maybe leave your favorite pair with the giant holes at home and opt for a nicer dark wash. Going somewhere casual like dinner and a movie? Rather than a t-shirt, try a collared shirt, unbuttoned vest and a skinny tie. (Skinny ties are an easy way to dress up without looking like you're headed for an interview. You'll look cool and suave, without looking like you're trying too hard.) If you're headed somewhere a bit more upscale, like an art opening or a play, a jacket, slacks or chinos and tie are appropriate. You may not need to completely suit up, but make sure you're dressed more formally than every day.
Don't overlook what may seem like minor apparel pieces, too. A secret rule of the universe: Men do not notice shoes; women do. If you're dressing for a date with a woman, assume she will notice your shoes. Wear clean shoes that are in good condition. Match your shoes and belt. (P.S.: Wear a belt.) Socks are important, too. Wear clean socks in a color that goes well with the rest of your clothes, please.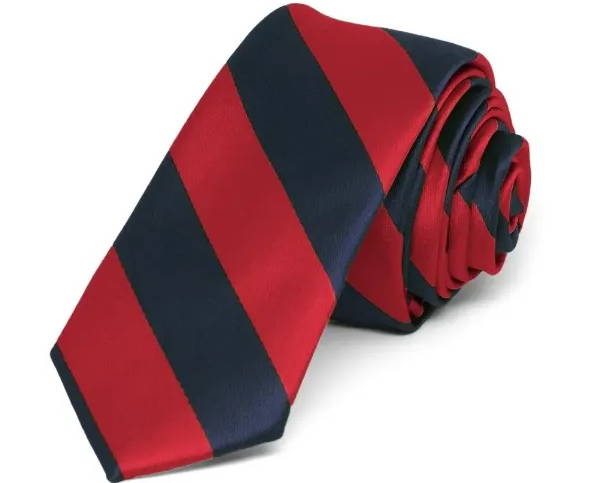 Red and Navy Blue Striped Skinny Tie
Whatever you and your date decide to do, make sure you're comfortable. If you feel stuffy in a suit coat or your shoes hurt your feet, you won't be in the moment. Odds are, your date will be able to tell you aren't comfortable and, worse yet, they might think it is their fault! Your clothing should match the location without making you feel awkward. When you feel well-dressed and comfortable, you will act more confidently and be more engaging.
Let Your Personality Show

Remember that your date is here because they like you. Maybe your humor, charm or smarts have impressed that special someone. As cliche as it sounds, just be yourself. Let your personality show through your clothes, and wear something you like! If you're a laid back kind of guy and suddenly need to wear a dreaded necktie, look for one that is you, like a casual knit or wool tie. (If a paisley silk tie just isn't you, don't wear it.) Are you fun-loving and adventurous? Go bold with a patterned bow tie. Like watching movies on lazy Sunday afternoons? A cozy sweater proves you're cuddle-material, a key deciding factor for whether or not there will be a second date. Whatever you decide to wear—a tie, a suit coat, a cardigan—make sure you feel like yourself. That's why your date is out with you after all.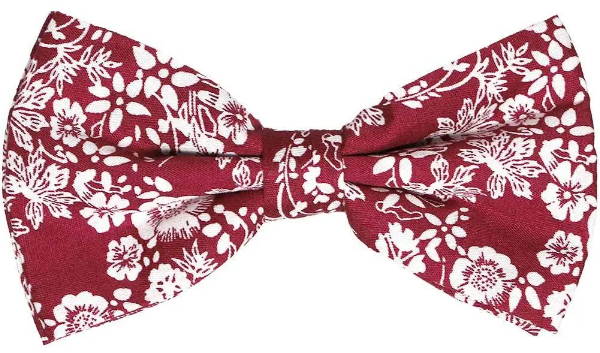 Calabasas Floral Cotton Bow Tie
Also, don't forget to groom yourself. Shower and shave unruly facial hair (trim if you're bearded). If you're overdue for a haircut, go get one and/or put a little product in your hair. Cologne is a nice touch, but don't douse yourself in it. By taking time to spruce yourself up, your date will know this time is special to you, and you'll score some serious first date points. Don't sink yourself before you start by showing up looking (or smelling) dirty. Make sure your clothes and shoes are clean and in good condition.
Prepping for a first date might be stressing you out, but now that you know how to dress, you can relax. Whether you want a casual look or something formal, somewhere in our selection of ties you'll find the perfect one for your first date. You might even find a few ties for your second, third and fourth date, too. Good luck!
TieMart is an online retailer of men's neckties, bow ties and other accessories. A wide selection of pattern ties are available at TieMart, including popular paisley ties for weddings, traditional plaid ties for the office and collegiate two-color striped ties for graduation or school uniforms. And, yes, if you really want to put your face on a tie, it's possible with a custom photo tie. TieMart ties are affordable and ship quickly from their Midwest location.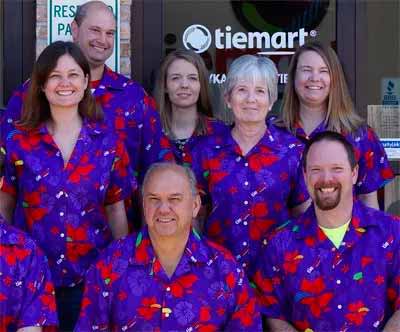 We are a family-run tie company based in Illinois. We've been in the biz since the late 90s, so by now we know a thing or two about men's fashion and accessories. Tiepedia is our lil spot on the web to share that knowledge with you.