Ties And Attire For Funeral Directors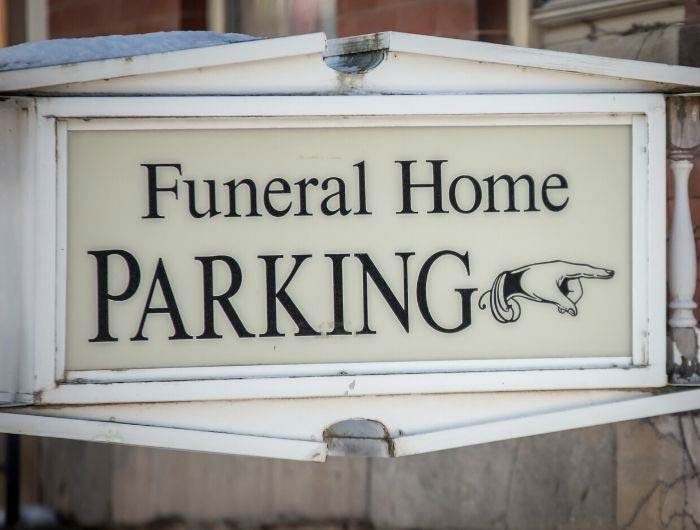 ---
Suffice to say, the attire of a funeral director, and anyone who works in a funeral home, is conservative. You're dealing with families in their worst moments, and it's important to be dressed professionally. Let's take a more detailed look at appropriate funeral director ties, attire and your overall appearance, too.
Part of the job of a funeral director is to put the families at ease. Besides your demeanor and professional training, your appearance goes a long way, too. Starting off, you should be well groomed. Stick to traditional haircuts and make sure to get one regularly. Facial hair is okay, but it should be cleanly trimmed (daily if needed). Even your fingernails matter. In times of grief, eye contact can be difficult to maintain so clients may focus on your hands. Make sure your nails are trimmed and manicured. It's a small detail, but it leaves an impression.
Funeral directors almost always wear a suit and tie, even on days without a wake or funeral. A meeting with a family could happen at any time, so there really isn't much chance for a casual workday. As far as shoes, you'll want to invest in a comfortable pair—you'll be on your feet a lot. Look for a shoe with good traction, and perhaps one you can polish to keep it looking new.
To briefly touch on female attire in the funeral home industry, expect to dress similarly to men, especially in terms of colors. Most women will wear skirt or pant suits, depending on the dress code, with a white blouse underneath. For removals, either stick to pants or make sure your skirt hits below the knees. As far as shoes, closed-toed is important. If a heel is required, make it a comfortable heel 2-inches or less with traction. (You're going to be on your feel a lot, so you'll want to keep your heels low.)
One quick note. Attire can vary by region. There are regions in the United States that funeral directors may not adhere to such a strict formal dress code, particularly in rural areas. A lot about attire has to do with expectations of the clientele. If you're purchasing clothing for a new job, be sure to confirm if there is a company dress code and what is expected of your attire.
Let's start with what colors not to wear in the funeral business. You probably already know this, but any bright, bold, neon and even pastel colors are out. There are a lot of meanings behind colors, and even though a certain color might be uplifting, funeral home attire should respect the fact that its clients are in mourning.
Some funeral homes require a strict dress code of black suits and ties for men. Others avoid black expect for dress shoes and belts. In this case, funeral home employees mainly wear gray and dark blue suits and ties, but other muted color neckties may be okay, too.
Funeral directors almost always wear a white dress shirt, so there's no need to worry about matching ties to dress shirt colors. Every tie in those dark muted colors will match.
First, let's address the bow tie versus the necktie. We love the look of a bow tie, but it's best to stick to a necktie in the funeral business. Even in a dark, muted color a bow tie is an unwelcome distraction.
As far as tie widths go, a standard 3.25- to 3.5-inch tie should be worn. Wearing a skinnier tie would look unprofessional, even if this is your style outside of work.
Make sure your tie is the appropriate length as well. Most men wear a regular length, 57-inch tie. Big and/or tall men may require a tie 63-inches or longer. Just remember that your tie should hit at about the belt line.
You want your necktie to be a great tie, but not one that anyone will comment on. This sounds confusing, but the key here is to stick with more classic ties. Here's a look at three types that are appropriate for a funeral home.
Solid ties are the easiest choice for a funeral director. They're classic, they look good and are easy to find in dark solid shades. Sometimes solid ties come in shinier finishes, especially for formal attire. For a funeral home we recommend a light satin or matte finish. Here's a look at a couple we recommend.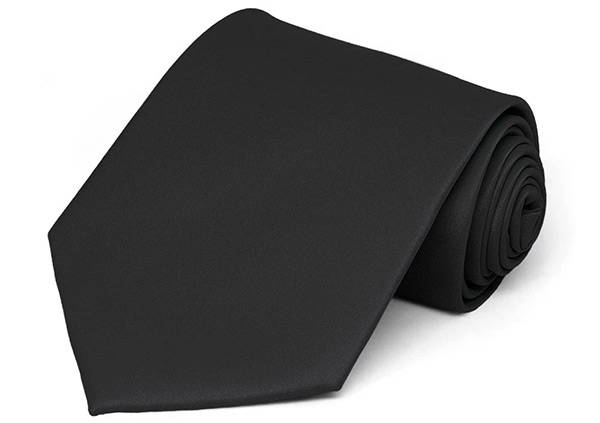 This black staff tie is our most affordable tie for funeral homes, especially if purchasing in bulk for multiple staff members. It's a classic black solid tie in a very light satin finish. This is a tie that is always kept in stock in large quantities, so you can replenish your supply at any time. Purchase 1 for $6.95 each, 25+ for $4.95 each or 50+ for $3.50 each.
For an alternative to black, we recommend this classic dark gray tie for funeral directors. This tie has a slight ribbed finish and a very light satin finish. Available in dark gray for $10.95 each.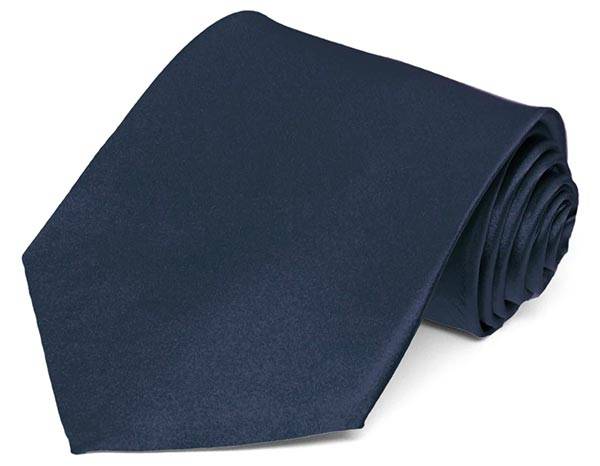 Look for solid ties in navy blue, too. This tie is made from 100% silk. It's upscale and appropriate for a funeral director. Available in navy blue for $20.95.
Tone-on-tone ties are just like a solid tie, but with a bit more detail like a woven stripe or textured finish. Many funeral guests wear dark solid ties, so we like the tone-on-tone tie to differentiate your look. Here's a couple we like.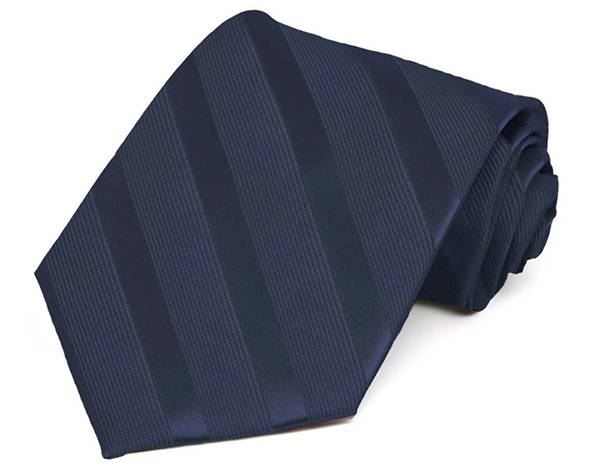 Our elite striped ties are popular among funeral directors. The tie is all one color, but woven in a way that creates a striped look. Available in navy blue, black or silver for $13.95 each.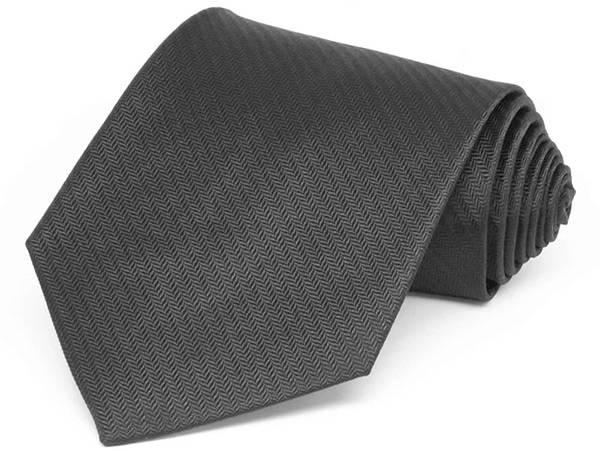 Herringbone is a timeless pattern that is also appropriate for funeral director attire.. This tie is made from 100% silk. Shown in graphite gray, but also available in navy blue and black for $20.95 each.
The key to wearing a design on your tie in the funeral business is to keep the pattern small and simple. A dotted or simple geometric pattern works well. A neutral stripe. A very subtle plaid tie. (Leave the large paisley and themed ties at home.) Done correctly, you may even appear more approachable in a pattern tie. Here are a few pattern ties we've seen funeral homes purchase in the past.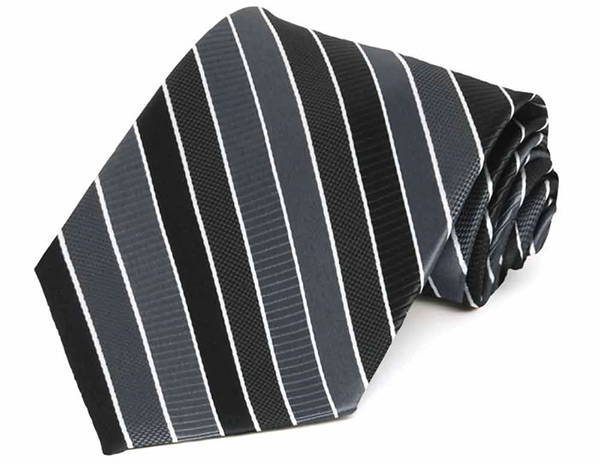 When wearing striped ties, you want to look for neutral stripes like this one. It combines black and gray patterns in a way that's subdued and appropriate for a funeral director. It's available for $13.95 each.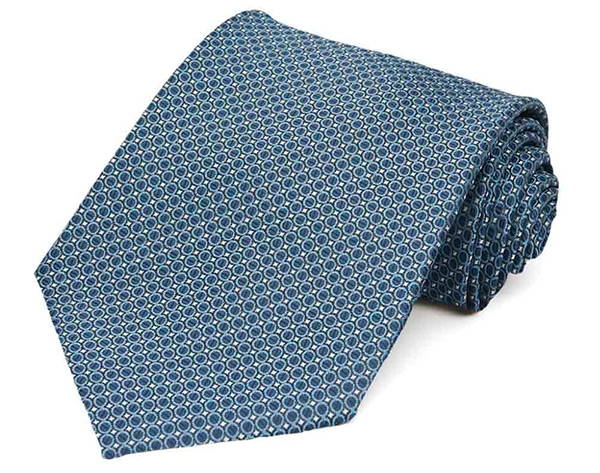 We've seen this dark blue tie purchased by several funeral homes. It's a handsome tie, but the pattern is very subtle so it's still appropriate for your workplace. Wear it with a black, navy or gray suit. Available for $13.95 each.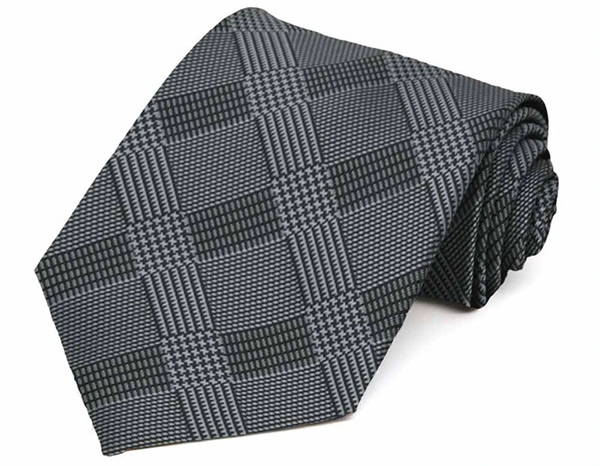 This glen plaid tie is a mix of black and dark gray. Plaid ties can be loud, but this pattern is subtle and available for $13.95 each.
TieMart offers an array of funeral appropriate neckwear and accessories for life's more somber occasions. You've got a lot on your mind, so TieMart has made it easy to order and quickly receive your items. Orders placed before 12 pm central time typically ship the same day.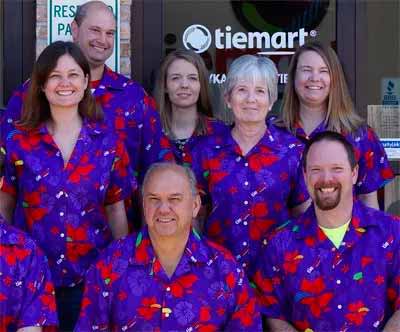 We are a family-run tie company based in Illinois. We've been in the biz since the late 90s, so by now we know a thing or two about men's fashion and accessories. Tiepedia is our lil spot on the web to share that knowledge with you.