Customer Spotlight: Unique Corporate Gifts
---
Sweets aren't the only corporate gift that impresses during the holidays. This Texas law firm keeps things professional and gifts neckties, a tradition they've been at for more than 50 years!
For the past 57 holiday seasons, Phenix & Crump, PLLC has given neckties to attorneys, judges and doctors they interact with throughout the year.
And we're not just talking about a couple of ties. This year, the firm is giving 100 individual neckties!
The tradition was started by founding partner James Phenix and is now continued by his son, JR "Rusty" Phenix.
Back in the day, the number of ties wasn't quite 100, though the firm has maintained this gift count for the past 5 years. Interestingly enough, a retired court reporter from Henderson is the longest running recipient and has received a tie every year since 1966!
Although it would certainly be easier to give everyone the same tie, that's not the style at Phenix & Crump. Instead, they personalize each gift and, for many recipients, pick out ties in collegiate color combos that match the law school they attended. For others, they focus on variety in the colors and patterns selected.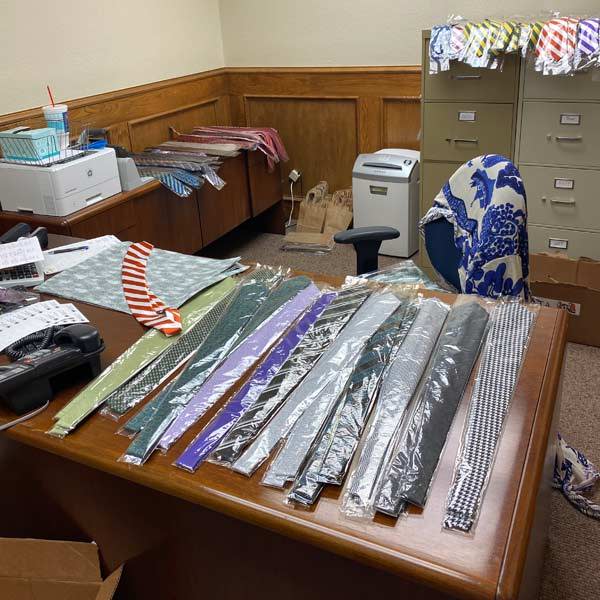 Here's where the holiday magic happens. 100 neckties are being sorted and packed in this office.
Seeking out a place to buy ties, Phenix & Crump found TieMart from an online search for "best reviewed neckties." The firm ordered a sample of styles to see in person (and confirm those reviews) before making their final selections.
Once the ties arrive, the fun begins: Sorting, packing, mailing and/or hand delivering 100 ties. In all, the process takes about 2 weeks start to finish. According to the firm, one of the longest parts of the gifting process takes place at the post office mailing about half the ties!
Special thanks to Phenix & Crump for sharing their firm's holiday tradition with us!
Phenix & Crump, PLLC
118 South Main Street
Henderson, TX 75654
TieMart sells ties and other neckwear accessories in a huge range of patterns and stripes, with custom ties available, too. Take your TieMart ties anywhere. They're appropriate for the office, courtroom, uniform wear and formal occasions. Orders ship out quickly and large quantities are available if needed.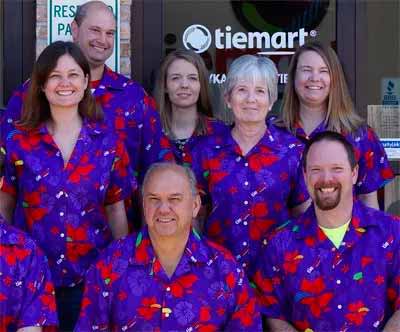 We are a family-run tie company based in Illinois. We've been in the biz since the late 90s, so by now we know a thing or two about men's fashion and accessories. Tiepedia is our lil spot on the web to share that knowledge with you.