How To Add Very Peri To Your Wedding
---
It's 2022 and the color of the year is very peri (aka periwinkle). This crisp hue is a combination of purple and blue. Dusty blues and muted purples have been popular wedding colors in recent years, so we won't be surprised to see more couples leaning towards a combination of these colors (aka periwinkle) for their 2022 weddings.
This won't be the first time periwinkle made its way around the wedding scene. In fact, it was a popular color choice in the early to late 2000s. Since everything is new again, it does seem about time for this hue to make its return.
If your wedding day is in the first quarter of 2022, it might take time for vendors to add a true periwinkle back into their stock. However, there are still a couple ways to incorporate periwinkle into your wedding. Let's take a look.
First, we must realize that periwinkle is actually a flower. This is where the color is coming from. For those with wedding dates quickly approaching, it still may be possible for your florist to add the flower to your arrangement. Since periwinkle is a smaller flower, it's typically used as an accent around larger blooms. Most often, we see periwinkle added to bouquets with white, ivory, purple or blue flowers—especially with those dusty blue and purple florals. Don't be afraid to show off the greenery. Periwinkle and green are complimentary.
If you can't get your hands on perwinkle wedding accessories yet, there are a few hues that will give your wedding day a similar look. Cornflower (sometimes called carolina blue or steel blue) is a similar hue we're already seeing for weddings, and it's readily available from many wedding vendors. It's close to periwinkle in terms of lightness and brightness, but with more blue than purple. (And periwinkle flowers coordinate with this color, too.)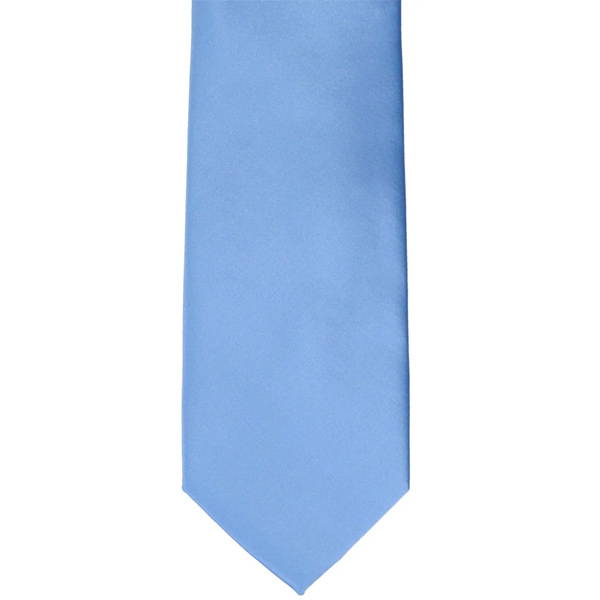 This cornflower tie is similar to periwinkle, but with more blue tones than purple.
Besides pinning to your wedding board, you can start planning your periwinkle themed wedding by looking at colors in real life. TieMart offers free color swatches from its extensive line of solid and pattern ties. Select up to two free colors (like cornflower and lilac) and similar colors will automatically be included. Better yet, let TieMart know in the comment box that you're matching periwinkle so swatches can be fine-tuned to your wedding. Swatches are available free to customers in the USA and Canada and are mailed the next business day via First-Class Mail.
TieMart offers budget-friendly wedding ties in a huge range of colors and patterns, including shades of blue and purple. You'll find accessories for your entire wedding party, from the groom and groomsmen to the ring bearer and father of the bride. Match your wedding colors by requesting free fabric color swatches today.