Love at First DM: Tiffany and Joe's Neutral Wedding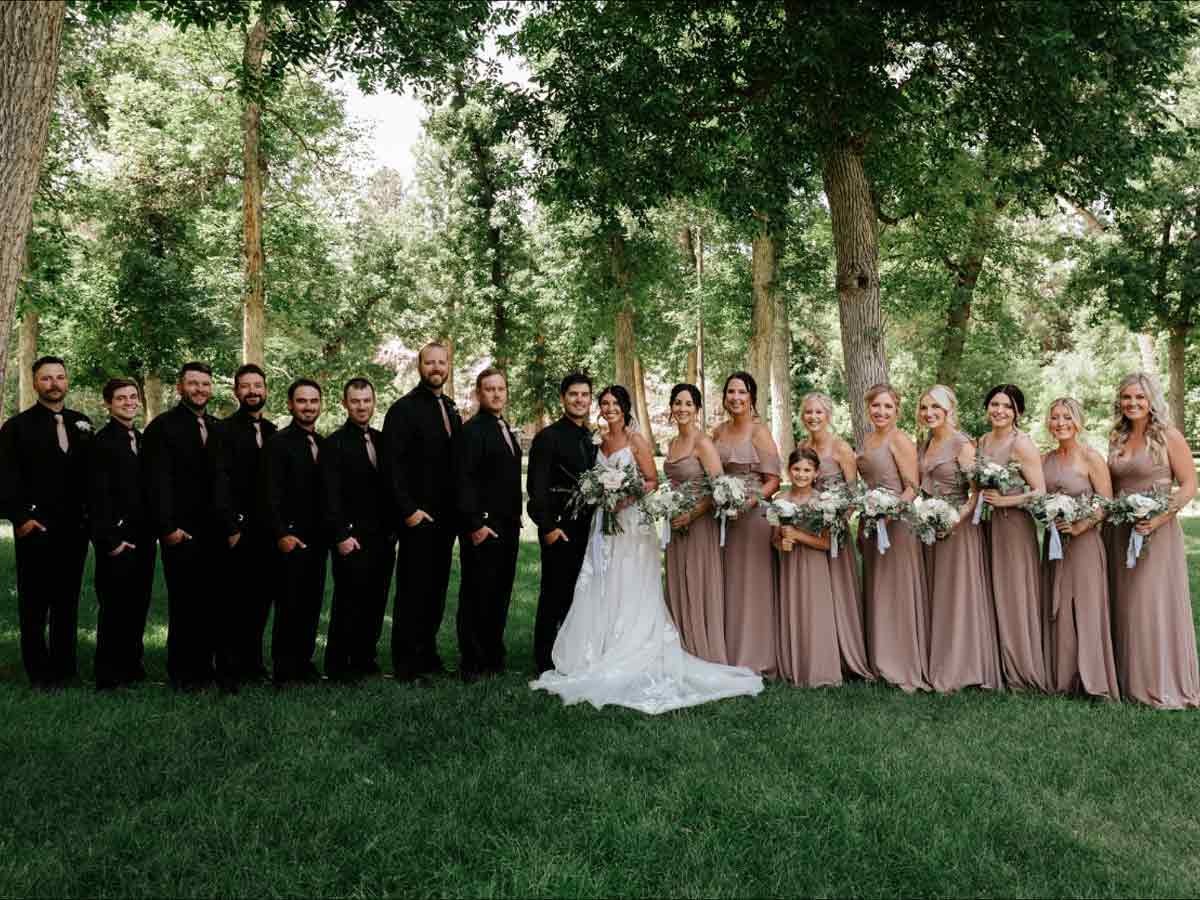 Meet Tiffany and Joe, a couple whose modern-day love story started with a digital connection—a direct message on social media. Their journey continued when Joe later proposed on the shores of Clearwater, FL.
Tiffany said "Yes!" to his beachside proposal, and they headed to a local bar to celebrate. And if the day wasn't memorable enough, the couple was certainly surprised when they bumped into a famous American professional wrestler and pop culture icon. What a story to share!
Back at home, it was time to start planning the big day. With taupe and black as their wedding colors, Tiffany and Joe chose a timeless and elegant palette. Tiffany confessed, "I like neutral colors and Joe looks good in all black."
Since they met online, it's certainly no surprise that this couple headed to the Internet when it was time to buy all ten groomsmen ties. After finding TieMart, they requested free color swatches to match their wedding colors in person. (Even neutrals can be difficult to match from a screen.)
Tiffany and Joe found ties to match their bridesmaid dresses by requesting free color swatches from TieMart.
An assortment of tan, beige and taupe swatches arrived and TieMart's latte premium ties were a match. "[The] ties matched the bridesmaids dresses perfect and were great quality," Tiffany said.
Tiffany and Joe chose slim ties for the groomsmen, which are a modern but not too skinny size at 2.5-inches wide. Joe would wear the same width of tie, but in solid black to offset him from the group.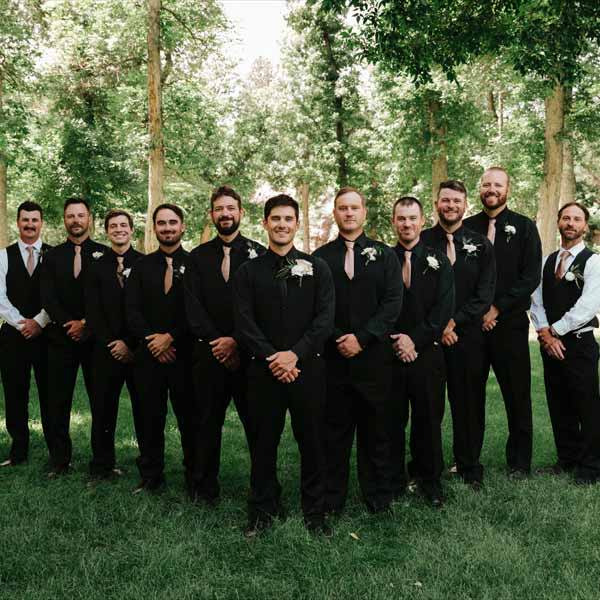 The couple purchased latte slim ties for the groomsmen, while the groom would be offset in a black slim tie.
Now, let's jump ahead to June 17, 2023, Tiffany and Joe's wedding day. With their nearest and dearest in attendance, along with a whopping 22 members in their wedding party, they said their "I dos" in Spearfish, SD. Tiffany described the day as "beautiful" thanks to the perfect weather and the best people in their lives there to celebrate with them.
Tiffany and Joe on their June 17 wedding day.
For engaged couples knee-deep in wedding planning right now, Tiffany and Joe offer some sound advice. Tiffany suggests, "Don't stress about the small stuff. Stay organized during wedding planning. And enjoy the big day!"
TieMart offers budget-friendly men's wedding accessories in a huge range of colors and patterns, including several styles of latte ties. You'll find accessories for your entire wedding party, from the groom and groomsmen to the ring bearer and father of the bride. Match your wedding colors by requesting free fabric color swatches today.