Top Wedding Trends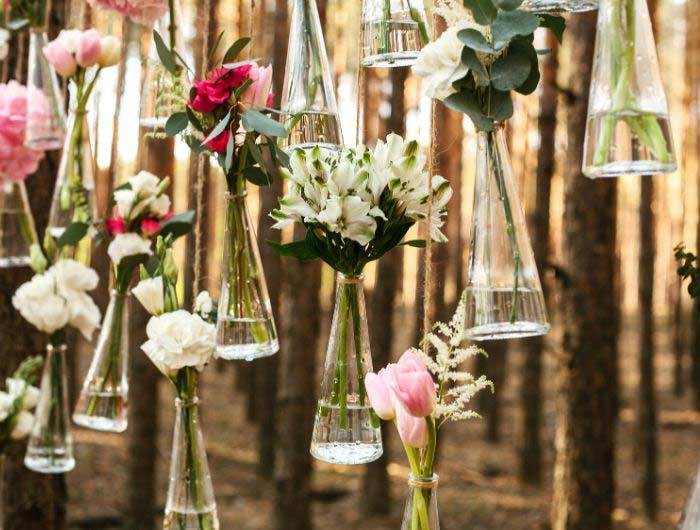 ---
There's more to chat about than dinner and dancing this wedding season. From out-of-the-box locations to the guest experience, let's take a look at 2020 wedding trends.
Let's start with the location. The traditional wedding hall is no longer the first stop when venue hunting. Couples are looking for unique (and raw) reception locations. Breweries, a field outside a barn, vineyards, a wooded outdoor space. These locations take a bit more planning for decor and lighting, but it also allows couples to personalize the space and make it their own.
Natural decor is trending. This of course means plants and flowers. Flower and moss walls and cascading greenery garland are popular. To be eco-conscious (we'll get to that) couples are repurposing ceremony flowers for their reception. That hanging wall of flowers at the ceremony becomes centerpieces. Flowers lining an aisle can be strategically placed around a reception venue.
Taking your wedding reception into nature can get a bit dark at night. Couples are giving their spaces a romantic glow with lanterns, candles and patio string lights hung from the treetops. These lights can double as decor, too. Candelabras on the tables, lanterns around a dance floor, etc.
Eco-friendly weddings are a huge trend for 2020. Recycled invitations, RVSPing online versus a paper card, table cards and numbers written on leaves, rocks, sea glass or other natural elements. Eliminating straws from the bar, reducing the number of paper napkins.
When being eco-conscious, those wedding flowers can be a huge concern. Consider flower alternatives like a bouquet of vintage pins or brooches. Or, use more live plants rather than cut flowers. Potted plants are perfect for aisle arrangements during the ceremony. Hanging baskets are ideal for reception decor. (Don't ditch the plants after your wedding day. Save them to enjoy in your own home, or plant them in your yard.)
The guest experience is, hands down, the top wedding trend of the year. Move aside dinner and dancing. The wedding reception is becoming an interactive guest experience. Tarot card readers, magicians, board game tables, mixologists, surprise midnight snacks brought out on food carts. Rather than focusing on the traditional five-course meal and wedding band, couples are bringing out-of-the-box entertainment ideas to their reception. Now that's a way to make memories!
Wedding dresses are bolder this year. Expect to see more gowns in colors and florals. Styles are moving away from simply lace and boho dresses to statement gowns. Rich fabrics, ball gowns, even puffy sleeves are back.
As for the groom and groomsmen, couples are deciding to skip the formal black tux. Navy blue is now the most popular color for groomsmen suits, followed by charcoal and gray. Don't be surprised to see the groom switch things up at the wedding reception and replace his solid color jacket with a statement paisley or velvet dinner jacket.
Rather than the traditional black bow tie, the guys are wearing slim and narrow neckties for a bit more casual feel. If they are axing the jacket completely, the guys are wearing bow ties and suspenders with dress pants and a collared shirt. Are far as colors for those ties, matching the wedding colors is still in, but floral and other bold patterns are tops trends as well.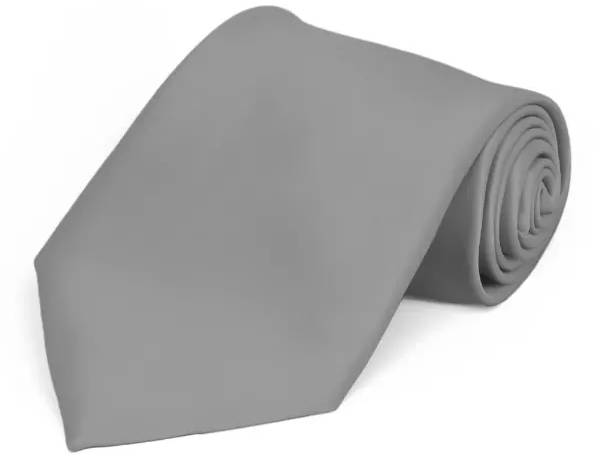 Gray Premium Solid Color Necktie
TieMart offers budget-friendly wedding ties in a huge range of colors and patterns. You'll find accessories for your entire wedding party, from the groom and groomsmen to the ring bearer and father of the bride. Match your wedding colors by requesting free fabric color swatches today.