Fine Dining Restaurant Uniforms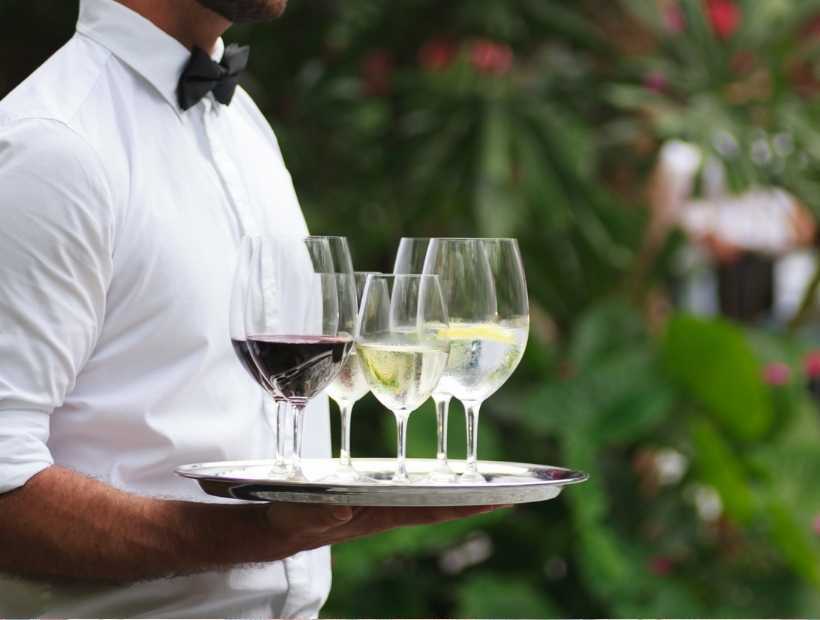 ---
It's more than the menu that attracts a crowd. At a fine dining restaurant, clientele expect perfection. The food, the drinks, the lighting, acoustics, seating and even the servers' uniforms. We'll let you handle the menu, but let's take a look at waitstaff uniform options in upscale establishments.
In most fine dining restaurants, servers will wear black and white uniforms. These are traditional waitstaff colors. The colors blend in and do not take away from the overall ambience of the restaurant. However, black and white is also easy for guests to identify staff members at the restaurant, should they need assistance from someone other than their server.
There are some exceptions to the rules, of course. Some trendier, high-end restaurants incorporate their brand color into their ties. Sometimes this is a solid color, like purple server bow ties, or a custom restaurant necktie that includes their logo. The key is to keep the server uniforms classy, upscale and easily identifiable.
It's easy to picture a black and white server uniform, but there are some standards to consider in fine dining establishments. Here's a closer look at the uniform, piece by piece.
The crisp white button-down dress shirt is a staple of high-end restaurant uniforms. Unfortunately, restaurants are a dangerous place for the color white and these shirts can be easily slopped and stained. Thus, it's important for servers to have a rotation of clean shirts, and perhaps even a backup on hand while working.
Sometimes though, black dress shirts are worn in upscale restaurants. Though less traditional, black hides those stains more easily and may have a longer life than white.
Whichever color is worn, the shirt should be fitted, pressed and tucked in at all times.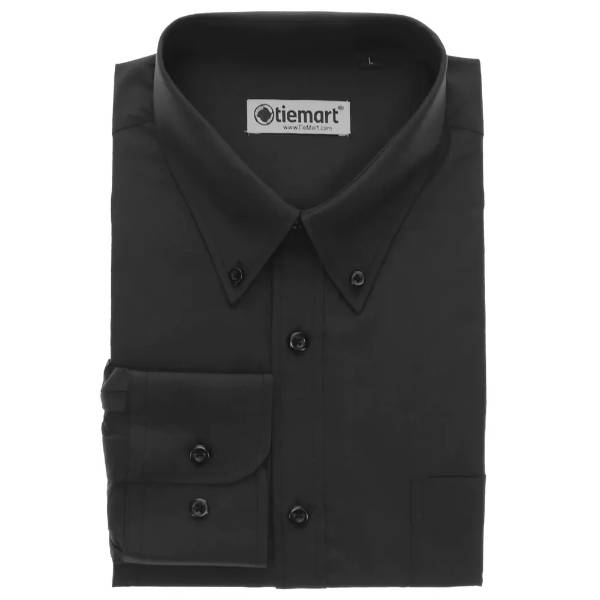 A black dress hides stains better than white.
In upscale restaurants, it's important that the pants worn are, in fact, dress pants. Not jeans, not leggings, but dressier slacks and perhaps even tuxedo bottoms. If choosing tuxedo bottoms, everyone should wear the same pants. If letting the waitstaff select their own pants, certain guidelines should be provided, like the cut, to ensure consistency among the server uniforms.
Sometimes waitresses wear black skirts instead of pants. Waitress skirts are usually knee length to allow movement. Like tuxedo pants, it's important that the skirts are identical for that consistent, easily identifiable look.
On top of those crisp shirts and tailored pants, we sometimes see vests and aprons worn by waitstaff in fine dining restaurants. The vest is the more common of these two items. These vests are typically black and a classic formalwear style: Buttons down the front, sheen-finish material in the front, satin finish in the back.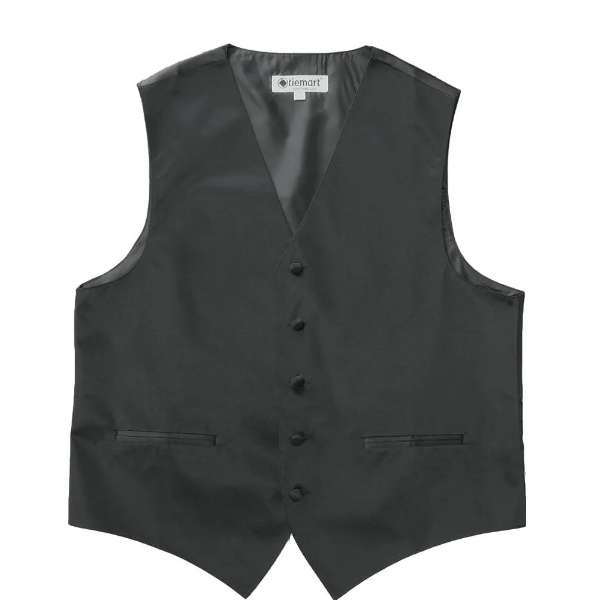 Vests look formal, but also protect the server's shirt and necktie from inevitable stains.
The aprons worn in this environment are usually black or a dark gray and a full bistro style—meaning no bib up the chest and a longer length. The full bistro apron is a dressier look than waist or bib aprons. (Bib aprons are really popular right now for trendy restaurants.)
Besides that recognizable waitstaff look, both vests and aprons offer a protective layer over the other clothing pieces worn. Vests, especially, are a great way to keep those white shirts looking crisp and lasting longer.
Server ties are optional at more casual restaurants, but they are an absolute must at fine dining establishments. Traditionally, the black bow tie would be worn in upscale restaurants. (This is the same tie worn for black tie attire.) Pre-tied bow ties ensure a consistent look among staff. The band collar bow tie is a top pick since it's easy to use and stays securely in place throughout a shift.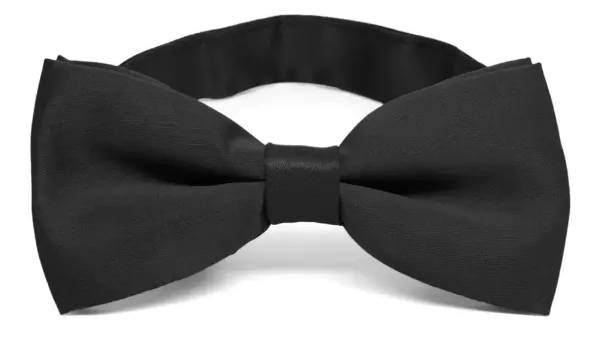 Pre-tied and easy to use, the band collar bow tie is the most popular tie for fine dining staff.
As dress codes become less formal everywhere, black neckties are an acceptable choice for high-end restaurant servers, too. However, it's important that the ties are a traditional width (wider than 3 inches). Like the rest of the outfit, the tie should be stain-free and presentable at all times. (Take a look at our post on how to make restaurant ties last longer.) While most restaurants select a standard tie that must be tied by the wearer, zipper ties are an option, too. These are pre-tied ties with a loop that goes around the neck. Just like a band collar bow tie, zipper ties stay securely in place and provide a consistent look among servers.
Sometimes other tie colors are incorporated into upscale server uniforms. When servers are wearing black dress shirts, they may change out the black tie for a dark gray equivalent. As mentioned above, the tie is an easy place to show off a restaurant's logo color and add to the overall ambiance. Consistency and stain free is key here.
Don't overlook the last step of a high-end server uniform: Footwear. Like any restaurant, servers are on their feet a lot so comfort and a non-slip sole is key. In upscale restaurants, waitstaff should wear dressier styles of shoes in black leather or a similar material that can be wiped clean. For men, this usually means a traditional black oxford that laces up. Waitresses may wear the women's equivalent of the same shoe, or a black ballerina flat, loafer or low (but comfortable) pump.
When a sock must be worn with the restaurant shoe, it should be a black dress sock. Socks made with natural materials, like cotton or bamboo, are often more comfortable and can control odor and sweating as well.
Small details matter in fine dining uniforms, like sock colors.
It's not only about what the servers are wearing. Fine dining restaurants usually have a set of grooming and appearance guidelines for its waitstaff that goes beyond being freshly showered. Cut or well-manicured fingernails, no visible tattoos or facial piercings, minimal to no perfume, cologne and jewelry is pretty typical for these environments. Standards may also be set for facial hair for the male servers (a lack of or specific guidelines) as well as the style of haircut (cleancut, etc.). Waitresses are often instructed to wear their hair in the same style, like a low bun.
Just like the menu and setting, the server uniform is another element which adds to the excellence of a fine dining restaurant. Traditional, clean and formal. A white dress shirt, black pants and black tie is the most common, although there are ways to personalize the uniform to the restaurant's brand. Last but not least, grooming is part of the server uniform, too. Consider guidelines for everything from piercings to hairstyles. Combined with a five-star menu, exceptional service and just the right ambiance, your restaurant outshine the competition and have guests coming back for seconds.
TieMart sells affordable, quality ties to many industries, including restaurants. They keep large quantities in stock at all times. Classic styles, like black bow ties and staff neckties, are never discontinued. This allow restaurants to confidently order the same tie year after year, without having to worry about changing waitstaff uniforms.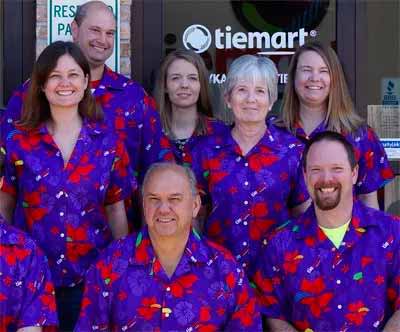 We are a family-run tie company based in Illinois. We've been in the biz since the late 90s, so by now we know a thing or two about men's fashion and accessories. Tiepedia is our lil spot on the web to share that knowledge with you.